If you've been bit by the beauty bug and haven't discovered Strawberrynet.com I've blogged about it here before  like almost 2 years ago.  Strawberry Net is Free Shipping Shopping business based in Hong Kong (has a nice ring to it) with minimum and maximum discount specials all year round, and now they just got "apped" for iPhone and Android phones! These are screenshots from my Samsung Galaxy S Android Phone.  Strawberry Net is more of a sure bet for me than Ebay where you deal with various anonymous sellers and 2 out of 20 times something just might get lost, not with these guys.  One of the foreign models I've made up even admits that her sister, who models also if I'm not mistaken, buys makeup from StrawberryNet.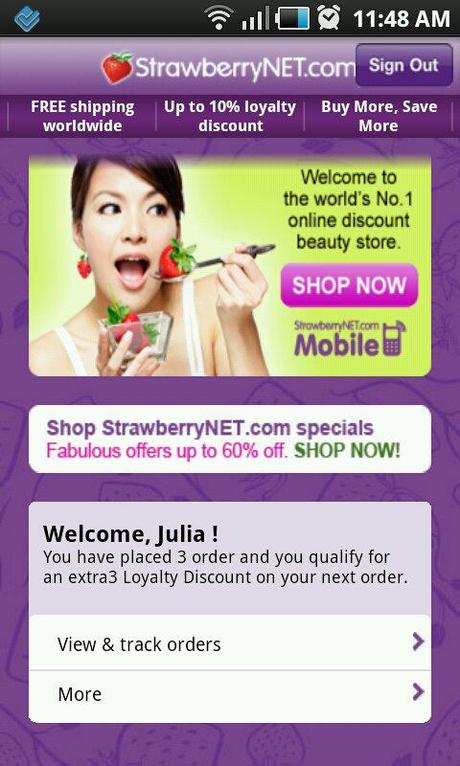 What I love about Strawberry Net is how quickly they ship compared to ebay considering that their shipping is FREE!  It only takes about 10 working days in an ideal situation for a purchase to arrive.  Even Charlotte commended their speediness here at this link when she bought her Bobbi Brown Shimmer Brick at half price from them, it got to her in two days and she's in the UK!  Which only tells me how SLOW our local customs department really is when they process incoming teeny weeny shipments like these

They only put on the approval stamp for pickup about a week or two after it arrives!  For Android users (I know there are more of you locally) the Strawberry Net app is available Free on the Android Market, make sure you download the lastest one updated August 27th.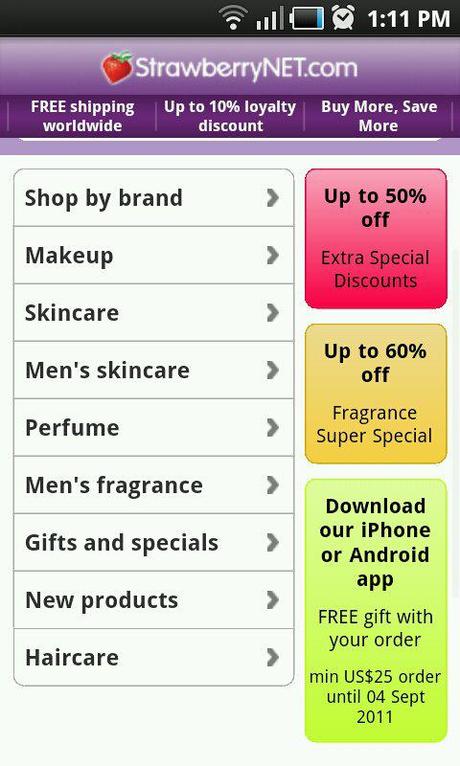 My purchases from Strawberry Net (I've only had 3 in the last 2 years) always come wrapped with care, as you can see here in an older post.  If you've purchased from them before you can easily log in with your email and they'll remember you.  What I like about Strawberry Net is the loyalty discount they apply and with every purchase a minimum percentage discount is added.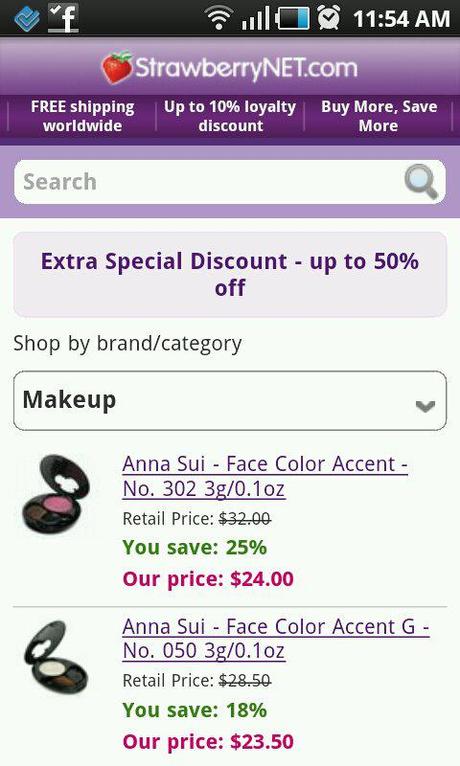 Brands are listed in Alphabetical Order but they are also categorized by Fragrance, Skincare, and Cosmetics.  They carry lots of hard to find American, European, and luxurycosmetic and personal care brands like Bobbi Brown, T' Le Clerc, By Terry, Dermalogica, Laura Mercier, BECCA, Estee Lauder, Guerlain, Gosh, Bourjois, Kiehl's, Kanebo, MAC, Make Up For Ever, Shu Uemura, Revlon, NARS, Fusion Beauty, Givenchy, Giorgio Armani and SO MANY MORE there are too many good brands to mention.  Read more to see more screenshots and how the shopping cart or checkout page looks like.
So here for example, I'm interested in a Young Blood blush compact.  I scrolled down the discounted specials and tapped it at the bottom (Y)  of the alphabetized list as seen in the last screenshot.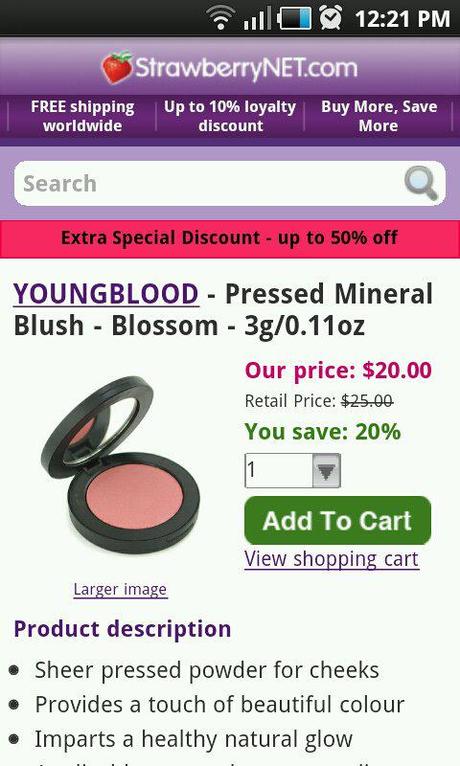 From the product's single description you can already add this item to your cart.  I didn't really purchase it for this post, but it is tempting me with that nice discount haha.  I only went as far as the checkout page to show you guys how this works.  What's wonderful is you can also click on "Larger Image" to enlarge product thumbnails for your viewing pleasure like this and as you can see it's a really clear photo.  These screenshots are not resized, they're directly saved from my phone gallery.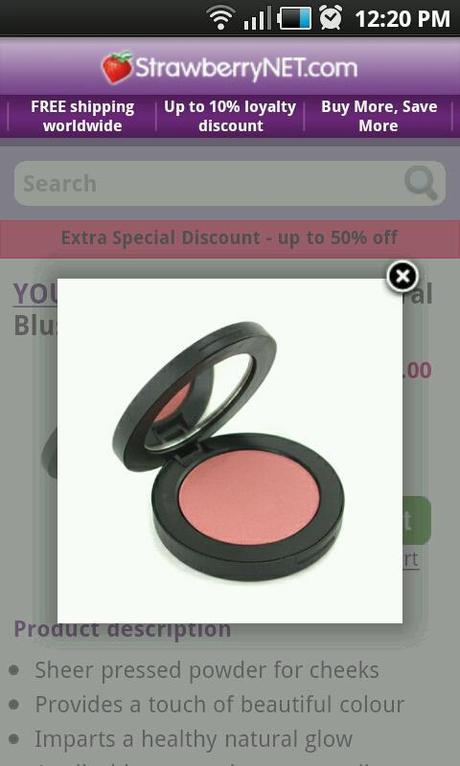 Then depending on how you want to pay, whether via Paypal if you have an account (recommended) or directly from your credit card like Mastercard, Visa, or any of the listed credit lines available on the checkout page you can pay and checkout.  Once you've paid you should receive a confirmation email from Paypal or Strawberry net with your order details.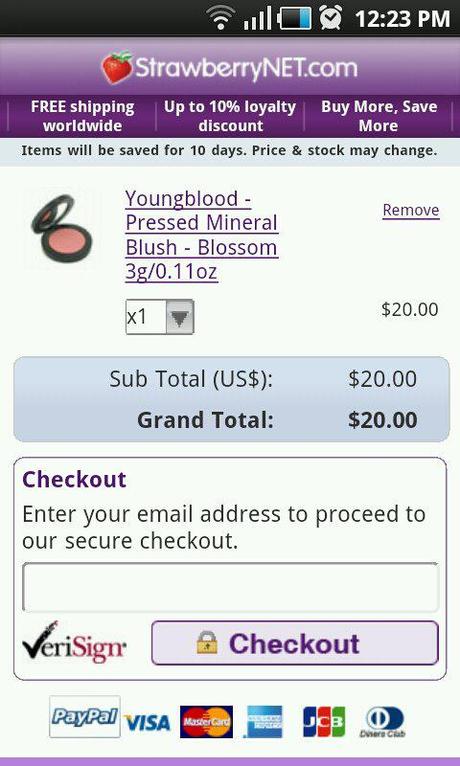 In Manila, like I said, it takes about 10-14 working days for Strawberry Net orders to arrive, there was one purchase I made where it arrived within a week and it surprised me.  Their packages are wrapped with care like this, and this shot was taken over a year ago.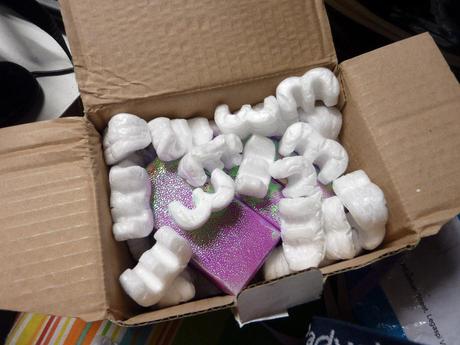 I can imagine their manner of packing items may have only gotten better since they've already managed to get their online business mobile ready with both Apple and Android.  Kudos to Strawberry Net, I love that they've made their business accessible and user friendly on both web and mobile platforms.  What do you think?  Does Strawberry Net impress you, it's best you have a go at it now, before  the intense holiday season kicks in if you do want to try purchasing from them.  Most, if not all of their items cost less than the retail item equivalent locally.