Life is great,cheese makes it better...
Cheesecake is everyone's 
weakness
in the family.The little devils called calories are present in a large number in each slice,it sort of holds me back from making it often.But after coming across this versatile Quark Cheese I feel less guilty.
It 
is great to make cheesecake pies and fillings.
I can promise I will be using it more often!!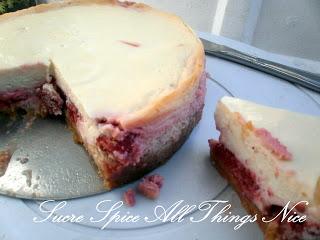 To make Quark Cheese or curd cheese was on my "to do list" ever since 
I read about it here
. It is quite popular in Germany,Netherlands and Austria.It is a fresh cheese prepared in a similar way as cottage cheese.

It has a smooth texture, a mild,slightly sour flavor and white color.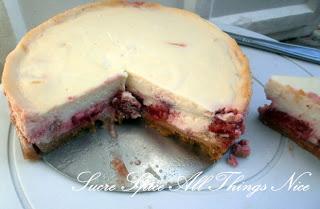 Strawberry quark cheesecake is a light dessert with fresh strawberries as filling.Its versatile in the sense that any berry fruit can be used.
Quark Cheese
1 lit                     milk
1/2 cup               buttermil
k
Crust
120 gms              digestive biscuits
50 gms                melted butter
Filling
450 gms             quark cheese
100 gms             yogurt
75ml                   honey
75 gms               sugar
150-200 gms      strawberries
1                         egg
Quark
Boil milk and allow it to cool till room temperature.(covered with lid)
Add cultured buttermilk.Put the container in a warm place;allow the culture to proceed for 24 hours till whey separates from the curd.

At first the milk looks grainy, and eventually the curds float on the whey.
 Dampen a clean tea towel and use it to line a sieve. Place the sieve over a basin. Pour the curds and whey into the strainer. Bring the tea towel together so that it covers your quark and do it up with a rubber band. Place the entire draining apparatus in the fridge.
 Allow to drain in the fridge overnight, or for 24 h
ours. The drained quark should have a consistency similar to sour cream, but more sour in taste.
Preheat oven to 180 C.
Crust Process the digestive biscuits in a processor until finely ground.Add melted butterand continue to pulse until the mixture has sand like texture. Transfer the mixture into an 8 inch tart pan.Press firmly into the baking pan until even and bake it for 8-10 mins. Filling
In a bowl, put strawberries and sugar . Let it stand to 5-10 minutes.
In an another bowl, cream together quark,yogurt, honey, vanilla until well-combined. Beat in egg until mixture is smooth.
Spoon half of the quark mixture into the crust. Spoon the strawberry mixture into an even layer on top of that. Carefully spread the remaining quark mixture over the top of the fruit, covering the whole cheesecake.

Bake for 30-35 minutes, or until it is set and only jiggles slightly when the pan is gently shaken.

Cool to room temperature, then refrigerate it until ready to serve.