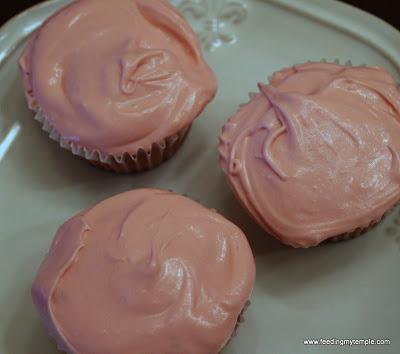 Strawberry cake is probably my favorite cake. Strawberry cake that doesn't come from a box IS my favorite cake. This recipe is a bit time consuming, but the product is well worth it. The additional of real strawberries and whipped egg whites makes this cake batter flavorful and light. Topped with cream cheese butter cream icing, you will be in love this Valentine's Day. (Who's gonna be the first to make fun of me for that??)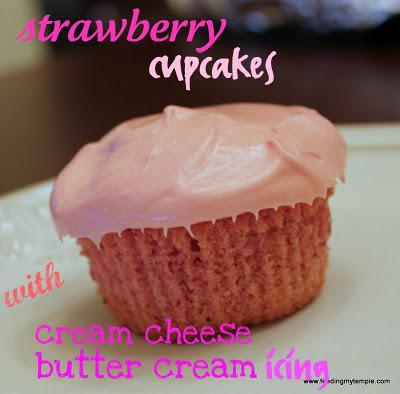 Strawberry Cupcakes with Cream Cheese Butter Cream Icing
originally from Apron of Grace
Ingredients
Strawberry Cake
1 cup Butter
2 & 1/2 cups Sugar
2 Egg Yolks
5 Egg Whites
1 teaspoon Vanilla Extract
1 teaspoon Red Food Coloring
1 & 1/4 cups Pureed Strawberries
3 cups Cake Flour, sifted
1 teaspoon Baking Powder
1 teaspoon Baking Soda
pinch Salt
1 cup Buttermilk
Cream Cheese Butter Cream Icing
2 - 8oz Cream Cheese, room temp
1 cup Butter, room temp
1/3 cup Heavy Whipping Cream
1 teaspoon Vanilla Extract
1 teaspoon Red Food Coloring
1 lb. Powdered Sugar
Directions
Cake
Preheat oven to 350 degrees.
In a medium bowl, beat butter with sugar for 3 minutes.

Add egg yolks one at a time, then the vanilla, food coloring and strawberries, beat for another 3 minutes. 
Sift dry ingredients and add to butter/egg mixture alternately with buttermilk, beginning and ending with the dry ingredients. 

Mix just till combined. 
In another bowl and clean beaters, beat egg whites till stiff and add in an increment of 3 to cake batter, being sure to fold in thoroughly but gently. 

Bake for 18 -20 minutes 
Icing


In a medium bowl, add cream cheese and butter, whip till light and creamy, about 3 minutes. 

Add liquids and blend. 

Slowly add powdered sugar while mixing,

until medium stiff consistency forms. Whip for several minutes.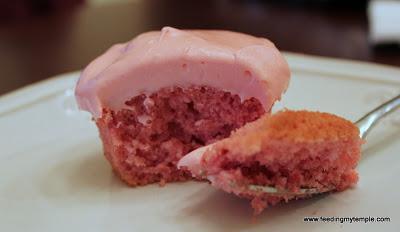 Grab the button and meet back here February 1st!