World Market is one of my favorite places to shop around Christmas. I don't have a store near me, but the items offered online always make a huge dent in my shopping list. With a selection of kitchen, decor, furniture, and specialty items, my selections are always exciting ones. Here are a few items that are on my shopping list/in my cart!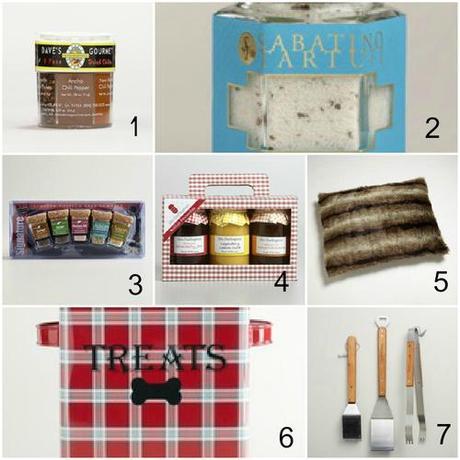 1.  Dave's Gourmet 6 Dried Chilies // For my dad. He loves some, or a lot of heat
2. Sabatino Truffle Sea Salt // Um, for anyone on my list. Yum. 
3. Signature Salt Sampler, 5 Pack // I bought my dad this last year. He apparently LOVED it. 
4. Mrs. Darlington's British Faves Jam Sampler // For my mom, she has a love for Lemon Curd. 
5. Marble Faux Fur Pet Bed // For those royal dogs I have. 
6. Pet Biscuit Tin // I guess they deserve some treats. 

7. 3-PC BBQ Tool Set // For the husband, he needs some new grilling tools.
World Market  (Twitter, Facebook, G+, and Pinterest) has teamed up with Life of Pi for some fabulous offerings this Black Friday. Check them out!
Life of Pi is the story of an Indian boy named Pi, a zookeeper's son, who survives a 

disaster at sea and is thrown into an epic journey. While adrift in the middle of the Pacific Ocean, he forms an amazing and unexpected connection with a

fearsome Bengal tiger. The movie opens in theaters November 21, 2012. You can watch the trailer for Life of Pi here: http://www.lifeofpimovie.com/#!/watch-trailer
The first 100 customers to shop in-store on 11/23(Black Friday) will receive a FREE Limited Edition Life of Pi ornament and a FREE Life of Pi movie ticket. The first 100 customers to shop in-store on Saturday, 11/24 & Sunday, 11/25 will receive a FREE Limited Edition Life of Pi Tote Bag and a movie ticket.
No store nearby like me? No worries. There's something for you too!
The Life of Pi Sweepstakes
Grand Prize package includes: a dream trip for 2 to India and a $1,000 World Market Gift card.
There will also be 3 runner up prize winners that will each receive a $500 World Market gift card!
The Life of Pi Sweepstakes runs from 11/17 - 12/28.
If you share the sweepstakes with 5 of your friends (via FB share or email) you can receive 5 additional bonus entries. This is part of the registration process when entering. Users can also enter daily for more chances to win.
Enter online at http://worldmarketsweepstakes.com/ or https://www.facebook.com/worldmarket?fref=ts
"This shop is part of a social shopper marketing insight campaign with

™, but all my opinions are my own.