It is strawberry season.  We took the girls to a local organic farmer while visiting my parents this past weekend.  They had a lot of fun picking and eating the berries. Although I am certain my youngest ate more than she picked she definitely enjoyed showing me all her beautiful berries. With a few of the remaining berries I thought I would try making my own popsicles.  These were very easy to make and I can't wait to make more.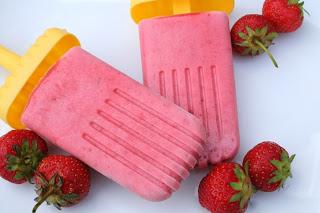 Ingredients (makes 6 popsicles)
1 1/2 cup fresh strawberries (I believe frozen would work as well)
3/4 cup coconut milk (I used the thick cream from canned coconut milk)
5-7 drops liquid stevia or 1 tablespoon honey (optional)
1 teaspoon gluten free vanilla
Directions
Combine all ingredients and purée until smooth or of you prefer allow for a few pieces of strawberry to remain for texture.

Pour into popsicle containers and place in freezer until completely frozen solid.