Experimenting should be my middle name, Oh well, that's a lame one, don't we all experiment with food?? Yes, of course we do. Now what made me experiment with strawberries & yogurt?? What could one possibly do when one ends up with half a litre of sourish yogurt & sour strawberries..? :( I did not have enough strawberries to make jam out of it, then again I would need to use the yogurt in another recipe. I was looking to do something with both together. I don't like to throw away food, you would know that about me if you have been following my posts. If the food is still edible, why throw it away? If the person who had ended up with curdled milk had not experimented then we would have never known what cheese was all about. :) Enough of my lectures, I don't want to bore you.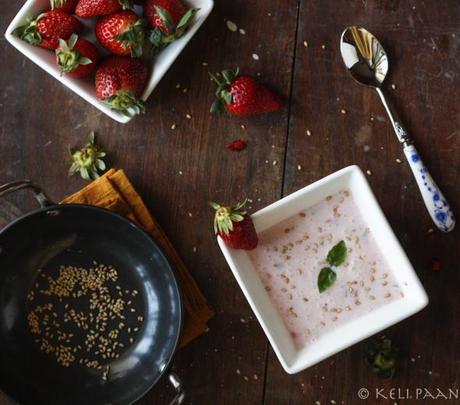 This is a very simple yet yummy raita. Will be ready in a jiffy. Just pick up some sour strawberries, a few basil leaves, 1 cup of sour yogurt (Do not worry if you do not have sour yogurt, use just natural yogurt). Any chilli of your choice to spice it up, honey to balance the sourness & some toasted sesame seeds for garnishing. A blend of fresh flavours.. best served chilled.
A rare day today for Keli Paan, rare because it has been ages since I did two posts on the blog. It is february & all my recent posts have been had loads of red in the ingredients or the photos.. :D. But I'm not that sorts who believes in celebrating one day for love..!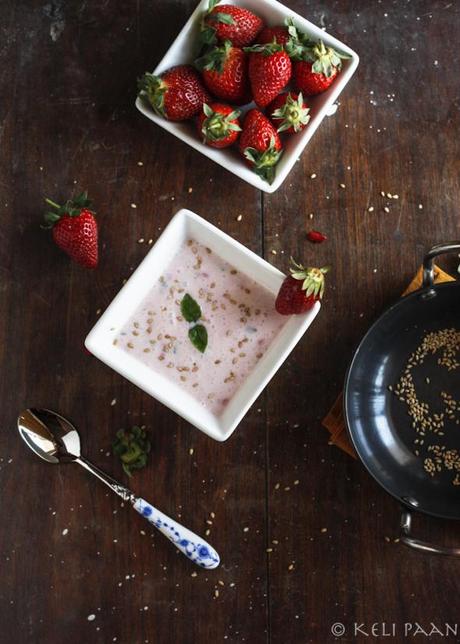 Ingredients: (Serves 2)     Preparation Time: 5 mins
Yogurt – Sour preferably, else Natural is fine, I used homemade
Strawberries – 4-5 medium-sized
Honey – 1 tbsp to balance or kill the sourness
Fresh Red chilli – 1, medium-spicy, slit, de-seeded
Basil leaves – 3, roughly torn
Sesame seeds – 1/2 tsp
Salt to taste
Method:
Toast the sesame seeds in a small fry pan and keep aside. Wash & hull the strawberries.
Add the yogurt to a blender & blend it well to make it smooth. If you are adventurous like me add the chilli along with the basil & blend it again till the chilli's & basil get minced. Next add the strawberries & blend just for about 10 seconds. I wanted small pieces of strawberries to chew on in the raita.
Tip: If you do not wish to blend the strawberries then, you can chop them finely & add.
Add some salt to season & add the chilli if you have not blended it earlier with the yogurt like I did.
I made 2 batches of these today, with 2 different types of chilli's. One version with dried red chilli's & another version with a small piece of minced scotch bonnet chilli's. The first version was not hot, whereas the one with the Scotch bonnet chilli's was hot. So you can choose what type of chilli you want to use. Go ahead with some freshly ground peppercorns if you wish to or a pinch of ground red chilli powder/paprika/cayenne pepper powder.
Note: If you are making this for your kids, you can add just a pinch of the chilli & a wee bit more honey.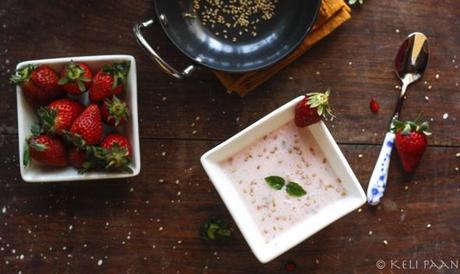 Garnishing:
Garnish with the toasted sesame seeds just before you serve for that nutty crunch in the raita.
Serving Suggestions:
Serve as a side with any Pilaf or biryani.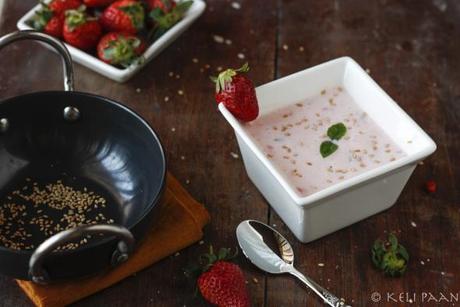 Or eat it just as is for a snack just like I did.. :D On a day like today, this was perfect to beat the heat off..! 
0.000000
0.000000