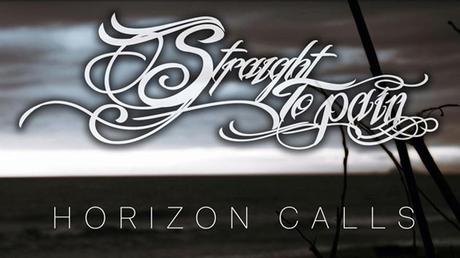 What's new, guys! I'm going to introduce today an Italian Metal band called Straight To Pain which has released a fantastic new album entitled "Horizon Calls" (2013).
Straight To Pain was born in september 2009 and is formed by Simone Luise (vocals), Nicolo Varaldo (guitar), Emiliano D'Amico (bass) and Stefano Ravera (drums). The band started its Hardcore sound with some influences from bands like Hatebreed and these guys have developed their sound envolving the Straight To Pain's music to a different concept based in Metalcore.
The band released its first EP in 2012 which was called "Leave It To The Sea", this first release contains great songs like "A Pit Called Hell", the demolisher "Bring My Soul With You" or "Leave It To The Sea" with a melodic and impressive starting, changes of peace and full of rage. This EP was a fantastic first step to open the way to the debut album from these guys which was entitled "Horizon Calls" (2013) and they are promoting it at this moment.
"Horizon Calls" album is pure Metalcore dynamite ready to explode in your face and ready to download in your ears all the anger of these Italian guys, through the eight recommended songs included in the album.
Songs like the powerful "Bury Your Dead" or the destroyer "Maelstrom" with fantastic drums in the intro and a brutal sound very cool along the full track with fine changes of peace are a great sample of what we can find in this album, pure Italian Metalcore rage with a great sound.
I also like and absolutely recommend the song which gives the album its titled, "Horizon Calls", which is really a fantastic track very cool which you should not miss, you can enjoy it by clicking the following link.
STRAIGHT TO PAIN – Horizon Calls (VIDEO)
by MetalWind
I think this new album is definitely a great release from these Italian guys and I have noted in the album a sound more mature and care than the previous EP, no doubt that "Horizon Calls" is a great new brand from Straight To Pain band.
I recommend you to listen to Straight to Pain's new album and discover to this Italian 4-piece metal band with this fantastic first assault called "Horizon Calls" that has done no more than start.
I send greetings to Simone and Straight To Pain band.
Enjoy Straight To Pain and leave your comments!
Follow Straight To Pain:
https://www.facebook.com/pages/STRAIGHT-TO-PAIN/196458608054
https://twitter.com/StraightToPain
https://www.youtube.com/user/STPhell