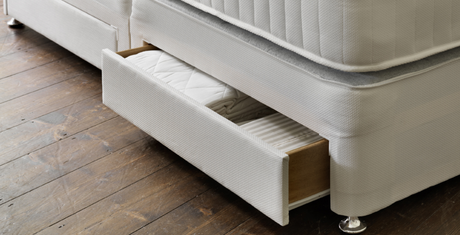 They say you can never have too much storage. How right 'they' are! For anyone with a small bedroom finding space to store away clothes, bed linen and, where kids are concerned, toys, can seem like a constant battle.
Bed manufacturers have cottoned on to this problem by coming up with some innovative ways to making your bed work for its money. By incorporating drawers, ottoman-style storage and hidden compartments within the bed frame, storage beds free up valuable space in the bedroom.
Types of Bed Storage
With a range of storage options available including drawer storage, slider storage and ottoman style beds; under bed storage is a must for modern family living.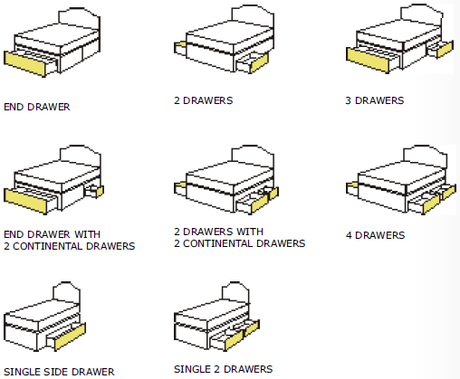 Standard Drawers
Standard drawers come in any combination of two, three or four drawers positioned on either side, one or both sides of the bed, and at the end of the base.
Continental Drawers
This type of storage is great for people who want to have bedside tables on either side of their bed.  Four drawer continental storage features two standard size drawers at bottom side of the bed base with two smaller size drawers at the top end of the bed base. Or you can have an end drawer with two smaller size drawers at the top of the base.
Slider Storage
Slider storage can be at one side, both sides or at the foot end of the bed depending on your space requirements.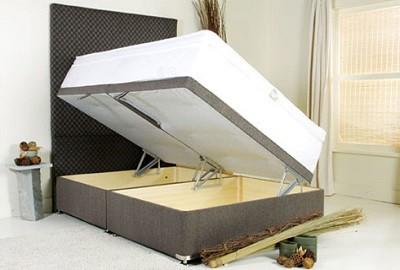 Ottoman Bed Storage
Ottoman beds are generally designed with the appearance of a traditional divan bed, although some are bed frames.  Access to the storage area is via a lifting platform which is connected to either the side or head end of the base via a hinged system. When lifted this gives access to almost all the underbed area. Hydraulic or tension springs are incorporated into the design of the bed to make lifting and replacing safe and easy, even with a heavy mattress on top.
What to do next
At Dalzell's we retail a wide selection of beds with optional storage solutions from leading brands Staples, the Natural Sleep Company, Sweet Dreams and Hypnos Beds. If you're still not sure what type of storage solution suits your requirements visit us in-store where our expert staff are on hand to advise on all types of bed storage. A short drive from both Newry and Armagh, our showrooms are located in Markethill. For further information call, email or visit in-store today for a great deal and great customer service.