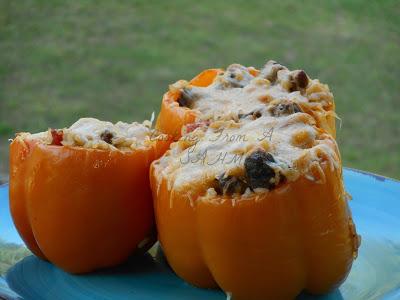 Good Morning! I'm sorry its been so slow on the blog. I have had some personal things going on, and my charger went out on my laptop. So I couldn't do much of anything on my phone. So I'm back and ready to share this awesome recipe with you.
Steak Fajita Stuffed Peppers
5 Peppers(any color)Steak Tips cut into bite size pieces 1 1/2 C Rice(NOT INSTANT)3 T Olive Oil1 Onion Diced 1 Can of Diced Tomatoes2 C of Chicken Broth1 C Water Fajita Seasoning PacketCheese
In a pan put in your diced steak and cook till its near done. Put it in a bowl and set it aside. In skillet add your 3 T of olive oil and heat it up. Add your rice and onions. Cook till onions are tender and rice is turning golden. Add your chicken broth, water, fajita seasoning and diced tomatoes. Stir it and cook till the rice has absorbed the water. Add your steak and stir. Cook for about 5 minutes.  Set aside. Take the top off your peppers and take the seeds out. Put them in a baking dish or crock pot. Now take your steak mixture and put it into each pepper. I cooked these in the crock pot for about 2 hours on low. Then I took them out and topped with cheese. Then I put them in a baking dish in the oven to melt the cheese. Take out eat and enjoy!!!!!