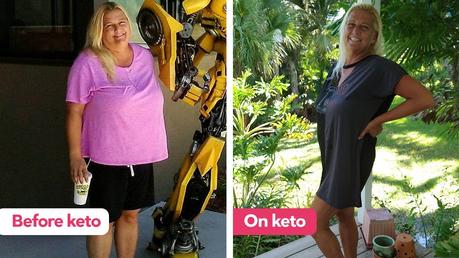 Meet Annette, a 47-year-old from Florida, who reversed her pre-diabetes and high blood pressure in just two years on the keto diet.
What's more, Annette also lost 98 pounds (44 kilos). "Starting keto is the best decision I ever made for my health," she says.
Keep reading to learn how a bet started Annette's weight loss journey, why she thinks support is essential for long-term success, and her best weight-loss secrets.
Annette's story has been lightly edited for length and clarity.
Annette's keto journey
My keto journey started two years ago with a bet. My dad was making my birthday breakfast, blueberry pancakes. He had heard about the keto diet on YouTube, and he said that if I gave keto a try and lost 50 pounds (23 kilos), then he'd give me $100.
So I thought: 'What do I have to lose?' Nothing else had worked at that time, not even exercise. My dad didn't put any pressure on me to lose the 50 pounds (23 kilos) by a specific date.
And so, I got started with keto just three days later, and I've stayed on it since then. Keto is my new lifestyle!
When I started, I was prediabetic, had high blood pressure, and felt terrible all the time. I had no energy. I couldn't even bend over to do my own pedicure since most of my weight sat around my stomach.
I eat a maximum of 20 grams of carbs per day. I never snack and only eat when I'm hungry.
These days, I eat a maximum of 20 grams of carbs per day. I never snack and only eat when I'm hungry. On most days, I do
intermittent fasting
.
The secret to my success? I would say that it's my Bulletproof coffee, which is coffee with butter and oil.
Once I'd lost 50 pounds (23 kilos), my parents and relatives celebrated. And of course, I got the $100. I was so excited. I carry on with the support of my parents and my local keto group. I really want to emphasize that my mum and dad have been especially helpful. My mum is also on keto and she's lost 38 pounds (17 kilos). Having such a strong support system really helps me stay focused.
I also want to mention that 5-Minute Keto Recipes for Beginners, a Facebook group created by Mark Nakahodo, has helped me out tremendously.
Tragically, a little over three months ago my husband passed away. With all the grief of that terrible time, it was hard not to lose focus, or eat high-carb food. I really needed to be strong and have support. At that point, I'd lost 95 pounds (43 kilos) and I was afraid of gaining the weight back. I'm thankful that I'm staying at 98 pounds (44 kilos) gone.
These days, I'm happy when I look in the mirror and I no longer mind having my picture taken. Plus, it's much easier to find clothes.
I have some advice for keto newbies. First, learn all the names for hidden sugars, as there are over 80 different kinds. Just because something is labeled sugar-free, it doesn't mean that it's good for keto. Watch out for maltitol (it skyrockets your insulin) and try to avoid diet sodas and chemical sweeteners completely.
Before keto, I drank 12 packs of diet sodas per week. When I started keto, I gave up the habit completely and the weight started to come off.
If you decide to try keto, don't do it alone. You can get support through Facebook, like the Diet Doctor Facebook group. Starting keto is the best decision I ever made for my health.
Thanks for letting me tell my story, and I hope it will help someone.
Comment
Thanks for sharing, Annette. Your story is sure to help others on their journey. Your message of support is so important. No one has to do this alone. Our Facebook group and other communities are here to help - something everyone deserves. Keep up the great work!
Start your FREE 30-day trial!
Get instant access to healthy low-carb and keto meal plans, fast and easy recipes, weight loss advice from medical experts, and so much more. A healthier life starts now with your free trial!
Start FREE trial!
More success stories
Check out our most popular success stories below, or view all stories we've ever published here.