What a Sunday morning! We tried to use our new Star Wars pancake molds!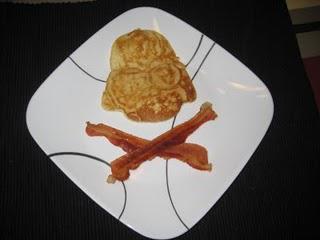 Beware! Darth Vader
Sometimes things don't turn out the way you expect them to. This happens a lot when I cook.
But that doesn't mean we don't have a good time.

Yoda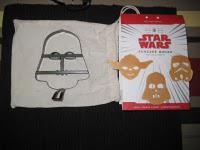 Darth Vader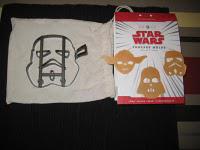 Storm Trooper

David and I had a good time making these. David's sister Terri gave him these molds for Christmas. They can be found on the Williams-Sonoma website.
They are called Star Wars Heroes & Villains Pancake Molds.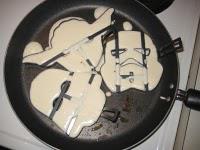 The First Battle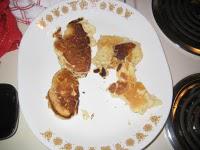 The Wreckage
Even the ones that didn't turn out shaped well tasted good.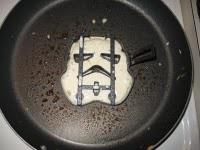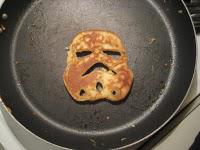 I have few suggestions about making these.
Make sure you have a very flat griddle. We found out that we do not own a completely flat pan.

Also, you don't want your batter to be too thick or too thin. Getting the consistency right takes a little practice.

If you want a quick meal I suggest making one batch of each shape and then finishing up with round pancakes.

Using a fork to spread the batter around the pancake mold as you pour it helps get it into the corners.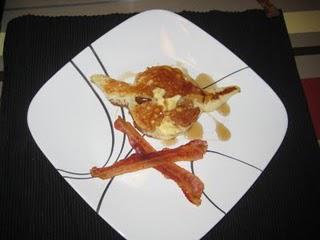 Beware! Yoda!
Fluffy Pancakes

2 Cups of Bisquick
1 and ¼ Cup of Milk
2 eggs
2 tablespoons of sugar
2 teaspoons of baking powder
1 teaspoon of vanilla

Mix ingredients together. I use a whisk because it mixes nicely.
Heat griddle and spray with cooking spray. For nice round pancakes pour ¼ of a cup of batter on the hot griddle. You know it's time to flip your pancakes when you see bubbles forming. Serve with butter and syrup. We like bacon with ours, too!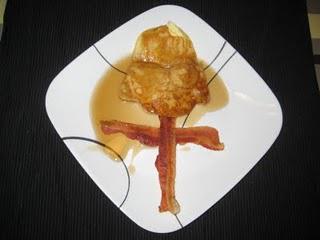 What's Under the Cloak?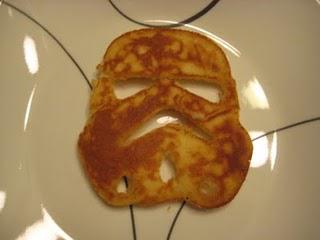 Regular Storm Trooper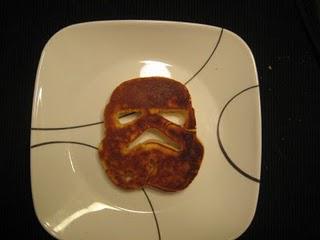 Dark Helmet Storm Trooper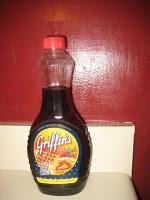 Griffin's Syrup

I like Griffin's Syrup because it's made in my hometown of Muskogee, OK.
Enjoy!
KD
*Please feel free to comment! I love comments on all of my posts.