Admiral Ackbar
: The Shield is down! Commence attack on the Death star's main reactor.
Lando Calrissian
: We're on our way, Red group, Gold group, all fighters follow me. Ha ha ha, I told you they'd do it!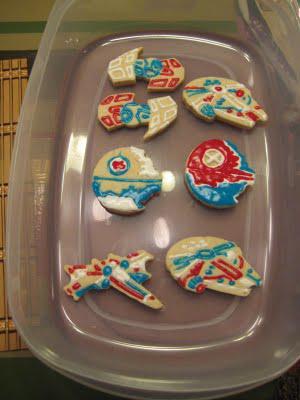 Star Wars 4th of July Cookies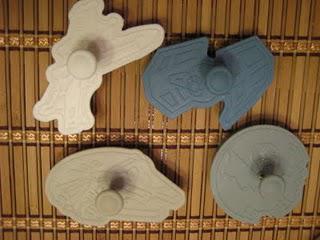 Star Wars Cookie Cutters

These
Star Wars™ Vehicles Cookie Cutters
were a Christmas present from our friends
Chris
and
Cindy
.
We've just now gotten a chance to use them, but now that we have we love them. They make great cookies!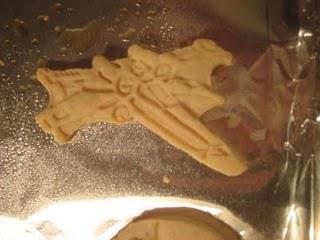 X-Wing Cookie
We've had a great time making them!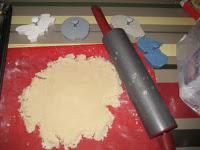 Roll the Dough
  
Here's the recipe:
Cookie Cutter Shortbread Cookies
Ingredients
1 cup butter softened
1/2 cup sugar
2 1/2 cups all-purpose flour
Directions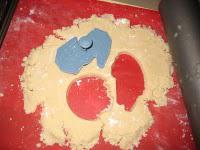 Cut Out the Cookies
1. In a mixing bowl, cream butter and sugar; gradually add flour. Divide dough in half.

2. On a lightly floured surface, roll out each portion to 1/4-in. thickness or more if you like. Dust top with flour. Cut with cookie cutters. Press the plunger hard on top of the cookies. Place cookies 1 in. apart on baking sheets. I normally cover a cookie sheet with foil and spray it with cooking spray.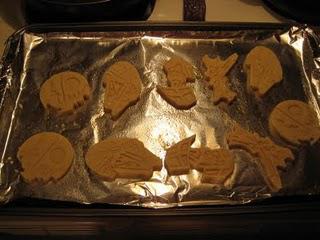 Ready to Bake


3. Bake at 300 degrees F for 20-25 minutes until lightly browned. Remove to wire racks to cool.

We ended up with Red, White, and Blue icing because David accidentally bought gel food coloring instead of icing for the other colors. Not a big deal because it's the 4th of July and this was a great way to spend our day off together.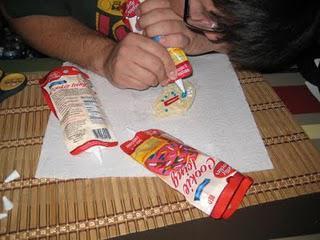 David Hard at Work
Personally I don't care for icing so we left a number of them without icing. I think they are pretty without it anyway.
But David did a good job with the icing.
Who cares if they are perfectly accurate?
They are pretty!
Happy 4th of July from both uf us!
Kristine Duffey