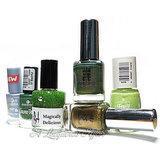 aka St. Paddy's Day
"Saint Patrick's Day or the Feast of Saint Patrick is a cultural and religious holiday celebrated on 17 March. It is named after Saint Patrick (c. AD 385–461), the most commonly recognised of the patron saints of Ireland." - Wikipedia
Hello lovelies!
This is the third consecutive  year I've done a St. Patrick's Day manicure. What can I say? I love the luscious green, love it paired with gold and love the tradition and folklores.
This year, I've gone a little simpler. My previous manis in 2012 are here, and 2013 here.
The polishes involved in this year's mani are:
(from left)
♥ Essence Sure Azure
♥ Essence Bashful (Snow White collection)
♥ Girly Bits Magically Delicious
♥ a-england Dragon (top)
♥ a-england Holy Gail (revamped, bottom)
♥ Essence 04 One Kiwi A Day (Fruity collection)
The base layers:
♥ Index and pinky: 3 coats Girly Bits Magically Delicious
♥ Middle: 3 coats sponged gradient with Essence 04 One Kiwi A Day and Sure Azure
♥ Ring: 2 coats Essence Bashful
Girly Bits Magically delicious has a light green jelly base, and if not for the concentration of glitter, the nail line would have been more visible. I'm not too concerned about it, and love this polish on its own. The large square gold glitter did require some skillful fishing to get it out of the bottle. It had to be positioned on the flatest part of the nail, or the edges stick out, like it did on my index fingernail.
Essence Bashful applied seamlessly in 2 coats. Love the gold shimmer peeking through the forest green.
Over the middle and ring fingers, I stamped images from Bundle Monster BM-H05, from the holiday 2013 collection - clover leaves with a-england Dragon and a Celtic knot in a-england Holy Grail.
The finished look, topped with 1 coat of Cult Nails Wick Fast topcoat (I've re-discovered my love for this topcoat):
The clover leaves did not transfer onto the stamper and nail fully. I'm still in need of a lot of practice (or magical skills from the stamping divinities that be).
So, how is everyone celebrating St. Patrick's Day, and what's on your nails?
Till the next post, sláinte!
♥ ♥ ♥ ♥ ♥
To Leave a Comment: I've noted that OnSugar's Comment feature has caused a few readers frustration by not accepting their input. While OnSugar works on rectifying it, I did a trial and error and found that comments don't get red-taped if you enter your information in the "Name" field without any space, ie. "ALacqueredAffair" instead of "A Lacquered Affair". I hope this works. As much as I want to, OnSugar doesn't allow the disabling of Captcha.
Disclaimer: I am not sponsored/ endorsed by any of the above-mentioned companies. All opinions expressed are my own, and will always be. All products were purchased by me.