Facebook Timelines, SSL and oh yeah have it ready by October first 2011 did anyone else freak out?!  I kinda did.
As a person who takes social media services seriously, I spend quite a bit of time reading about and keep myself updated on social media networks including changes implemented. The Facebook F8 conference held September 22, 2011 had many predictions ahead of the date.  I paid attention yet waited until official announcements to take action, thus the freak out.
My belief continues to be that Facebook is a powerful way to establish a dialogue with a Facebook Page for a business.  Dialogue is what ties the business to the ultimate consumer by keeping the business services, menu, need in the consumers head and under their skin.  I desire to have the consumer to keep the warm and fuzzy feeling after any interaction with a business Facebook Page. My blog posted August 2, 2011 explains why Dialogues Matter.
So at F8, Mark Zuckerberg spoke about exciting changes and in that announcement threw me  for an honest loop however exiting it was.
So SSL, huh?  SSL stands for Secure Socket Layer Services. Facebook now requires SSL for business Pages basically to protect you.  The hijacker jerks who steal information from your online Facebook activities are somewhat prevented from stealing now due to SSL and the encryption it provides during the transmission process.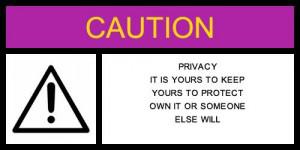 Privacy
If you run a page for your business (as I do) make sure your Facebook applications have SSL certification.  My Facebook Page and Store front is protected via SSL via each application I use. My pages are good to go and comply with the SSL standards because my Facebook applications do. A big BUT, any code I embed on to my custom tab or any other link will need an SSL cerificate or my fans will see that dreaded warning message notifying non-secure browsing.  It would freak most users out to see the non-secure browsing message : | therefore any code or images linked are to a SSL secure site. A separate SSL certificate has a cost associated with it, I've seen it be from $99 per year to thousands of dollars!
I'm fortunate that my hosting comany iPage (affiliate link: Host your Web site with iPage! ) provides my site with a shared SSL certificate.  The shared SSL is offered to all of their customers, check out iPage (affiliate link: Click here for iPage! ).   The url is specialized to my site and isn't perfectly suited to what I'd like but that is easily masked with html coding as many of you know.  As a result images and links I host are SSL ready as long as the special SSL link is included on the Facebook Fan Page.
Ff you are in need of a Fan Page, would you be able to hire someone to set it up?  Absolutely as long as an important SSL discussion happens up front.
Please share, retweet #SMM #Facebook like and subscribe at will.
Disclosure: My company, Maria Snyder Consulting may receive compensation from the companies whose products are presented as an affiliate link.