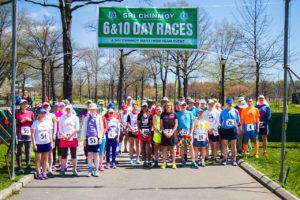 Start of the Sri Chinmoy 10 Day race 2016 Photo by PJT Street
The Sri Chinmoy Ten Day Race 2016 got underway yesterday at noon in Flushing Meadows Corona Park in Queens, New York. 47 runners began the 21st Annual edition of this unique multiday event under sunny skies.
Israel's Kobi Oren led the field at the end of Day 1 with a small cushion over Ed Ettinghausen from the USA – both making their debut at this distance while Achim Heukemes hit 101 for 24 hours returning after an 8 year absence.
In the womens event Australian Sarah Barnett, 10th in the world last year, put in a solid performance to lead the ladies in 5th place overall. Second place is Slovakian Manoshri Sykorova and her sister Gautami lies in fifth sandwiched between Kimberley Van Delst from Canada in third place and former 10 day race winner Natalia Hlushchuk.
Standings as of 25:16:40, race time.
 Position 10 Day Men  Miles
1 Kobi Oren (1) 117
2 Ed Ettinghausen (3) 110
3 Achim Heukemes (2) 105
4 Budjargal Byambaa (11) 97
5 Soren Raarup (30) 88
6 Ananda-Lahari Zuscin (7) 87
7 Sergey Leshchenko (15) 83
8 Michael Korol (27) 82
9 Ales Pliva (17) 80
10 Georgs Jermolajevs (13) 80
 10 Day Women
1 Sarah Barnett (40) 92
2 Manoshri Sykorova (46) 87
3 Kimberley Van Delst (51) 81
4 Nataliya Hlushchuk (42) 81
5 Gautami Sykorova (47) 79
6 Yolanda Holder (48) 79
7 Oyungerel Seded (54) 74
8 Elena Kareva (41) 74
9 Giribhu Muhs (45) 72
10 Vasuprada Funk (44) 68
Links
Race website: http://us.srichinmoyraces.org/events/6-10-day-race
Race results: http://stats.srichinmoyraces.org
Daily news stories: Perfection-Journey
Photos: Prabhakar Street