It's another Friday of the week and this week it's FOODIE FRIDAY again!
Today I'm going to present to you one of my winnings from The Dining Table, a Squid Ink Taglioninni from Da Paolo Gastronomia!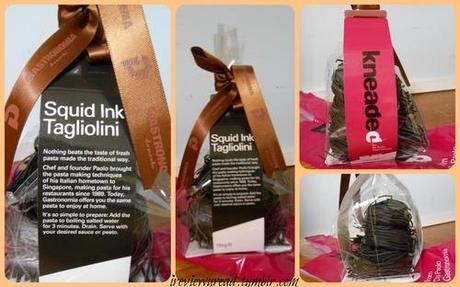 This packet cost about $10.80 for 3 bundles of Squid Ink Taglonini (Yes, it's expensive and boy I hope it tastes good)
Given the fact that I can't cook (OK the word DON'T is more appropriate), the following dish is cook by my very own personal chef, my dad.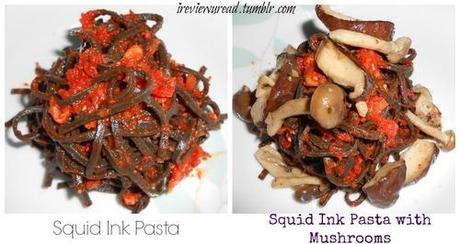 So here's the finished product! Looks delicious right! Basically, this dish is cooked with tomato sauce and mushrooms!
I felt the pasta absorbs the sauce quite readily thus allowing the sauce to be complimented quite nicely. On top of that, the pasta does not give off a heavy squid taste which is a huge thumbs up for people who don't really like the squid taste. 
So yeah, basically, that's what I want to say about this pasta! You can get another recipe for spicy Squid Ink Tanglionini HERE .
In the mean time, seeya!