Perfectly moody American Tapas.
Whilst visiting London last week with a friend for a spot of Christmas shopping, we stopped off at Spuntino. I've never been before but wanted to go for ages, and I was not disappointed. We stumbled across it - the outside was black and difficult to see the name, which gives you a sense of what's to come.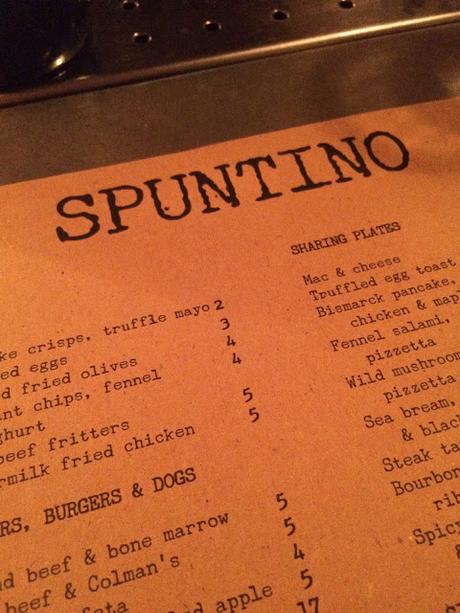 We walked in to find a tiny place, set out with a bar and seats around it, the lights were dimmed, the music was low, moody and rocky. I loved it! We sat at the end of the bar and was soon greeted by the guy behind the bar who took our drink order. My friend ordered a Spuntino iced tea - it was so tasty, not sure what he put in it but it was good. I ordered a Camden Pale Ale which was really good too served in a half pint glass tankard.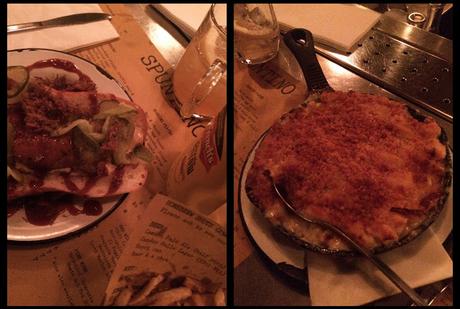 We ordered our food, my friend went for a Kansas Dog with burnt ends and I went for a beef and bone marrow slider. We then shared some shoestring fries and a mac & cheese. Everything came out so quickly, except the mac & cheese (it was totally worth the wait!). The slider was amazing, a tiny burger which was the perfect size, and full of flavour! It had a salty taste which I just loved and it just made me want more! The burger was cooker perfectly - quite pink still, which could put some people off.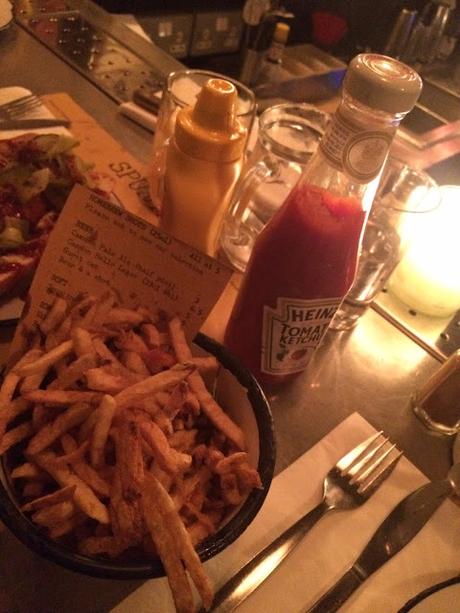 The fries were cooked with rosemary which was gorgeous, perfectly crispy and a the hint of rosemary, then came the mac & cheese...It was another level, there was so much cheese in it, not sure what kinds of cheese, but it was delicious, it arrived on a boiling hot skillet where you could see all the cheese bubbling up over the breadcrumb topping!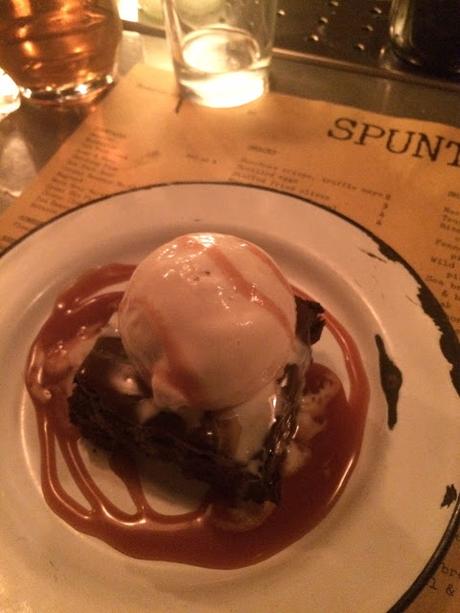 Obviously after all this amazing food we had to get dessert - and this one stood out on the menu for both of us - chocolate brownie, salted caramel and milk ice-cream. I wish I could eat it every day, except I would become really overweight very quickly - it would be worth it. 
I totally recommend trying to find this little place if you find yourself hungry whilst in London - it's down Rupert Street just off of Piccadilly Circus. x