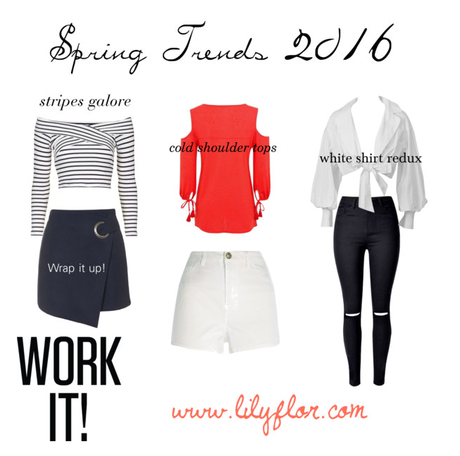 spring trends
Spring Trends 2016
by
lilyflor
featuring an 80s shirt
For some reason, I am very excited about springtime this year, even though as I write there are a few inches of snow in my backyard. Nevertheless, the sun is shining promising a very exciting season which I am more than ready to embrace. Especially since some of the trends we are going to see are actually some of my staples. 
Stripes are going to be so in you're going to see them everywhere in every shape and form. I already got a few styles to get my french-chic on. And if you add a bold color for your lips you're in business, my friend! Cold shoulder tops have always been in my closet. We all know that trends come back right? I feel like everyone is copying me now! So I will be taking mines out and adding some new ones I'm going to be getting for my collection.
The white top redo. You will be seeing the classic white top but deconstructed in different styles. I like the one I chose for this graphic since it reminded me of one I used to have as a teen. Pair it with black denim and pumps and you're ready for Saturday night at the movies or the bar scene. 
I also included a wrap skirt since that's also going to be in style for this spring. In dresses and blouses as well. What I like about using wrap anything is that it does tend to give you a more slimming look. And although the high-rise shorts were not part of the fashion shows. I included it because I know it's another big trend you'll be seeing and hopefully embracing! I'm tired of the very low rise bottoms! It is time to get comfortable!
Hopefully, you'll share your styles with me. Make sure to add me on Polyvore or any of my social media. 

Topshop white long sleeve shirt
nordstrom.com

George crochets lace top
$14 - direct.asda.com

White Top
1stdibs.com

River Island high-rise shorts
$29 - riverisland.com

Topshop navy skirt
$56 - topshop.com

WithChic high-rise jeans
$38 - withchic.com