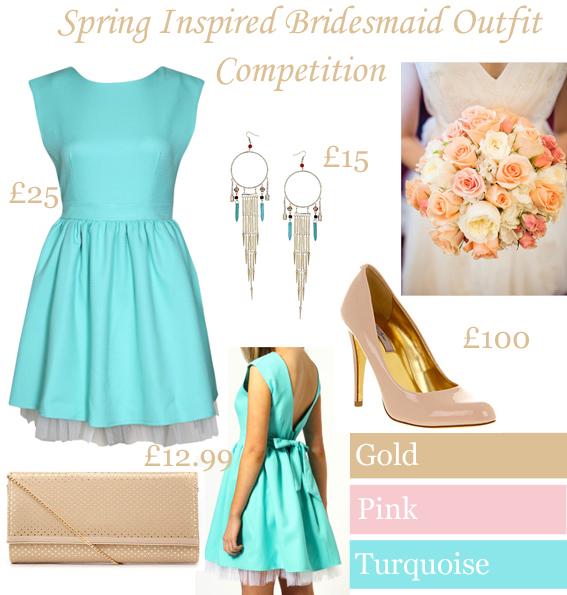 Louise Tie Low V-back dress
- £25 - Boohoo.comTube Dangle Stone Earrings - £15 - TopshopGold Polka Dot Metal Trim Clutch - £12.99 - New LookJaxine 2 Court Shoe Nude Patent Leather - £100 - Ted Baker via OfficeTotal: £152.99
After the lovely ladies from 
Fearlessbrides
 got in touch with me to create my own bridesmaid outfit I jumped at the chance! I love putting these sort of 'wish lists' together, as it gives me a chance to window shop for a while, without feeling guilty! As well as asking me to create this outfit they also mentioned I would be in with the chance of winning a £50 voucher from 
ASOS
.
I started thinking about what I would chose, and seeing as I'm 21, I've never been a bridesmaid and not thinking about getting married anytime soon I found it difficult at first, but then inspiration struck and the 5 year old girl with a pillow case on her head came back into memory. (I can't be the only one that did that right?) The first thing I thought about is what kind of colours would I like to see if I had a spring wedding (as this is one of the guidelines), obviously bright colours are the first thing that comes to mind. This Boohoo dress fits in perfectly, with the V back which gives it a bit of sexiness but not too much so it doesn't become too risqué for a bridesmaid. I love the bow detail on the back as well as the high neckline at the front which gives it a vintage feel. It also is an amazing price at only £25, which is great if you're on a tight budget, this dress also comes in bright pink and white, which could also be used for bridesmaids if you wanted a larger selection of color. The dress started my color scheme, I decided on gold, pink and turquoise. I decided on a gold clutch bag with gold chain as it would work well against the turquoise, and it could be worn on the shoulder whilst carrying the small bouquets. The shoes are by far the most expensive thing about this outfit, they are from Ted Baker, in a gorgeous nude/gold tone. I think they will work perfectly with this dress as they won't distract away from the dress. With the simple gold bottoms you would see a flash of gold every time the bridesmaids took a step down the isle. I decided to add some earrings into the ensemble, from Topshop, as I think this outfit would need a bit of 'bling' (hate that word but couldn't think of anything else). They contain a beautiful turquoise strands as well as tiny hints of pink and gold. I of course added in a bouquet of roses in pale pink and cream, which would look absolutely gorgeous against the turquoise dress.
Fearlessbrides contains everything wedding related - from wedding fashion to photography for your big day. They have created this competition with the chance of winning a £50 voucher for 
ASOS.com
. All you have to do is create a bridesmaid outfit for under £200, and you have until 2nd May at noon to enter! 
x