I've a lot of friends who are running in the North Face 100 in Sydney next weekend, so I hope that this is in time for you all to benefit...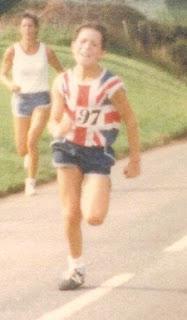 Me in about 1985
When I started running, back in my school days, I was been inspired and motivated by a friend and coach Leigh Thomas who adopted a no nonsense training approach. Plenty of sweat, old school circuit training and no fancy new technology!  
I'd kept this ideal with my training, and had never been one for equipment that could be considered a fad (until that is I'd tried them in recent years and found them to help!).  So for me when I started running longer distances up to Ultramarathons I was running in cotton t shirts and using Vaseline to reduce the amount of blood loss from bleeding nipples every time I ran more than 10kms!  For me Vaseline had been my staple solution to chaffing issues, and until very recently it still was.
The trouble has been that its benefit is very much limited as it needs to be reapplied, and the very nature of the chaffing was rubbing it away from the areas that needed it most. Not only that but it is greasy and stains your clothes (which leave hard to explain stains to the uninitiated!)
Last year I was lucky enough to be given a sample of a couple of new products from 2Toms which, if they lived up to their claims, could be the panacea for all things chaffing.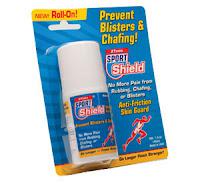 The first product I tried is Sport Shield, which comes in convenient single towelette packs or a roll on.  I've used both options, and my preference is for the towlette version if I'm doing a longer run. Basically you just rub the towelette over the problem area and away you go. These give great coverage in all the surfaces that you may not reach with the roll on.
My first use was on day two of my 33 marathons run, the day after having run 107kms with no lubricant (forgetting to apply anything in all the excitement of getting started). I was incredibly sore with raw skin in a number of unmentionable areas, which was the cause of a broken night's sleep, waking me every time I moved. The following morning I broke out one of the Sport Shield packs and smeared it everywhere, including over the raw areas of skin. Amazingly it did not aggravate those areas, which was a pleasant surprise.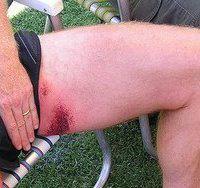 Ouch, no other word for it!
I wasn't convinced it was going to work for me as it seemed to apply such a thin layer that it would be rubbed off before I'd even started running.  It did feel very slippery, without feeling greasy.  By the time I'd started running I had completely forgotten about the problems, and in fact didn't think about it until I had a shower that evening when I could still feel the slippery layer on my skin.  This was pretty amazing I had been running for another 13 hours or so and knocked off another 100kms or so – all with a single application of the Sport Shield.
From that day on it was part of my daily preparation to run to use the Sport Shield, and I have been using it on nearly every run since. I was given a harsh reminder of how effective it is a few weeks ago when I was in a rush and forgot to put it on before I set off.  2 hours of sweaty running later and I was taken back to that sore morning last year! Once again though, I was out the next day for another 2 hours of similar running, and ran pain free with a proper coating of Sport Shield.
I am constantly amazed at the resilience of this compound, which is completely waterproof (you need soap to wash it off properly) and seems to last forever!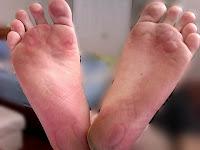 Avoid feet like this
I've also been lucky enough to test out the Blister Shield product from 2Toms. This is a fine wax powder which you use in your socks to reduce the causes of blisters (heat, moisture and friction). You get a small scoop with each pack, and you throw one measure into each sock and off you go.  Like the Sport Shield you don't even realize that you've got it on.
Now as a rule I'm not too hard on my feet (although I have had my moments) so I tested this stuff out with my crispy old cotton socks and went for a long, hot run, and took the opportunity to wet my feet in a stream crossing. I would have expected my feet to come back battered and blistered. Amazingly they looked no different to before I started, without so much as a hot spot.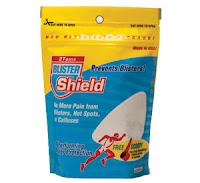 I heard that one ultrarunner used the Blister Shield in his socks, although he changed his shoes on several occasions, kept his socks on for 48hours of non-stop running over mountainous terrain. His feet were in great condition at the end of what must be as tough conditions as you are likely to experience.
Simply put there are times when a little technology can make a massive impact on your enjoyment of running. This stuff is not performance enhancing, but experience enhancing.  There are no extra medals for finishing with blood oozing from your clothes, or with blisters so big that you can hardly walk. For me ultra running should be a test of physical and psychological strength and endurance, and anything which keeps those as a limiting factor on performance has to be a good thing.
Run Happy (and comfortably)
Andy
"Don't use a machine - become one!"
www.ultramarathonrunning.com.au