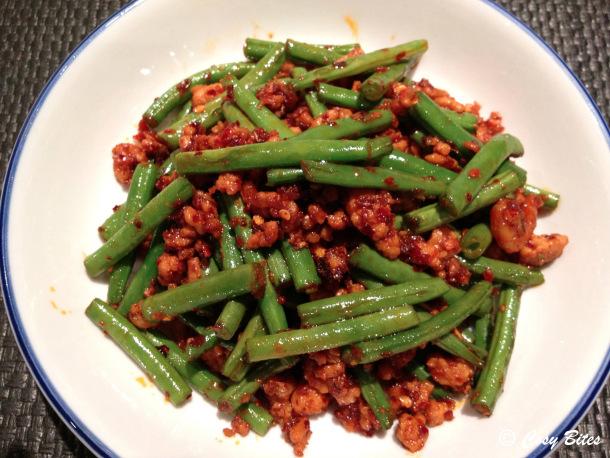 I often complain that I can't get enough greens where I live. While there are lots of vegetables available for salads, there aren't a lot of greens available for chinese cooking. I recently saw small packs of kailan for sale at Waitrose. I was elated … for a while, until I saw the price. 1 small pack of kailan costs AED 26.25 (about USD 7). As much as I'd love to get my dose of chinese greens, I simply can't bring myself to buy it.
Fortunately green beans are widely available here. Besides green bean rice, my favorite way of cooking green beans is this dish 干煸四季豆 which is a spicy dish using string beans and minced pork and cooking them with dried chilli. Instead of dried chilli, I like to use ready-made crispy prawn chilli paste (I use Ikan brand, bought it from Singapore). It gives this dish an extra crisp with added fragrance from the dried shrimps. The more authentic way of cooking this dish is to first deep-fry the string beans then stir-fry with the rest of the ingredients. I skipped the deep-frying part.
Here's the recipe for spicy green beans with minced pork 干煸四季豆. Enjoy!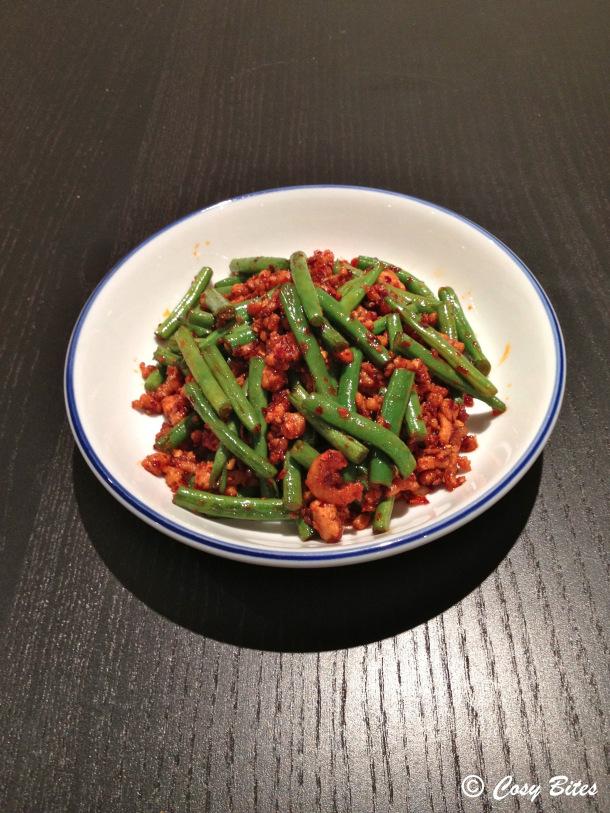 SPICY GREEN BEANS WITH MINCED PORK 干煸四季豆
Ingredients:
150 gram string/green beans

50 gram minced pork
½ tablespoon shaoxing huadiao wine
¼ teaspoon sesame oil
1 teaspoon dried shrimps (optional)
1 clove garlic, finely chopped
1-2 tablespoon crispy prawn chilli paste (or 2 dried chilli, chopped)
1 tablespoon oyster sauce
1 teaspoon vinegar
2 dash pepper
1 tablespoon oil
Method:
Wash dried shrimps and soak till soft.
Add huadiao wine and sesame oil to minced pork and set aside.
Heat up oil in a wok and fry garlic and dried shrimps till fragrant.
Add in minced pork, quickly separate them and throw in green beans. On medium high heat, stir fry till cooked.
Mix in the rest of the ingredients. Lower heat and simmer for 30 seconds with the lid on.
Dish up and serve hot with white rice.