It has been a while since I last posted a recipe. It's time for one now, don't you agree?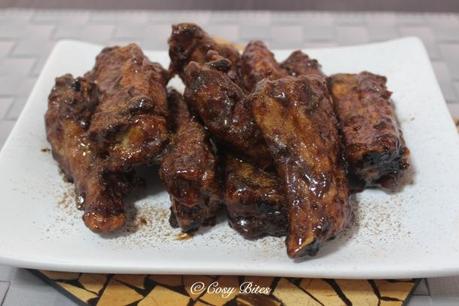 I asked my dad over for dinner and decided to cook one of his favorite dishes, coffee pork ribs. Coffee pork ribs is a dish commonly found in restaurants and zi char stalls in Singapore. The idea to marry coffee with pork ribs is simply brilliant. This was my first time cooking this dish and I was glad it turned out well. My dad commented that the coffee pork ribs sold outside are usually quite tough and he often has difficulty separating the meat from the bone. The ribs that I cooked, the meat is tender and comes off easily, he said. :D
I've air-fried the pork ribs to reduce the amount of oil used. If you do not have an air fryer, you can still prepare this dish by deep frying the pork ribs.
Here's the recipe for coffee pork ribs, adapted from Cooking Channel. Enjoy!
AIR-FRIED COFFEE PORK RIBS
Ingredients:
450 gram prime pork ribs

1 egg white

A pinch of salt

1 tablespoon corn starch
3 tablespoon water
25 gram coffee powder or 2½ pack instant coffee mix
1 tablespoon oyster sauce
¾ tablespoon sugar
2 teaspoon cinnamon powder, for dusting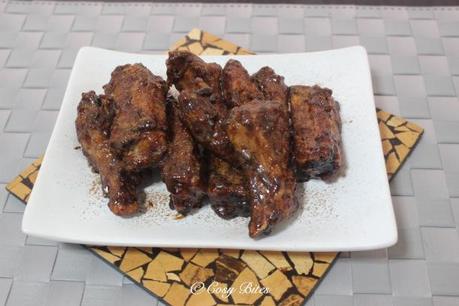 Method:
In a ziplock bag, add pork ribs, egg white, along with a pinch of salt. Leave to marinate, at room temperature, for at least 30 minutes.
Using your hands, rub in the corn starch, and make sure that all the ribs are coated. Set aside for 10 minutes.
Pre-heat air fryer at 180ºC. Lightly spray air fryer pan with cooking spray. Place pork ribs on pan and air fry pork ribs for 8 minutes on each side. Alternatively, deep fry pork ribs in heated oil for about 5 minutes.
In a separate pan, add water, coffee powder and oyster sauce. Stir well and simmer over medium heat until the sauce thickens.
While simmering, add sugar to caramelise the sauce. Add the pork ribs to the pan and gently toss until they are fully coated.
Serve with a dust of cinnamon powder.