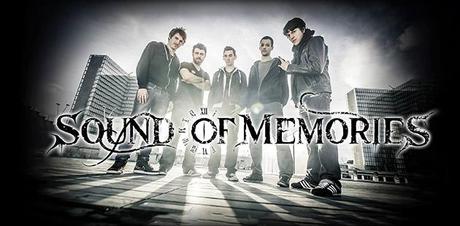 What's new metal fans! I'm going to introduce today a French Heavy/Melodic Death Metal band called Sound of Memories, which has released a great debut EP entitled "Living Circles".
Sound of Memories was born in 2010 in Paris when Alain and Lucho on guitars and Fabien (bass) decided to create a new musical project based on Old School Melodic Death Metal sound with fantastic Heavy Metal riffs and some Thrash touches with a great result.
After the arrival of two new members, drummer and vocalist, these guys started to create their first compositions, but two years later the band suffered some line-up changes and Sound Of Memories come back as a trio with the original members Alain, Lucho and Fabien, due to musical disagreements.
In 2012, with new drummer Nacim and finally in 2013 with the arrival of new vocalist Flo, the line-up of the band is stabilized and they are ready to continue the recording or their first material.
Their debut EP entitled "Living Circles" was finally released on September 2013 and it is recieving very good critics. These guys are really a fresh and powerful energy injecting their new sound with a very good sensation in the French Death Metal scene.
"Living Circles" EP contains three tracks with a great sound in which we can listen awesome Heavy Metal riffs and a nice Melodic Death Metal sound high recommended. These three powerful songs, "Cyborg From Dust", "Slave Of Gizeh" and "Purify Your Soul" are a great sample from these guys and I am sure that the first full-length album that the band is at this moment preparing will be a great release.
Meanwhile you can enjoy the amazing "Purify Your Soul" song by clicking the following link.
SOUND OF MEMORIES – Purify Your Soul (VIDEO)
by MetalWind
You can also check out full EP below, I recommend you to pay attention to these French Metallers, Sound of Memories do not disappoint you.
Stay tuned! They first full-length album is coming! Enjoy this fantastic "Living Circles" EP and leave your comments!
I send greetings to my friend Matt from Contorted Records and greetings to Sound Of Memories band! Great sound, guys!
Follow Sound Of Memories:
https://www.facebook.com/soundofmemoriesofficiel
http://soundofmemories.bandcamp.com