Hello everybody !! First of all a very "HAPPY HOLI" to all of you.....hope you enjoyed the festival and took care of your skin and hair at the same time...
Today I am reviewing a bath soap by "Soulflower", in case you don't know what soulflower is, it is a brand which is into handmade organic skincare and spa products, it is similar to a brand like lush, fabindia, omved etc., its product range includes, scented flowers, aroma candles, essential oils, handmade bath salts, bath bombs and soaps etc.
Lets move on to the review now,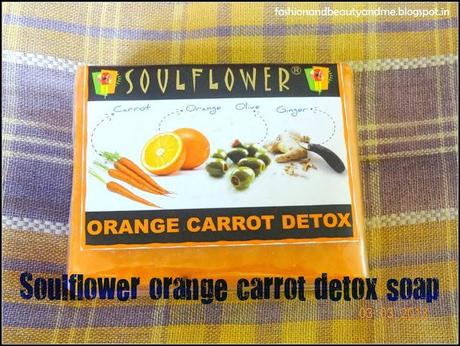 WHAT IT CLAIMS


Everyday your skin comes in contact with dirt, pollution, wind, sun and sweat. Inspite of these setbacks, you can still have the most softest, most gentlest skin. This soap made with fresh orange and carrot juices with a dash of ginger detoxes you inside out. Natural nutrients gently and effectively lightens dark spots for a more youthful and even toned radiant skin. The rich lather rinses completely leaving no residue, while orange peel powder deep cleanses to remove dirt, bacteria and oil and exfoliates dead skin cells for blemish free clear skin. Works wonders for troubled teenage and oily skin.


PRICE


INR 200


MY TAKE




Ingredients





as you can see, it does not contain any chemical ingredients or harmful preservatives
1. It is a

big rectangular soap, however don't get fooled by its bulkiness because it gets finished within 10 days.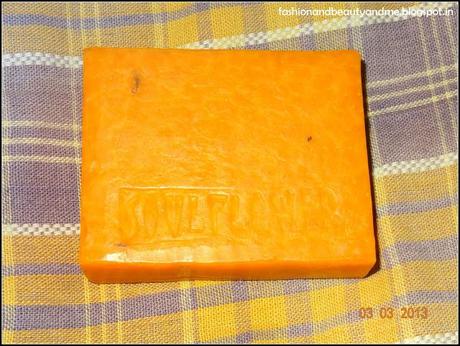 2.It

smells like orange candy and cleanses well

however,

the problem is that the small black things that you see inside the soap, are very pointy and pokes the skin while rubbing.


3. It

lathers well and leaves my skin soft and smooth

, smelling like orange and the smell lingers on for quite some time.
4. The

bar does not break until it finishes and removes excess oil and dirt




LIKES


1. Reasonably priced2. leaves skin soft and smooth3. removes oil and dirt4. smells nice and fresh


DISLIKES


1. availability in 2 and 3 tier cities2. finishes off really fast3. spikey ingredients that poke the skin and may cause rashes


FINAL RATING


3.5/5
This soap was quite okay, not a fan of this one ,   however, I would love to try other soaps from soulflower


today's thought 




"Expect problems and eat them for breakfast" - Alfred Montapert


till the next post
xoxo prayati


FOLLOW US ON:




BLOGLOVIN

     

FACEBOOK

     

TWITTER