Hi guys !!! so, I went to Udaipur to enjoy my vacations before college starts, I am finally moving on 2nd June...I don't know how to describe this feeling..Its really sad leaving my family for two years..but I know I'l make them proud and live upto their expectations....wish me luck guys ! I need it badly right now.
Note: To all the wonderful blogs, I follow...sorry I have been really busy these few days...I will check out your blogs and posts after 5th June...
These are some products I finished up in the past two months, so, instead of doing a monthly favorites post..I am doing this...I hope you enjoy !!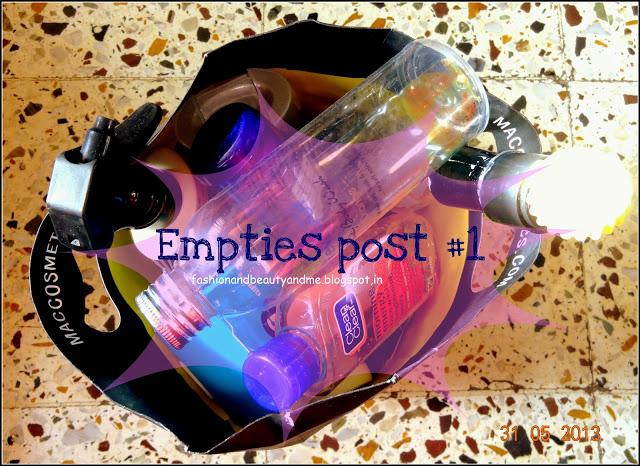 1. SUNSILK KERATINOLOGY HEAT PROTECTOR SPRAY
Works pretty decent, protects hair from damage...however, my spray nozzle stopped working half way through the bottle, so I had to transfer it into another bottle
2. SUNSILK PERFECT STRAIGHT NOURISHING CONDITIONER
One of the best conditioners I have used till now, manages frizz really well, little goes a long way and works efficiently with other shampoos too.


Full review HERE


3. PARK AVENUE BEER SHAMPOO
Another hyped product, I did not like this shampoo at all, It made my hair dry and frizzy, it does not come with a conditioner and you need a lot of product to produce good lather..I do NOT recommend it at all.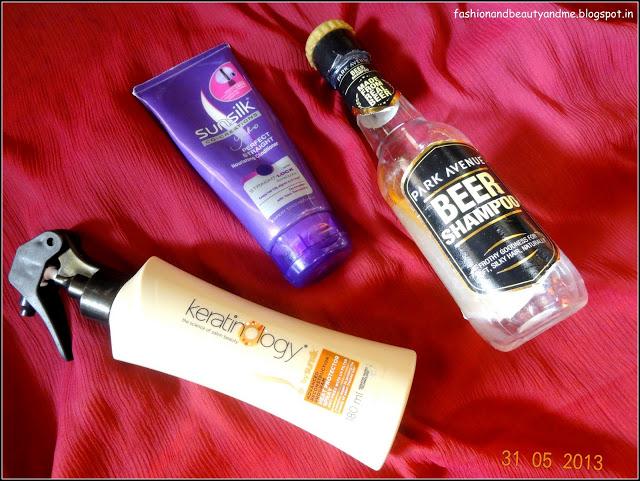 4. REVAYUR FRUITY BODY WASH
Please do not buy this body wash ever !!!!! Its the worst body wash I have ever used, the beads do not break, it does not lather...and it does not clean my body at all !!!!!!!!!!!!!!!!!!!!!!!
5. MARKS & SPENCER ESSENTIAL EXTRACTS COCOA BUTTER & VANILLA SHOWER GEL
Amazing smell, makes my skin smooth and clean...definitely worth a try...you really need to try this, its the best shower gel ever !!!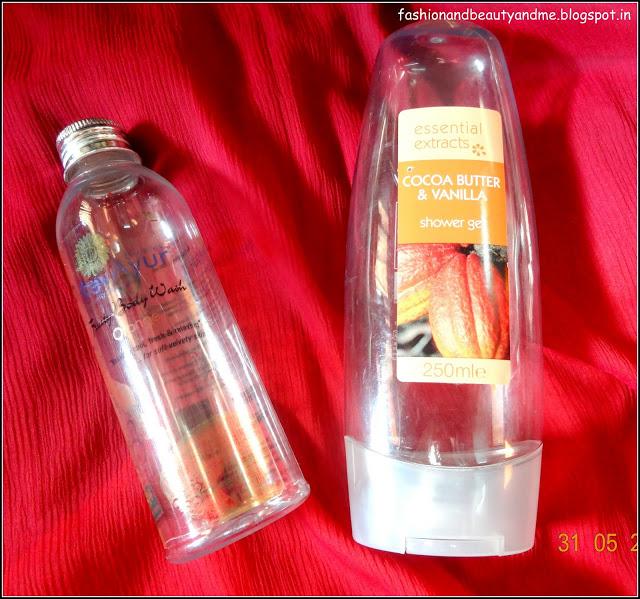 6. MARKS & SPENCER FLORAL COLLECTION LILY OF THE VALLEY HAND AND BODY LOTION
I can't even tell you how fresh this smells..I have tried the entire floral collection range and so far, I think this is the best summer body lotion ever..do give this a try
7. NIVEA REFRESHINGLY SOFT CREAM
This is a good cream but it didn't work for my combination skin, if you have oily skin, I do not recommend it especially during summers
8. AYUR DEEP PORE CLEANSING MILK
One of the best affordable makeup removers I have come across, try this and you will forget all the high end makeup removers..When I went to the inglot store for my makeover, The SA was using this..lol...believe it..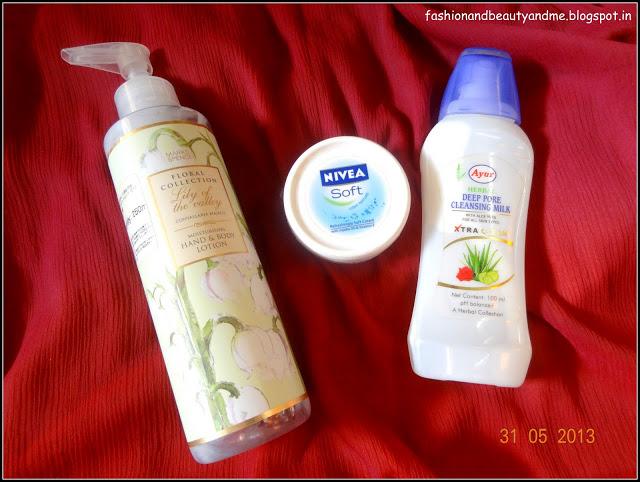 9. NIVEA PURE EFFECT TOTAL FACE CLEANUP
I have already raved about it in this post HERE
10. CLEAN & CLEAR BLACKHEAD CLEARING DAILY SCRUB
If you have a habit of scrubbing your face daily like me then this is for you..it is mild and works well for my skin type
11. CLEAN & CLEAR MORNING ENERGY FACE WASH "BRIGHTENING BERRY"
Bloggers rave about it, but honestly speaking, I did not like it that much..it does not remove my makeup, the beads so not break,, and the consistency is too runny...wont recommend it at all
12. MAYBELLINE COLOR BLOOM LIP BALM IN "PEACH BLOSSOM"
Love this lip balm...gives a nice peachy sheen without looking over the top and moisturizes lips well...totally going to buy it again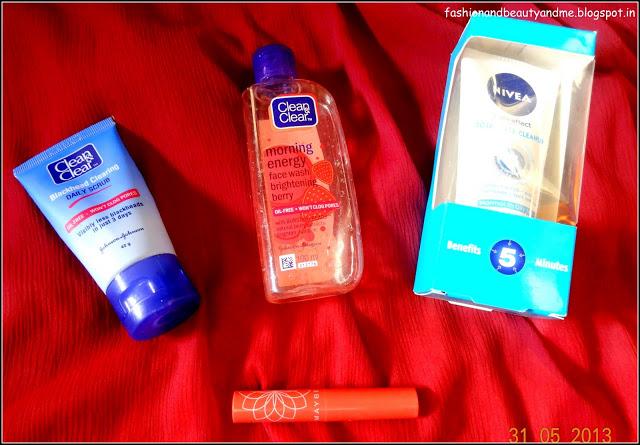 hope you liked this post
let me know if I should do these types of post again
till the next post
xoxo prayati


FOLLOW US ON


FACEBOOK   BLOGLOVIN   TWITTER