After the busy schedule now am back to my desk, In front of my computer with my daily office work and back to normal routine life. Now all that fun, entertainment, travelling, watching movies, functions, hangouts all have come to an end. It was really hard to come back to the routine life as I was enjoying each and every moment of my life last month. Am sorry for not to be regular to my blogging friends.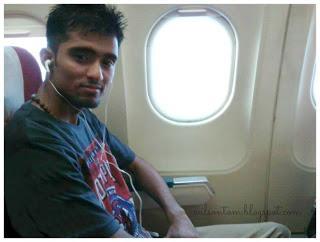 It was my sister's marriage, that's why I got busy. Marriage was at Hyderabad, but for that we had to go to Kerala where engagement was supposed to happen. As we had enough time for preparation, everything was in its full swing for past 1 month. On July 4th itself after all our shopping and purchases we flied to Kochi International Airport. We got to meet Mr. Joseph (Ajith) the groom form the matrimonial site www.chaithanya.ina site only for Knanaya chatholic community. We are Knanaya community also known as Tekkumbhagar, are an endogenous group in the Saint Thomas Christian community of Kerala, India. The Knanaya Community traces its origin back to a Jewish-Christian immigrant community. They migrated from Southern Mesopotamia to the Malabar Coast of Kodungalloor in AD 345 under the leadership of an enterprising merchant Knai Thomman. They were welcomed by Cheraman Perumal, then king, and were given permission to settle down in Kodungalloor. Later, Cheraman Perumal bestowed them with 72 royal privileges. These privileges are very important since all these privileges had influenced the community's social life as well as the social status in the past years, and are been still followed.
As the Engagement ceremony was on 10th July and we had only 1 week remaining all have to be arranged and these day we were totally busy visiting relatives and inviting everyone. As I told Knanaya ceremonies and special, the most important one is Marriage among which pre marriage ceremony that isMylanchi (for bride) and ChandamCharthu (for groom) is most special. And we were busy for the preparation of Mylanchi. Mylanchi supposed to have one day prior to the Marriage, but due to the lack of time and convenience we decided to do it just after the engagement ceremony.
Engagement or Betrothal was held at St.Marys Forone Church Kidangoor, for that groom's sister has to grab hand and take bride from home, after that only member of bride are allow entering the church. After the blessing and Kaipidutham –a Ceremony by blessing the hands of the uncles of bride & bride groom by the priest. And some small prayer the engagement ceremony was over and after photo session we left to the Mylanchi venue: The Parish Hall of St. Marys Forone Church Kidangoor. It was a grand event, as all the relatives and friends participated and everyone had lots of fun.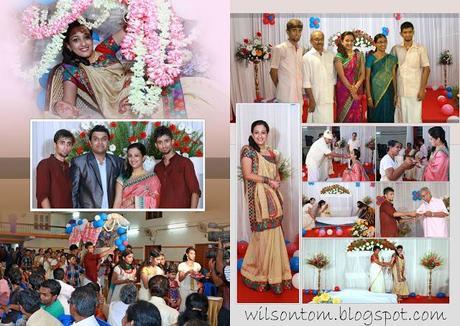 Mylanchi Ideel ceremony is actually beautification of the palms and feet of bride by the leaves from "Mylanchi" shrub on the eve of marriage. After everyone seated the Mylanchi ideel started, and as a mind-blowing bashing entry we took Anuchechy (my sister) in Dholi / Pallak (in old time the mode in which princess was carried).With the song "Mehandi Lagake Rakhna, Dholi Sajakke Rakhna we entered the hall in full bollywood style, which was really innovative and fabulous – as everyone was saying so. With lighting the Koluvilakku (oil Lamp) the My-lanchi Ideel ceremony started.
Mylanchi is been put by aunty (fathers sister) before that mat are been placed then white sheets are being speeded meanwhile choir people sings traditional wedding songs. Then comes Icha-Pad-Kodukkal – Ceremony of giving sweet pudding to the bride by Appapan (Fathers Brothers). And with handing over Koyikal (Chicken Leg piece) to the grooms ammavan (mothers brother) he eats and share it with the fellow people who come to attend the ceremony after that only meals where allowed to provide. While having the dinner there was several entertaining programmes like dances and Shingarimellam done by our relatives. And at the end the Nada villi (cheers) which had added spicy to the event.
After Betrothal we have no much time as we have to go to Hyderabad for marriage on 20th July. Some went through flight and some in train and all reached there one day prior. For all a guest house of Arch Diaoses of Hyderabad was booked at Secundrabad. The Marriage was held in St. Mary's De Sales Church, Shantinagar. And reception at Brindavan Garden at Malkajgiri, it was a huge ground and huge number of people attended the party. The newly wedded couples were entering with our traditional Nada villi – Cheers saying NaDa NaDaayeeeee….NaDa NaDa NaDa. Then welcomed them by Nellum Neerum – Sign of cross done using the blessed palm leaves (from Palm Sunday) wetted in the patty (rice) water, on the forehead ofJeeju (In North India Sister's Husband is called as Jeeja Ji – Now officially I can call him so) & Anu Didi - Wishing them God's blessing and happiness by grooms mother. After that both cut the cake and lighted the lamp. Here also we had rituals like: Vazhu Pidutham – The rite of giving God's blessing to bride and groom by the mother of the bride by placing her hands in the form of a cross on their heads. Then Kacha Thazhukal – A ceremony using a new piece of cloth given to bride's relatives as a gift by the groom's party done by brother (Usually done by Mothers Brother, but in his absence bride's Brother done here) and by aunts. After that Aunty give them both Milk; for a sweet start to a new beginning.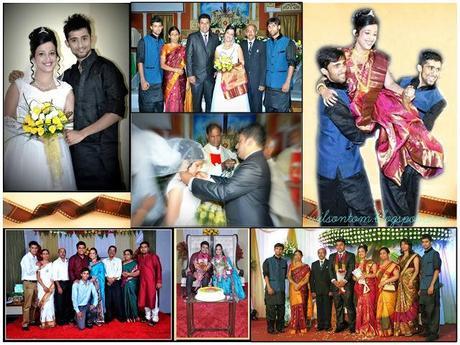 Later after the ceremony we went to send off our sister to her new family where mom handed Anuchechy to Jeeju's mom hand and me and my brother grab Jeeju's hand and took him along with us (just as a gesture) then next day itself we all went back to Kerala and we had to visit certain relatives place, as that is also a custom that after marriage they have to visit there dear and near ones house and also certain Churches, for offering at church A small amount of money is given to the bride's party by the groom's people. While I was in Kerala this time often went for movie for the Second show.
The same week we had to come back Delhi as on 27th we had planned to had reception party in Delhi. So as I told we were literally busy traveling throughout this month: First from Delhi to Kerala, then Kerala to Hyderabad, after that back to Kerala, then at last Delhi, everywhere we were totally busy with loaded activities and functions. After the reception was over then only we all took easy breath. As this was the first marriage been done in our family as dad and mom where the eldest from both their side, so the rate of nervousness and tension was little bit high. But the help and support from entire family members, friends, and relatives with their prayer & with the presence and with the grace of almighty God everything was nice and ended perfectly. For the hangover we needed certain more time and after all the engagements and works have been done, joined back my office and resumed my routine life. And here starts my first blog after a long interval, hoping to be more regular.