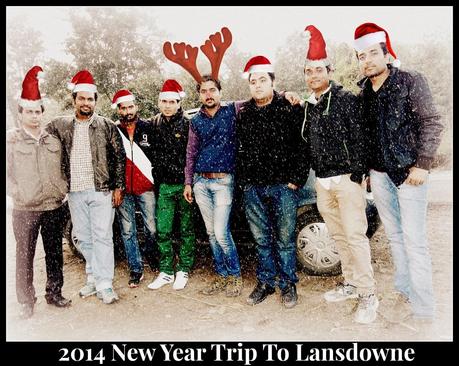 As always I don't wanted to stay at home at New Year eve. So I started planning for have a trip to somewhere away from Delhi. Hills has become a part of my life as well as my trip. And to my list of nearest unexplored hill station Lansdowne come to my mind. One of my old colleague and friend Rohit was inviting me to visit its hometown at Kotwar at Uttrakhand for long time, but due to some personal and official engagement I could make it. But this time I decided to visit his place, which is near to Lansdowne. So I asked him about the details and planned to visit this New Year along with my other friends to Lansdowne. As always at the beginning there were many friends who wanted to come along with us, but some backed out at last moment and some new faces joined. Before the d-day we created a group in watsapp and started updating about the trip. We were total 8 friends in 2 cars.
on 31se December after finishing our works and taking half day by around 3 O clock we all gathered at Shanky's place and by around 4 O clock we startd our journey to Uttakhand (UK). After crossing Merrut we took break at Mawana and had some refreshments. Because we left for Lansdowne very late so everywhere was dark night without even a single street light. Meanwhile our manual GPS (Rohit), who was supposed to tell us the route and was very confident as well as visited his hometown very often, could guide us. And for that we all from the starting till the end of the trip were pulling his leg. And in many places where we had to take turn we were going ahead and had lost our way. But somehow with Google Map we managed to reach but was little late as per our plan.
As 31st was a Tuesday some of them were having Fasting, thus were not able to drink or have non veg, so all were waiting to end this year and so that to start a new year, a new day, a new beginning. But Sandeep lost his control and while we halted for dinner get the bottle and started making drinks, Fun was all around and the best part was that the roads were amazing well paved hilly terrain with some nice curves. We reached at Kotdwara, which is also regarded as the Gateway of Garwal, at 11pm. And soon we kept our luggages at the lodge in Durgapur. Later we decided to go to the jungle for bonfire. While going to Karnashram ( the Jungle area) we realized the it was raining whole day so woods will be wet, so enroute we saw some bunches of woods we grabbed it and took with us. At the beginning it was not burning but somehow while pouring whiskey and trying hard we managed to burn the flame and bonfire was done just before the 0000 hrs. So started enjoying with the cool weather under the bonfire while having some good foods which Rohits friend managed to packed for us and with booze we welcomed the newyear in united.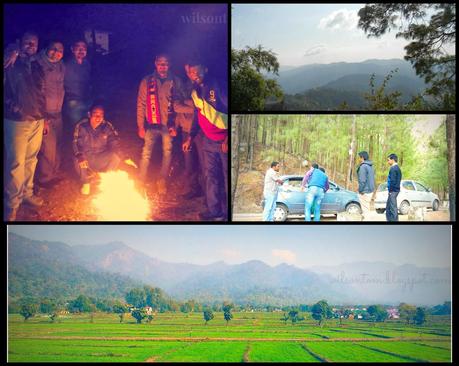 We celebrated there for almost 2:30 and went back to the Lodge for some quick nap. Morning we went to Kishanpur Rohit's home were we had our breakfast and the hospitality of his parents was really amazing and lovable. The most amazing thing we found was the location of Rohits house, which was simply astonishing. While sitting at the room itself you will get a very amazing view of lush green farm land and afterwards the mighty hills, which have a n heavenly atmosphere all around the home. After spending some time there we left for Lansdowne.  Uttarakhand is one of the sacred places of India located on the foothills of Himalayas, which has lots of different hesitations among which Lansdowne is less known to everyone. But it's a quite good hill station not so far from Delhi. Lansdowne is a cantonment area which is very neat and clean, having a little colonial touch in the ambiance. The Popular things to explore here is couple of magnificent churches, peaceful ambiance, lush greenery, cool climate and some amazing pine forests.
While exploring this place you can't miss militants and this place is very much famous for its Garwal Rifles. Morning time you may see the march of military people and sometimes you may also hear sound of gunshots. By afternoon we had our lunch at the market in Lansdowne afterwards we left to Delhi. We were a bit late so we in hurry to get back home and at Meerut we had our dinner with some omelets and snacks. And by around midnight we were all back home safe and back to our routine job in with a new beginning of hope.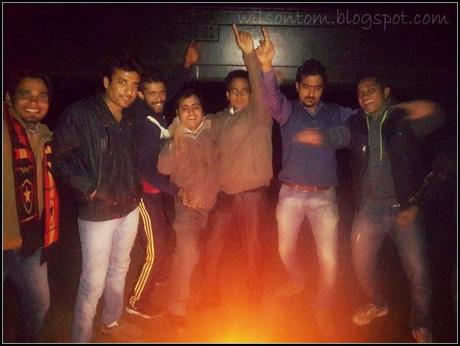 Celebrating New Year in dark big jungle was not less than doing something crazy but we did that. Beautiful songs, awesome climate, running water from the mountains, delicious chicken and glass of drinks what else we could wish at that period of time, it was truly awesome, and here starts a beginning of New Year 2014, with some resolution which are always made to brake.