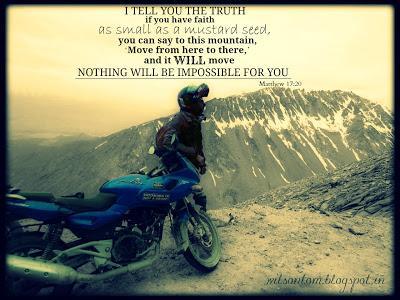 We all travel at some points in our lives, and a prayer for when we travel is important to be sure God knows we want His hand in our vacation, trip or in any journey in which we travel. We all may be good enough in our driving, much aware that there are important travel safety tips we can follow to protect ourselves away from home, but one of the most important is to pray for God to be with us.

Last year was really an amazing year for me as with the grace of the almighty god I had some very good trips and was really lucky to make some fabulous new friends. The best trip which I had last year was My bike trip to Ladakh, or it would be better said to be the trip of my life time. Life itself is often a challenging, dangerous journey, with no clear idea what is over the hill in front of you.  You "lift your eyes unto the hills" and ask from where will help come.  We will all need help and courage in getting over those hills and this can only be fulfilled with the grace of almighty god.

The Lord only can, direct the steps and can provide peace throughout the trip. I know when ever am away from home there are some people back home praying whole time for my return. For all of my family members, relatives and friends I would express my humble thanks, and request to pray for my journey of life as well. One thing I got to know is the point that no matter where you go and whatever you might experience, God is always their watching over you. With all the prayers I would like to add some travel verses from The Holy Bible which will surely be a relief for my future trips and you also can read before and while your trip.


Psalm 23:4
Even though I walk through the darkest valley, I will fear no evil, for you are with me; your rod and your staff, they comfort me.

Psalm 91:11
For he will command his angels concerning you to guard you in all your ways.
Joshua 1:7
Only be strong and very courageous, being careful to do according to all the law that Moses my servant commanded you. Do not turn from it to the right hand or to the left, that you may have good success wherever you go.

Psalm 121:8
The Lord will keep your going out and your coming in from this time forth and forevermore.
Psalm 68:4
Sing to God, sing praises to his name; lift up a song to him who rides through the deserts; his name is the LORD; exult before him!

Psalm 37:23-29
The steps of a man are established by the Lord, when he delights in his way; though he fall, he shall not be cast headlong, for the Lord upholds his hand. I have been young, and now am old, yet I have not seen the righteous forsaken or his children begging for bread. He is ever lending generously, and his children become a blessing. Turn away from evil and do good; so shall you dwell forever. For the Lord loves justice; he will not forsake his saints. They are preserved forever, but the children of the wicked shall be cut off. The righteous shall inherit the land and dwell upon it forever.

Deuteronomy 1:30-31
The Lord your God who goes before you will himself fight for you, just as he did for you in Egypt before your eyes, and in the wilderness, where you have seen how the Lord your God carried you, as a man carries his son, all the way that you went until you came to this place.
Matthew 17:20
He replied, "Because you have so little faith. Truly I tell you, if you have faith as small as a mustard seed, you can say to this mountain, 'Move from here to there,' and it will move. Nothing will be impossible for you."

Psalm 121:1-8
A Song of Ascents. I lift up my eyes to the hills. From where does my help come? My help comes from the Lord, who made heaven and earth. He will not let your foot be moved; he who keeps you will not slumber. Behold, he who keeps Israel will neither slumber nor sleep. The Lord is your keeper; the Lord is your shade on your right hand. The sun will not harm you by day, nor the moon by night. The Lord will keep you from all harm he will watch over your life; the Lord will watch over your coming and going both now and forevermore.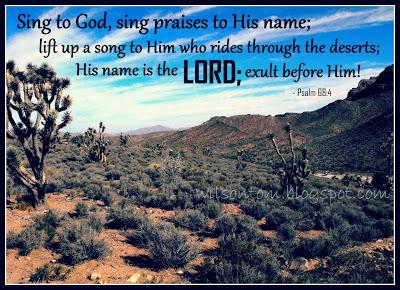 John 3:16
For God so loved the world that he gave his one and only Son, that whoever believes in him shall not perish but have eternal life.

2 Peter 3:9
The Lord is not slow to fulfill his promise as some count slowness, but is patient toward you, not wishing that any should perish, but that all should reach repentance.
Psalm 139:9-10
If I rise on the wings of the dawn, if I settle on the far side of the sea, even there your hand will guide me; your right hand will hold me fast.