We have been following Solita on Twitter for quite a while, after seeing multiple amounts of their snaps of their incredible looking delicious burgers, it was about time we had visited! We went to dine out on a Thrursday evening, and by no surprise the place was packed out which meant we had to wait for about 15-20mins? Nevertheless, it was worth the wait. SoLiTa's cuisine is a combination of influences of New York, Italy and Manchester, without any doubt you would feel as though you're dining in America whilst at your table. (well, I did anyway :P)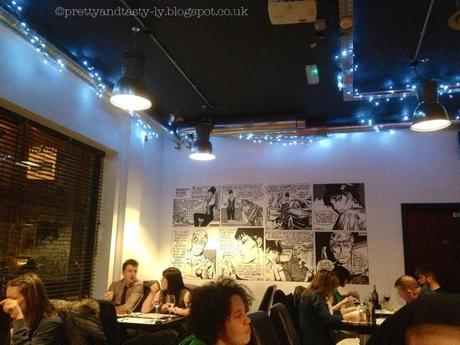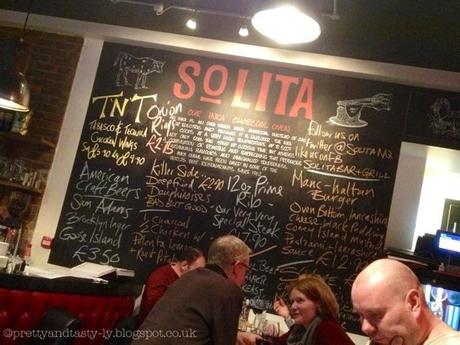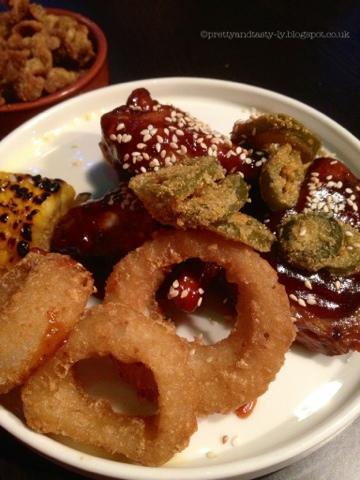 Starters:
As usual we ordered a few things to share, but didn't want to go overboard as the mains were seemingly big. (As described by our waiter)
Ribs, wings, rings and things £7.90 - self explanatory.. Mmm the dish was smaller than I thought it'll be, but! it was satisfying. The barbeque sauce on the wings were yummy! & the fried Jalepenos were still spicy after being deep fried.
Deep fried Mac n Cheese Balls £4.90 - Small doughballs filled with scrummy Mac n Cheese. Soooooooooo good! Never tried anything like it. Best Best starter!
Rooster Scratchings £2.90 - House fried chicken skin pieces with Solita dust.
Extra cunchy, nicely seasoned, Very tasty, not too oily and greatly unusual.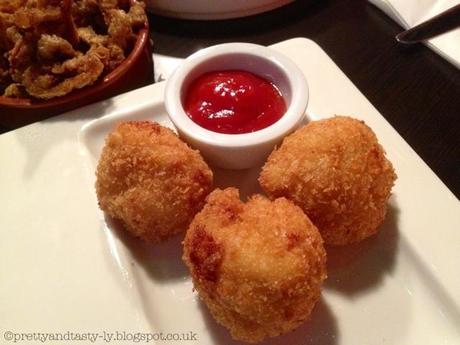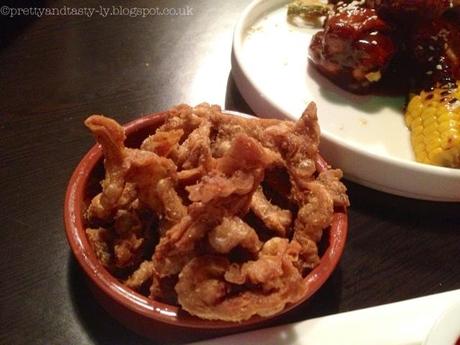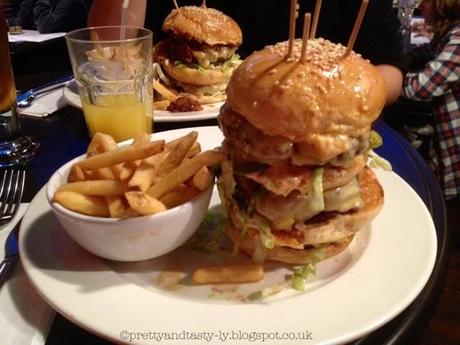 The Mega Manc £19.90 - 3x6 ounce minced chuck steak patties, trifecta brioche (with an extra layer), iceberg, home pickles, Monterey Jack and Big Manc sauce.
Our waiter giggled as I placed this order, and believed that I wouldn't be able to finish this.. So, against his belief I took on the challenge that if I was able to finish the entire burger including the fries - I would get a free pudding :P
As, I chomped on this calorific burger it all started to seem bigger than it actually sounded! I loved the cheesy-ness of the sauce was and the minced burgers were surprisingly not chewy! YES I did accomplish this and I would recommend anybody who is extremely hungry to order this :P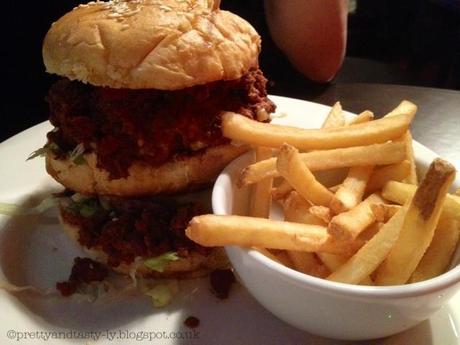 The Big Manc £15.90 with added Smoked Brisket Chilli £1.90

- 

2x6 ounce minced chuck steak patties, trifecta brioche, iceberg, home pickles, Monterey Jack and Big Manc sauce.


Slighlty smaller than the Mega Manc burger, including the same filling but with added smoked brisket chilli. My guest described this as the best biggest big mac he's ever had, even though he was about to explode! The smoked brisket chilli really does add an extra MmmmMmmm in the burger.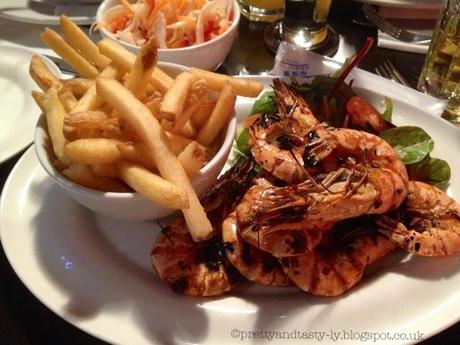 Whole King Prawns £13.90 -
brushed with chilli oil
Clarissa had ordered this and said that she loved that this was a great portion size of prawns, as it wasn't too filling and tasted like it was right off the grill. The chilli oil accompanied the flavours well and did not overpower the authentic taste of prawns. It was a nice and satisfying light dish and not too chilli.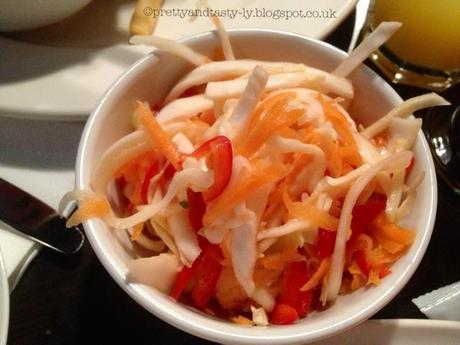 Chow Chow Slaw £1.90 - Very different to your regualr creamy coleslaw. We believed that it had oriental take on this Coleslaw as it contained chilli and vinegar.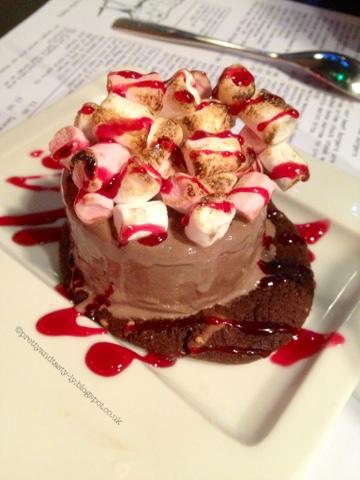 Dessert - S'more. A tradional dessert in the USA and Canada consisting of roasted marshmellow and a layer of chocolate sandwiched between two pieces of crackers. (Google)
Solita's version consisted of a Double chocolate and nut cookie, chocolate ice cream, a layer of roasted marshmellows on top and cherry sauce. A mouthwatering dessert to end the night! Even though we was all stuffed, we still managed to eat this.  
All in all, Solita will definitely be a place we would occasionally visit as there has been nothing like this to compare to. The food, atmosphere, staff and prices are all worth visiting for. Now you know why I said it feels like you're dining in America. right? I do hope that in the future they will expand their chain of restaurants and open one in Birmingham 'cause we need one here! :D Thanks again Solita for the pudding & it was great bumping into you @HungryHoss.
Thanks for reading, do you like American dining? Have you visited Solita?
Angela xo