Sakana is the newest Pan-Asian restaurant located just off Deansgate near the Great Northern, replacing what was known as Chicago Rock Café. Personally, I've not really noticed this space before but Sakana has definitely done a good job into transforming it into a very chic and inviting bar and restaurant. This £1million transformation features a dining area over two floors for 400 diners, a stylish open bar area looking into the open kitchen with a sushi bar, two teppanyaki areas and a robata grill.
Owned by the renowned Yip family in Manchester, the team definitely knows what to bring to attract diners as the dining scene is rapidly growing and diner expectations are getting higher. The Yip family also own both Ocean Treasure restaurants in Manchester and Middleton and Red Chilli. Having dined at both restaurants several times, I can sense Sakana will also become just as successful.
I was very fortunate to be invited to the media launch for a sneak preview of Sakana and to sample a few dishes.But firstly, what is pan-asian food? Pan-asian food is a combination of all Asian food into one, so dishes will have elements of Chinese, Japanese, Indonesian or Indian.
For this 5-course sampler menu, each dish was complimented with a wine specially selected to match and bring out the flavours of each dish. As a regular wine drinker, but no expert I really enjoyed this as it gave me grounding in selecting wines for different dishes.
First course – Sashimi & Sushi Selection accompanied with a Chenin Blanc from South Africa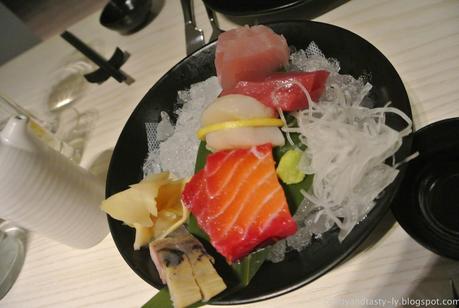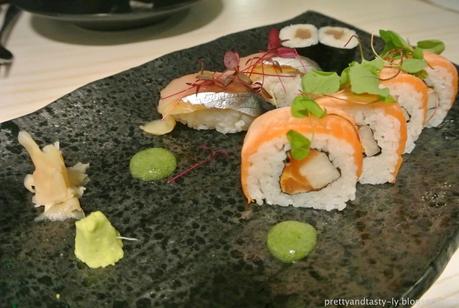 As a regular sushi eater I've eaten my fair share of bad and good sushi, and Sakana served up really good sashimi and sushi.Thinly and equally sliced pieces of mackerel, salmon, scallop, tuna and swordfish were presented to us on a bed of crushed ice and spiralled radish. The fish maintained its freshness from the ice and with a touch of soy sauce the fish melted in my mouth and was to die for.For sushi, we were presented with salmon maki, spicy tuna maki and mackerel nigiri. The maki's were equally sliced and each piece looked identical which, most restaurants fail to achieve and the rice was perfectly cooked and balanced with the right amount of vinegar.

  However, the spicy tuna did not live up to its name as it was not spicy at all. 

Accompanied with 'cucumber ketchup' as the waiter called it, was quite unusual as I've never had anything like this before but it paired up with the salmon really well giving it a cool and refreshing taste.
Second course – Chicken Yakitori Skewers accompanied with The Velvet Devil Merlot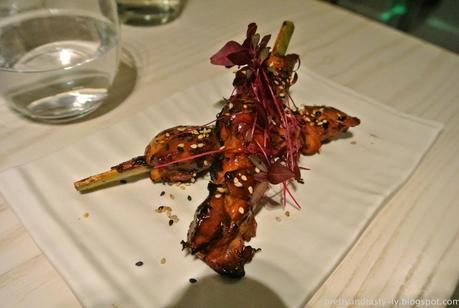 The yakitori skewers were sticky, sweet and slightly salty on the outside but once you bit in, the chicken was juicy but very bland and the flavours were gone. They were tasty but I weren't asking for more.
Third course – Soft Shell Crab Tempura with an Asian Coleslaw accompanied with the Riesling from Washington State (Favourite white wine of the course)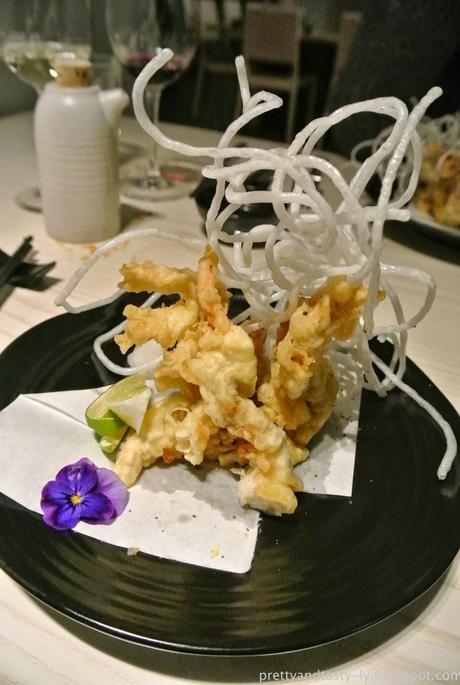 I loved the presentation of this dish as the color of the batter and fried noodles stood out on the black dish creating a wow moment. But the taste lacked a little, the seasoning was very minimal and squeezing the lime was difficult as the peel was partially sliced off. One flavor was missing, and that was chilli. Maybe a sprinkle of chilli salt or a chilli mayonnaise would go well with this.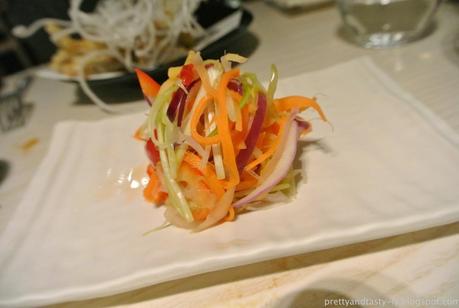 Nevertheless, the Asian coleslaw did live up to my expectations. A combination of finely shredded carrots, red peppers, spring onion, red onion, radish and ginger the coleslaw was full of heat from the ginger, sweet from the pepper and sour from the dressed vinegar. A little side dish to die for, which complimented the soft shell crab well.
Fourth course – Halibut in a Champagne Yuzu Miso topped with pomegranate and served with Japanese Rice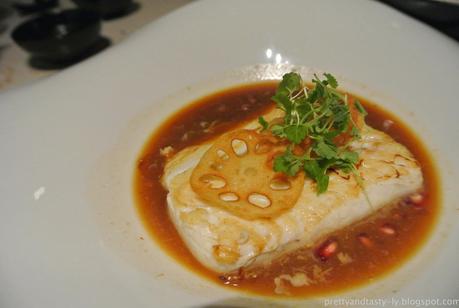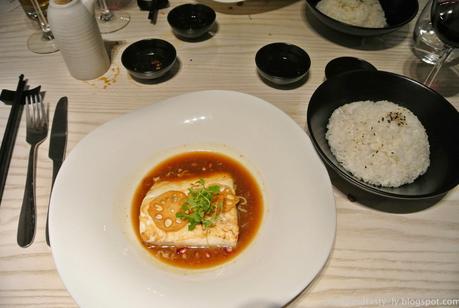 The halibut was grilled to perfection as the meat just flaked off with the touch of the fork. The yuzu miso gave it an orangey citrus flavour, which created a party in mouth; the overall dish was just sensational. The Japanese rice was sticky and was cooked perfectly and really soaked up the miso. The pomegranate and fried lotus also added crunch to the dish. By far my favorite dish of the night and will definitely be back to have this again.
Fifth course – Coconut Panna Cotta with a Cardamom sugared glass and Passion Fruit accompanied with Tenzan Yuzushu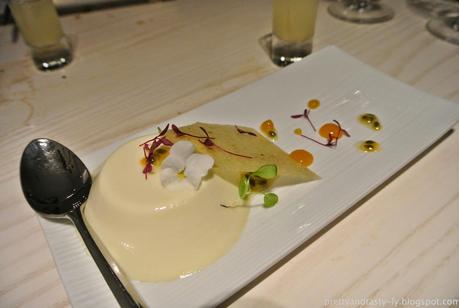 Asian desserts have never been popular to the Western culture, hence that why you always get served sliced oranges or grapes in a Chinese restaurant. I was quite disappointed to see an Italian dessert on the menu as it doesn't blend in well with the 'Pan-Asian' theme. However, the presentation was spot on and looked very much like a Sakana plate. The Panna Cotta was thick, creamy and heavy on coconut flavour, which I liked, but I loved the Cardamom sugared glass even more. It was thin, not too sweet and gave the dessert another dimension.


Accompanied with it was a Limoncello basically, which again is Italian influenced. It was cold and gave a boozy end to the course but I would rather prefer a Asian inspired dessert.
My first impressions on Sakana are definitely on the positive side as I thoroughly enjoyed the evening with great food and drink. The restaurant layout is well thought out with the open kitchen, making a dining experience more unique.
Being able to see the open dining area from the welcoming bar area is pretty cool and the six meter high illuminated Japanese maple tree centrepiece is definitely worth taking a picture of.The ground floor of the restaurant is open to the public, but once its fully open I can see this place creating a great buzz on the Manchester dining and social scene.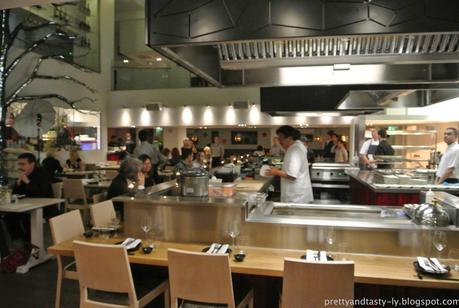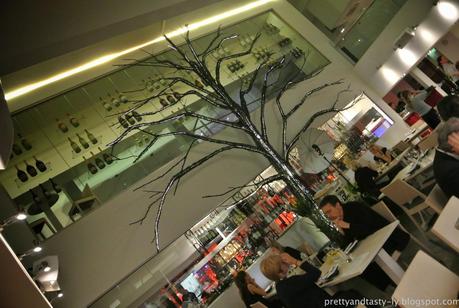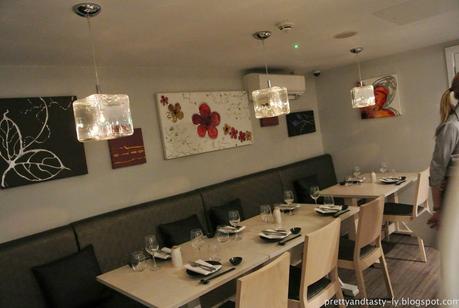 *Disclaimer:
 I wasn't under any obligation to write anything, all thoughts are my own.