Apologies for abandoning our blog for a while, we have been going through a lot of change in our personal lives and things have been busy but we are now back on track to write regular blog posts.
So lets kick off this welcome back with breakfast!
As I mentioned in my last post at Bill's restaurant Manchester I will revisit for breakfast and I certainly did this weekend.
I have never been a huge fan of breakfast, as I never seem to have the appetite for it during early mornings. But since starting my full time job I realised how important it was to feel energised to get my day started, as you will never know what the working day will bring.
On a weekday, breakfast would simply be a variation of cereal, toast, crumpets, porridge and lots of tea. On the weekend, it would usually be a small fry up, porridge full of fruit and seeds or even poached eggs and avocado.
But for this weekend, it was extra special as myself and my partner started our day at Bill's just before heading out for some retail therapy. We arrived around 12 and it was quite busy, full of families, couples and friends having breakfast or starting lunch. Breakfast is served until 12 noon Monday - Friday and until 1pm on weekends, which is even better!
I opted for home-made blueberry and buttermilk pancakes with banana, strawberries and maple syrup - £5.95. I was served up 3 pancakes topped with a handful of fruit and a generous splash of maple syrup. The pancakes were thick and fluffy but it didn't have enough blueberries in the mixture for my liking. I would have preferred the maple syrup in a separate jug, as it was a little too sweet for my first meal of the day. Maybe a few more slices of banana too? (Or am I being plain greedy) Overall I really enjoyed it and could eat these pancakes all day everyday =D 
My partner had Bill's breakfast - £7.95 with baked beans +£1. The plate was neatly piled with Cumberland sausages, two fried free range eggs, tomato, mushrooms, smoked streaky bacon and toast. This is your typical full English breakfast minus all the grease you usually get so its all good for you dieters.
Lets start with the sausage; it was full of flavor like a Cumberland should but what is with the size? Frankly they should be called mini Cumberland sausages and the toast was a bit too crusty which my partner did not like. The eggs were cooked perfectly sunny side up but some may prefer it a little more cooked so it would be nice to be given options. 
For drinks we had a plain hot chocolate £2.35 and a latte £2.30 which were nice so nothing to complain or shout about there. The hot chocolate did come with a flake though so that's a bonus for chocolate lovers.
Overall, I enjoyed having breakfast at Bill's and might even return to treat myself to something else off the breakfast menu. Bill's is definitely the spot for a weekend brunch with friends or family.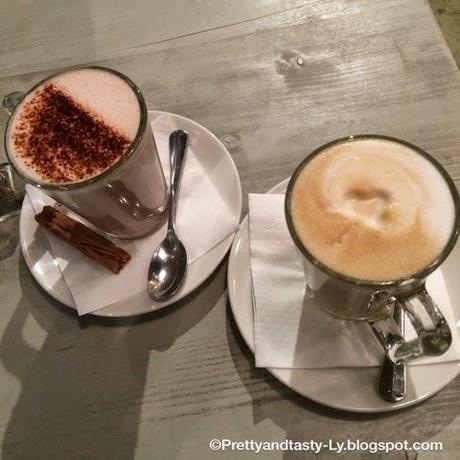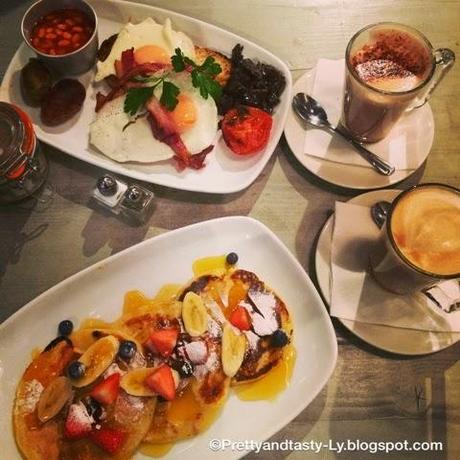 I hope you enjoyed our welcome back post :)