July has been a crazy month but food and drink will always make me happy :) so a trip to Bill's it was! Bill's have just opened up on John Dalton Street, literally next door to Byron burger so there might be a bit of competition there. Bill's replaced a old retail store and it's pretty impressive what they have done with the space. The decor is a little woody but its chilled and casual, the outdoor seating area is lovely. 
The menu offers a great selection of home comforts using the freshest ingredients, ranging from salads, burgers, steaks, sausages and so forth.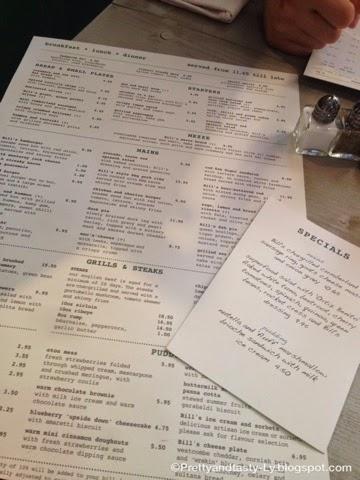 Drinks: 
Aperol Spritz - £6.50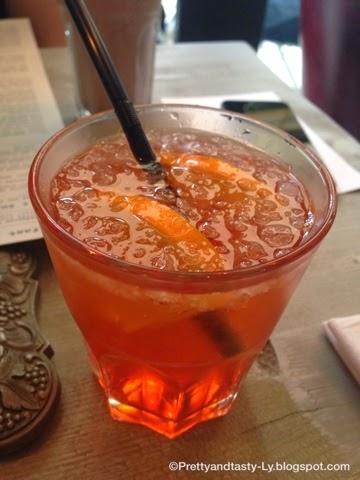 Chocolate Brownie Milkshakes - £3.95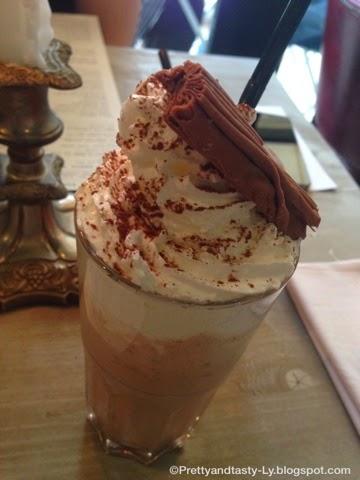 Starters: Selecting which starters to have was hard as we wanted to try everything as everything sounded so good! I way prefer starters to main for some reason, probably because you can try more smaller dishes as oppose to one main dish and you can share. But we knuckled it down to the three we wanted the most. 
Mini Cumberland Sausages with Honey and Grain Mustard - £4.25 
These small but scrummy sausages were on the while you wait menu but I'd rather have it as a starter as we prefer to share and sample as much as we can. Cumberland is one of my favorite sausages as its full of flavor compared to a standard pork sausage. These mini sausages definitely hit the spot, they were small but chunky, full of sausage meat and herbs and most of all the honey mustard was sticky and not too sweet. Perfect!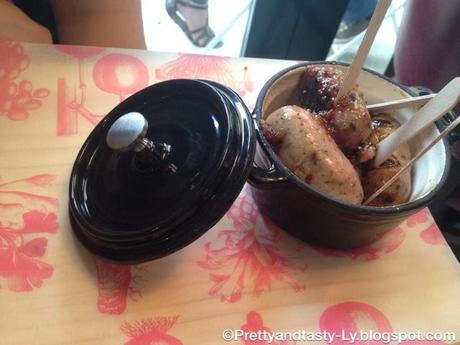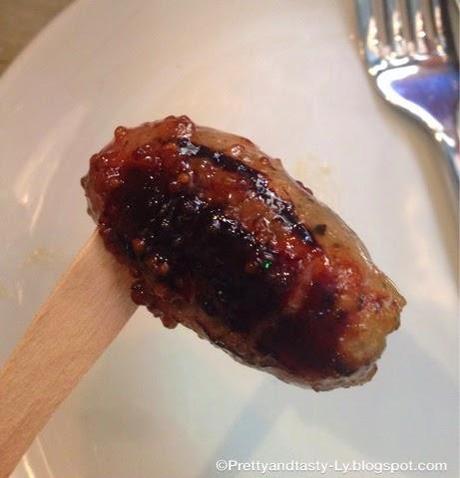 Crab, Chilli and Prawn Cakes with Baby Gem, Mango and Spring Onion Salad - £5.85 
I chose this starter for its great combination of classic flavours but I was a bit disappointed to be fair as it was just okay, the chilli was not there! The crab was a bit too minced and mushy for my liking and the mango salsa lacked fresh mango flavor and was a bit sloppy.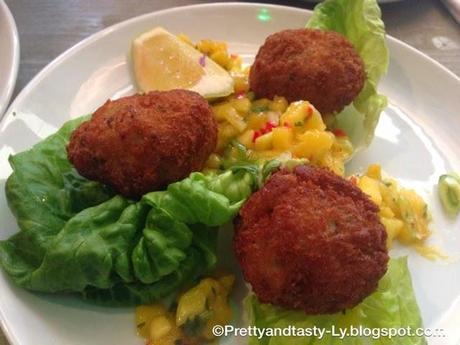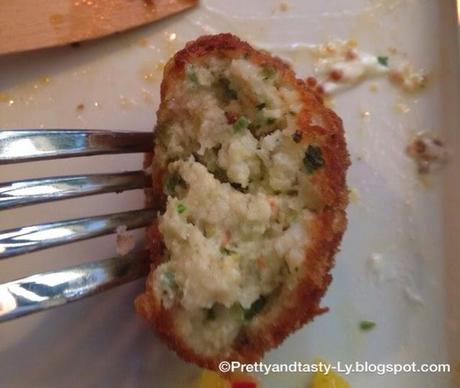 Crispy Lemon Squid with Garlic and Lemon Mayo - £5.95
My all time favorite crispy squid, this starter however did live up to its name and is probably one of the best I've had in a long time. The squid rings were cut to perfect proportions, the batter was crispy and the garlic mayo was delicious.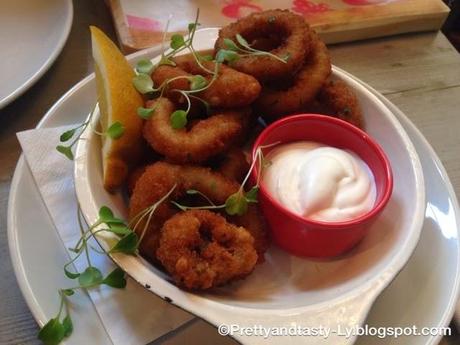 Mains: 
Chipotle, Coriander and Lemon Marinated Half Chicken served with chilli buttered corn and sweet potato fries - £11.95
I chose this main as I thought it would be spicy grilled chicken but the chipotle, coriander or lemon flavor was not there at all, the only thing I could taste was the burnt parts of the chicken from the grill. The heat or spice definitely needs to be turned up a notch or maybe a sauce to go with it might be help. Other than that the corn and sweet potato fries were fine.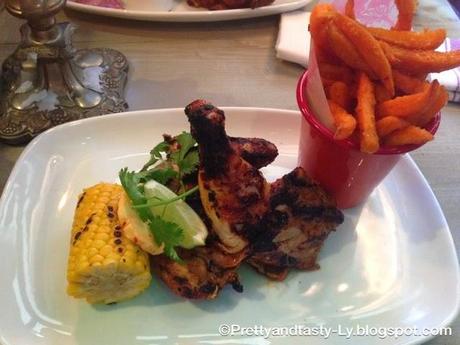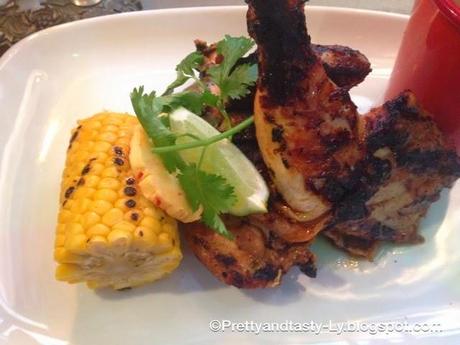 Bill's Style BBQ Pork Ribs served with creamy slaw and skinny fries - £13.95
Ribs ribs ribs! Manchester serves up a lot of ribs if I must say but if you're after honest, meaty and juicy ribs Bill's have got it alright. My partner stated its was the best rack of ribs he had!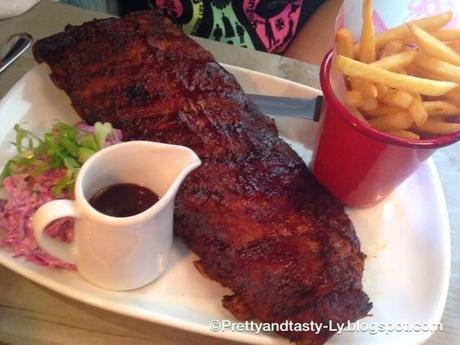 Dessert:
Warm Mini Cinnamon Doughnuts served with strawberries and chocolate dipping sauce - £5.50
We don't usually make it to dessert as we get so stuffed from everything else but like the starters we (well just me apparently) also wanted everything from the dessert menu. But we opted for the warm cinnamon doughnuts on this occasion and (OMG) they are amazing. You get around four doughnuts, all still surprisingly warm, the dough is soft inside and slightly fried on the outside all coated in sugar and cinnamon. The chocolate dip is rich but very delightful when eaten with the doughnut. I could eat these all day long!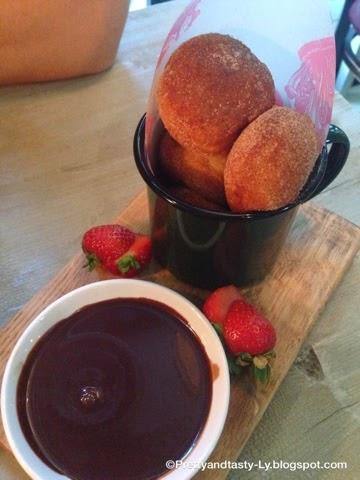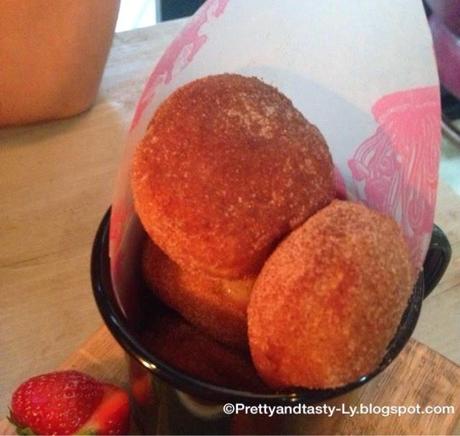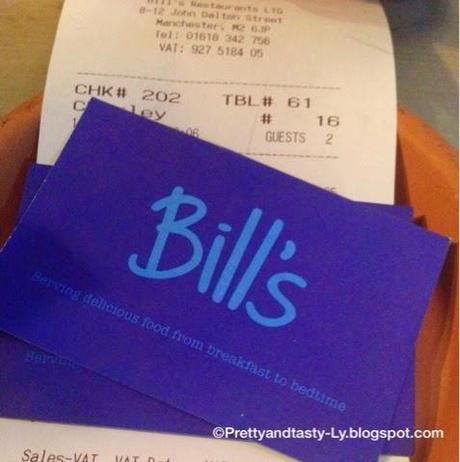 If you're looking for a casual dining experience then Bill's is the place to go and most of all it won't break the bank. However, it would be nice if there were a bigger selection of cocktails. Next time I go it would be for breakfast and I'm really excited!!!
Have you tried Bill's before?
C x