Vietnamese restaurants have increasingly become popular recently and more people are becoming familiar with the cuisine and its most popular dishes. The rise in popularity could be that Vietnam is becoming a tourist friendly country and that people are now beginning to differentiate Vietnamese from Chinese, Thai and Malaysian. 
Luckily, we come from a Vietnamese chinese background so we are very fortunate to enjoy both cuisines in our daily lives. Chinese and Vietnamese foods are similar in the sense that flavours are revolved around sweet, sour, chilli and salty. From a personal perspective Chinese foods revolve around rice a lot whilst Vietnamese revolves more around rice noodles. 
I do become reluctant to try Chinese or Vietnamese restaurants as I always think no one can cook it better than my mom but when you're miles away from home, there is no choice but to give in and satisfy those cravings for home cooked food. 
Vnam is a small family run restaurant/cafe on Oldham road and has been there for a few years now and serves up a decent number of traditional dishes such as pho to summer rolls. 
We arrived on a Sunday evening around 6pm and it was busy with just one waiter hosting, serving, taking orders, making drinks and running up and down to the kitchen to collect the dishes. So service was a let down as it was slow and clumsy but I can't blame them for that as you just can't get the staff these days! 
The food was a different story though...
Starters
Salt & pepper soft shell crab £5.45
The presentation was spot on as the crab was delicately battered and fried keeping its original shape and wok fried with salt and pepper. The batter was light keeping the crab crispy and the fish dipping sauce accompanied it well but I would have preferred more chilli.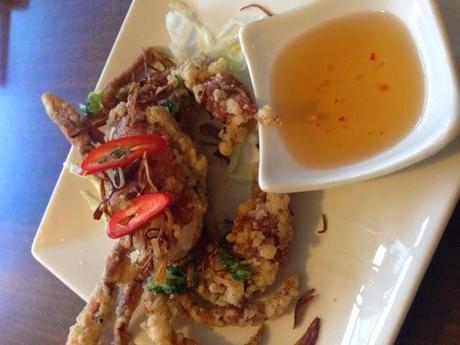 Banh khot, aka mini rice cakes topped with prawns £5.85. This is a traditional dish, mainly eaten for brunch and it can be made with different fillings such as pork, mushrooms or spring onions. I was a bit disappointed with these to be honest as they were a bit hard and the ratio of filling to the rice cake was not equal. Flavour was ok but also a little too greasy.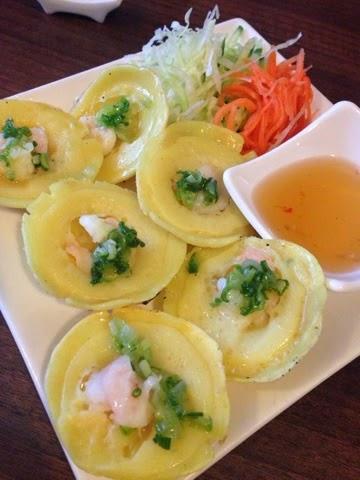 Banh xeo aka savoury pancake filled with either squid or prawn and pork £7.95. This is probably my all time favorite Vietnamese dish as its packed with protein goodness. The pancake itself is similar to an omelet which is delicately fried and folded to hold the filling. The filling is wok fried with a mixture of meat, seafood, vegetables, wood ear mushrooms and vermicelli. Accompanied with a chilli fish sauce, this dish is filled with lots of flavor and can guarantee to keep you full. In comparison to my home version, the pancake was too thin and should definitely have more egg taste.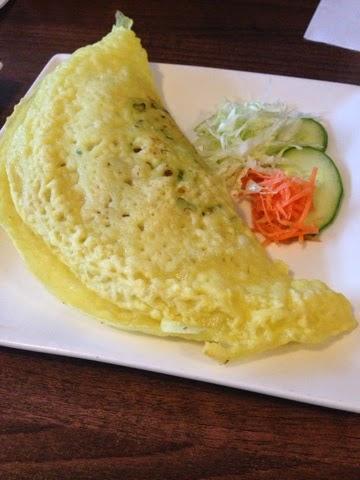 Chicken salad £7.95 was jam packed with spice, red onions, shredded white cabbage, shredded carrots, fried shallots, crushed peanuts and a squeeze of lime. This salad definitely tingled our taste buds and is better than any chicken salad I've tried. All the strong flavours makes this dish refreshing and very enjoyable to eat, the prawn crackers also added extra crunch to it.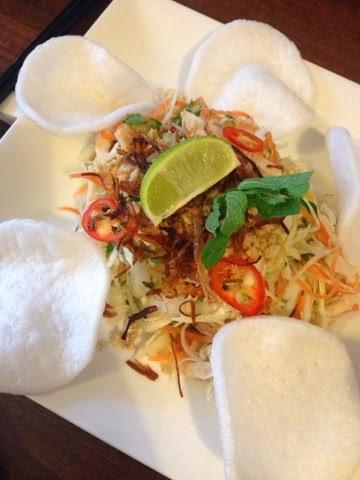 Mains 

Pho Bo aka beef noodle soup £8.75 is a traditional dish and is eaten in many Vietnamese households. The dish is made up of flat rice noodles topped with thin cuts of meat such as beef and is cooked with a hearty beef broth poured over it in the serving bowl. One thing I like about Pho Bo is having the hot broth poured over the meat as the heat cooks the meat in the bowl giving you the tenderest cut of beef ever cooked to perfection. Vnam's version of Pho Bo was just as good as having it at home, the broth was packed with cinnamon and staranise. Served up with a side plate of chopped red chillies, coriander, bean sprouts, mint and lime you can make this bowl of goodness to your liking of your tastebuds. Plus the portion is very generous, the size of the bowl is huge!!!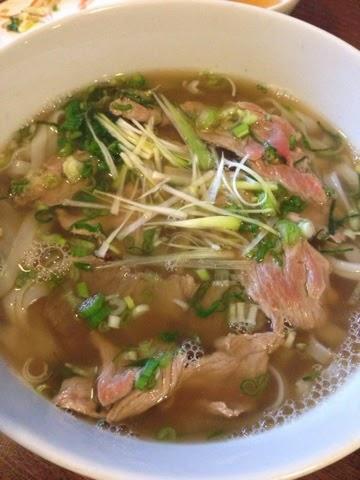 Bun Bo aka spicy beef and pork noodle soup £8.75 with round noodles served in a spicy broth. At home Bun Bo is my preferred option as I like things spicy and it still is when eating out. Like Pho Bo the broth was the star of the dish as the flavours and the heat tied the dish together. Vnam is definitely generous on their portion sizes as well as the meat toppings in their noodles. Bun Bo is best with a squeeze of lime or lemon as the citrus flavours accompany the mint and chilli really well. Vnam's version was definitely just as good as any Bun Bo I've tried.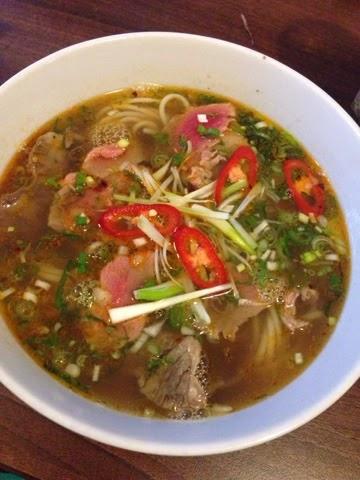 Bbq pork with noodles £7.95 - I just need to clarify that this dish was supposed to come with a side portion of spring rolls which we did not receive even after querying it. However, the pork was juicy and marinated really well with lots of grilled smokey flavours as well as sweet and the fat on the pork belly was soft and delicate. The crushed peanuts added another dimension to the dish giving it another texture and the fish dipping sauce bought the dish to life but it would have been better with some chilli. The salad made the dish light and refreshing on the pallette.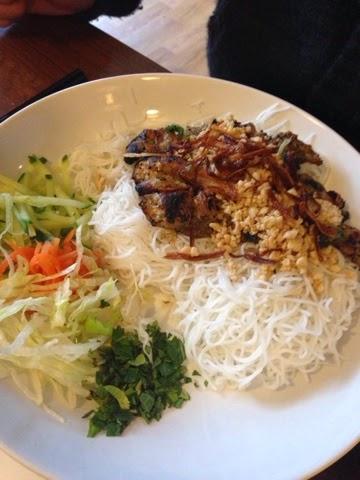 Overall, the food at Vnam is honest home cooked food and is everything I would normally eat at home but the service lacked quite a bit and the ambience of the restaurant could be improved. For example some background music would be nice as it was very awkward at times. The number of staff could also be increased as the poor guy had to run up and down those stairs to the kitchen at least a hundred times. 
Every dish was carefully prepared and tasted fragrant full of traditional herbs and spices bringing the dishes to life. 
What are your thoughts on Vietnamese food?