To me, I feel happy if my readers have shared delicious cake recipes and exchange baking tips with me. I love the interaction with readers that have the same interest in baking too. I am a fan of banana cake and love to experiment with different recipes to search for the perfect banana cake recipe. I am so glad that one of my readers Patricia has shared her banana cake recipe with me. Finally got to try out Patricia's recipe two weeks ago and it was a success. The banana cake is soft and fluffy in texture. Thanks for sharing Patricia!
Here is the recipe:
Ingredients:
6 eggs
230g sugar
350g banana (ripened & mashed)
300g Self Raising Flour
1/2 tsp Bicarbonate of soda
1/2 tsp double action baking powder
180g canola, sunflower or corn oil
4 Tablespoon Milk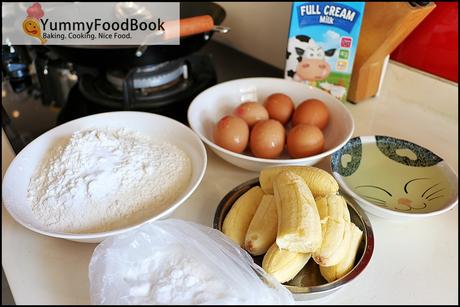 Shift the self raising flour, bicarbonate of soda and double action baking powder.
Method
1. Preheat Rowenta oven (Traditional oven mode) at 165 deg C.
2. Grease and line 2 x 8 ins sq pans (or 1 x 10 ins square pan) with parchment papers.
3. Whisk eggs, sugar and mashed bananas at max speed till stiff/ribbon stage (for Kenwood chef approx 10-13 mins).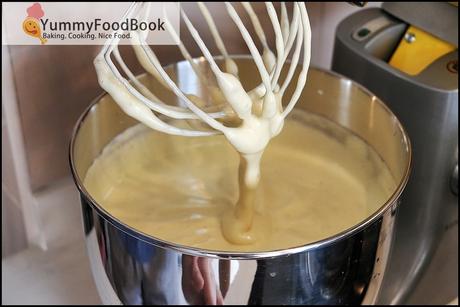 4. Fold in sifted flour and milk alternately. Start and end with flour! Use spatula or wooden spoon, fold in by hand.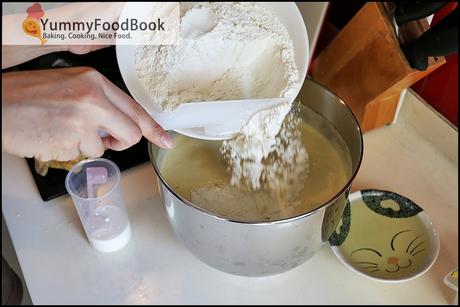 5. Add in oil and mix well till batter is shiny and flowing.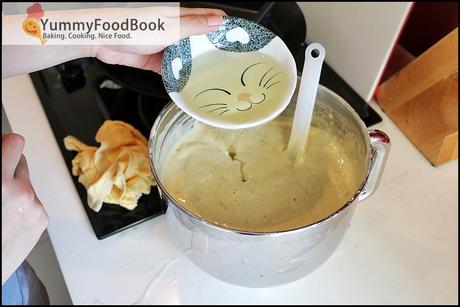 6. Pour the batter into baking tin and bake for about 45-55 mins (for 1 x 10 inch square pan) or 35 mins for 1 x 8 inch square pan (for half recipe)
AFTER 15 mins, reduce oven temp to 160 deg C.
If your cake top turns brown but the center is still wet, cover top loosely with foil and continue baking at lower temperature of 150 deg. c.
At the last 15-20 mins of baking, you may wish to lower to 135 deg C (depends on the cake texture and color.
TEST WITH SKEWER TO CHECK.
Optional: sprinkle chopped walnuts and additional banana bits on top of batter. Mix/fold with spatula before baking.
Here is the step by step video of the recipe:
Happy baking everyone! Do share any delicious cake recipe with me by dropping me an email @ [email protected]
I am currently experimenting with local delights flavoured cakes. Stay tune for more lovely cake recipes!