Return on investment (ROI) with social media is possible if your goal is defined and the outcome measurable.
ROI is a ratio that measures return on investment.  Here is the ratio: The benefit (money made on) an investment divided by the cost of the investment. Return on Investment is based on historic data.  It is a backward-looking metric that yields no insights into how to improve business results in the future.
As a CPA, I don't rely on ROI percentages in business because it is easily manipulated. It depends on inputs and outputs, simple opinion of what is made and an opposing opinion on what is spent. Business people have lots of opinions. Caution is necessary as results may vary based on the opinion. It doesn't tell you how to improve future results.
I ignore most articles about ROI in social media based on the opinion influencing any misquoted calculation.  I need to know what went in to the equation and what was the measurable outcome, it's rarely provided.  Fuzzy math, that's what I call it. So why do so many people make such a big deal about it?
My problems with return on investment calculations and social media are because many don't rely on math or purse strings:
How do you calculate the time it takes to type a tweet or post?
Social media is resource intensive and takes time to network, how can you factor that in?
Similarly how do you calculate thought time developing ideas to engage an audience?
Your goal may be authority, buzz or reputation, how do you measure that?
Here are the important quantifiable ROI ratios I can provide you:
*Increased Facebook likes = Number of visits to Facebook page divided by number of new likes (heavily dependent on Facebook insights)
*
ROI is 

not

 measured in fans and followers, it is measured in dollars and cents! You need to get serious about social media's bottom line.
Financial goals that are from Facebook shop application purchases = money received from Facebook shop application divided by cost of product 
Increased newsletter subscribers = Number of pages visited including the subscribe page opt in divided by the number of new subscribers. This is a useful financial measurement only if a presumed value is assigned to each subscriber.
Each social network is so unique that metrics and quantifiable dollars vary widely, pick those relevant to your goal(s).
Use Google analytics; the traffic sources social module is perfectly adept in reporting quantified measurements
Return on investment without quantified measurement does not accurately represent the success of social media.  That ROI doesn't paint a full picture.
Quantify your measurable goals and apply the ROI formula, it is how you measure success.  Purse strings deserve measurable results, pick the measurable metric and report it to the boss.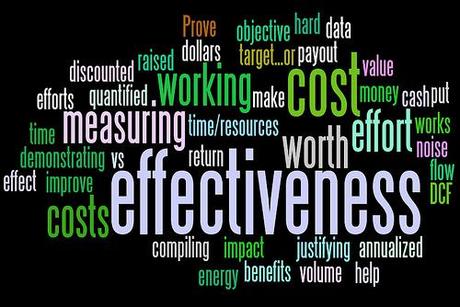 Cambodia4kids.org Beth Kanter via 
Compfight