I use two pumps to cleanse my face and neck. I usually apply to my skin after using my vitamin E hot cloth cleanser, i massage it in with my hands and then  i use my Sephora face exfoliating brush once or twice a week for a really deep clean, I rinse with warm water. It gives you such a deep clean it makes your skin feel so refreshed.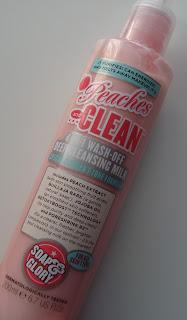 It has a really fresh scent and smells like peaches and mint but not toothpaste or chewing gum minty a different mint smell its so lovely. it removes make up really well i wouldn't use it on eye make up though!
Soap and Glory say


''Our special clogged T-zone formula Includes peach extract (with skin smoothing fruit acids), quillaja bark (a gentle natural 'soap'), jojoba oil (an emollient skin softener), Detoxyboost™ technology (to help purify and deep clean) and Poreshrink R2™ (for a clearer, fresher, brighter complexion.''
It does a great job combined with my exfoliating brush it makes my skin feel very soft and smooth. It gives a deep clean without being harsh, and hasn't irritated my skin. The Poreshrink R2, i don't know if any product really shrinks pores what do you think?
What I love about it is how easy it is to use with the pump i use it in the shower so no trying to open bottles! You get 200ml of Peaches and Clean for £7.00 in boots and can often be in the 3 for 2 deal.Have you tried it? if not I would recommend giving it a go!