I laced up my racing shoes on Sunday morning for the Potomac River Running Birthday Bash 5k.
When I got up that morning I had butterflies in my tummy.  I am always jittery and jumpy and extra energetic on race day morning.  It doesn't matter if it's a local 5k or the Boston Marathon - I am full of joy and excitement.  ELATION.  I find it hard to harness my emotions in.
Sunday morning was no different from that perspective.  But this race was special to me in so many ways right from the start.  It was being held in honor of the tenth birthday of my favorite running store, a store that is just SO MUCH MORE than a store to me.  Potomac River Running is a family and community of people who provide tons of support and inspiration to so many people in our area.  I am beyond thankful for the friendships I have made through it, and for how these people have not only helped me to become a better runner but have also inspired and encouraged me to follow my dreams and be the best ME that I can be.  I mean that with all of my heart.
This race was also really special to me because my husband Robert was running the race, too. And my mom took all three kids for a sleepover the night before, so it was just the two of us heading to the race.  I have been running since Robert and I started dating almost 14 years ago, but it is only in the last several months that he has begun to find his own love for the sport.  It is really, really cool to share this with him.  Something totally new and unexpected.  Something that has been really good for us, as individuals and as a couple.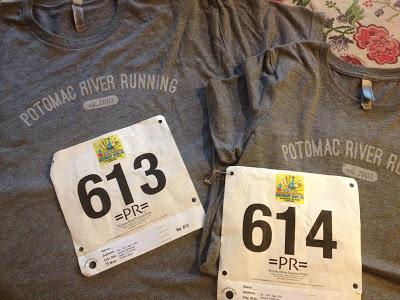 When we arrived at the race I went for a warm-up run along the course.  I ran the whole thing from start to finish at an easy pace with a few strides in the last quarter mile to get my legs moving quicker.  The course was hilly all throughout - lots of ups and downs the entire way.  I knew it would be tough - it was HUMID outside and I was drenched in sweat from the warm up.  I also noticed that my watch said I ran 3.2 miles for the warm up and I thought that was weird - maybe the course was long or I ran a little extra?  I didn't pay much mind to it though - I felt good and I was ready to race and see what I had in me.  I saw my sister and Maddie as I waited in the start line and this made me SO happy.  I am just so blessed with amazing people in my life.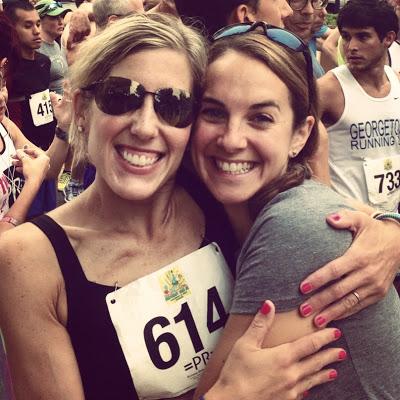 me and maddie just before the start!

When the race started I really had zero idea how fast I could run it.  I wanted to beat my PR of 19:59, and believed in my heart that I could run something around a 19:30 if all went well.  That would be a 6:15 average pace.  Since I hadn't done any speed work or tempo runs in several months, this was all kind of speculation though and I knew that.  So I started running and made sure it didn't feel too hard for the first mile.  There was a pretty nice decline early in that mile and my watch clicked in with a 6:05 when I completed it.  There was a really strong woman in front of me - she passed me on the down hill during the first mile and as she approached me I was amazed by her strength and the ease with which she ran.  It was almost like she was gliding.  I had no urge to try to catch her though - I told myself
you are competing against yourself here Jess, not anyone else.  Just give it your best.
  I wanted to maintain my focus and be really in tune with how I was feeling.
I felt steady at the end of the first mile and decided to just maintain my effort.  Mile two had some up hills in it and I tried not to push too hard up them so that I could save my energy for a good kick at the finish. 
Even effort on the ups, don't worry about the pace, you'll make it up on the downs.
  I ran Mile 2 in 6:18.
And this is when I started to feel the PAIN of the 5k.
The third mile was really tough.  More hills.  Hot sun.  Humidity.  I felt like I could lose my breakfast on one of the up hills.
Hello, pain.  Hello, misery.Hello negative thoughts of this sucking and I WANT TO QUIT. I was wondering when you would show up.
I wanted it to be over, but I also really wanted to hang on so badly.  At this point I remembered a quote I had recently read from Robert Frost.  I have not been able to stop thinking about this quote for a couple of weeks now.
The best way out is always through.
I repeated it over and over to myself during that third mile.  I cannot hide from the pain or the hurt.  Or from the work.  And in fact, if I am being real with myself, I don't even want to!  Stepping up and getting THROUGH it makes you grow, makes you stronger, makes you feel more alive and capable than quitting or taking the "easy" way out.  It carves you deeper and makes more room for joy and authenticity.  I cannot deny that it is difficult to face hard things, whether it's the pain of mile three of a 5k or the pain of changes in your life that you have no control over and just want to hide from, or the pain of tragedy or betrayal or disappointment.  Trying to go around it or just table having to deal with it isn't going to really accomplish anything GOOD.  But I can push on through and know that I will get to the other side of it, TRUST that this is where the magic happens, and BELIEVE that I will be stronger for it - on every level.
I actually turned it into a little poem for myself (not sure what Mr. Frost would think of this, but oh well) --
The best way out is always through.
This is what I am made to do.
I told myself to just push through it. To keep going.  To hang on.  Don't give up.  This is what I believe in.  Hanging on, pushing through.  I know that I am strong enough to go through it.
Mile 3 - 6:26.
When I passed the third mile marker I was SO ready to gun it with everything I had left in me.  I was fighting so hard.  Crossing the Finish line was awesome - my sister and so many of my friends were all there cheering me in and I was so ready to be done!  I really laid it all out on the line there.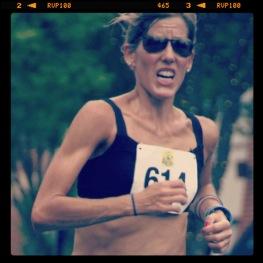 pain face at the finish line
I thought for sure I had a PR in the bag, even with the slower last mile.  But in fact the course was a little long - my watch clocked it in at 3.2 miles again!  The last .2 I held onto a 5:41 pace though, and was definitely feeling strong.  I averaged a 6:14 pace for the entire run - I thought this was extra cool because my bib number was 614!!!  I was so happy about it - I ran one second faster than my goal pace!  It wasn't an official PR (missed it by ONE SECOND!) because the course was long, but I honestly don't care.  I was really happy with how I did.  And what was even sweeter - I was the 2nd overall female!  This just literally amazed me!  My sister was waiting for me as soon as I crossed and gave me a water bottle and a huge sister hug.  There really isn't a better way to finish a race if you ask me!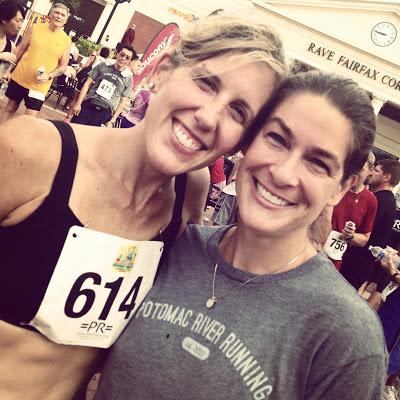 #sistersonamission
After I was done I joined Jodi and Maddie in cheering in all the runners, including Robert who looked INCREDIBLY strong as he crossed the finish line!  He ran a 3 MINUTE PR!!!!!!  It was so much fun to celebrate together.  I am so proud of him for all the hard work and dedication he has put into his running over these last several months.  Really, into his HEALTH.  Seeing someone you love make their own health and happiness a priority is a really good feeling.  It makes my heart swell up with gratitude.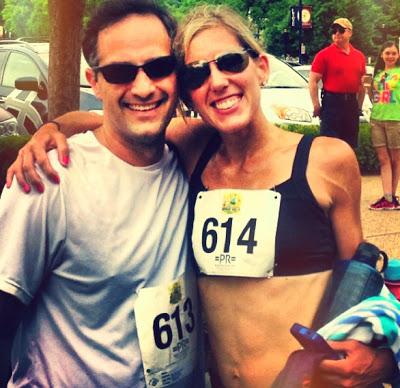 happy and proud and grateful!
We hung out at the race for a while afterwards - it was a huge party!  Cupcakes, a super fun photo booth with silly props to use, an ice cream truck and Saucony even had a dunk tank!  There were even more fun things happening that I don't think I even got around to participating in.  I honestly don't think I've ever been to a more fun race than this one!  Here's hoping that =PR= will make it an annual event!
For me this race was about so much more than running.  I guess in general that's because RUNNING is about so much more than running for me.  It is a huge part of my life.  A huge part of who I am, and who I want to be.  Life and running are so connected to one another for me, so intertwined.
I am beyond thankful to have discovered my love for this sport.  The lessons that running has taught me, and the people it has brought into my life, and the way it has shown me how much my loved ones really truly love me by supporting me and encouraging me so much, and how it has taught me how amazing it feels to give that same love and support and encouragement right back to them ...  it has all truly helped to shape me from the inside out.  Words don't work here...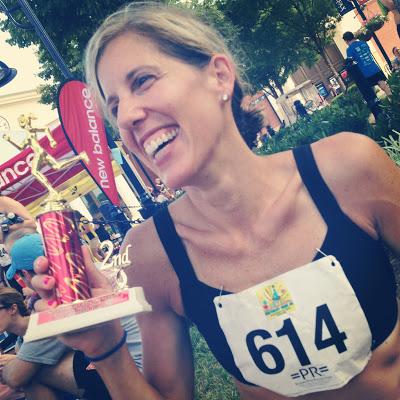 My. Heart. Is. Full.
Happy Birthday, Potomac River Running!!!