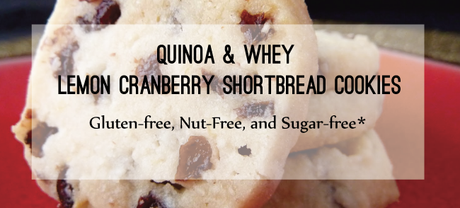 This recipe is going out to the Oakville Gymnastics Club in Ontario. One of our patients was the recipient of the above cookies and now everyone wants to make them.
Quinoa and whey make these a great post-workout high protein treat, with an added punch of vitamin C.
Quick notes:
We never add sugar to our recipes – however, because of the complexity in working with these flours for binding dough we recommend the first time to add a small amount of granulated coconut sugar. Coconut sugar has a lower glycemic count than other sweetners and you need very little to help bind the dough. If you are up to it try making without – it works!
Ingredients
• 1 3/4 cups of quinoa flour
• ¼ cup unflavoured New Zealand Whey Protein
• 1 cup of organic butter – unsalted
• ¼ teaspoon sea salt
• 1 teaspoon organic vanilla extract
• 2 packets of True Lemon
• ½ cup of organic dried cranberries cut in ¼ size pieces
• Very optional: ¼ cup of granulated coconut sugar.
Method:
Take 1 packet of True Lemon and pour over the cranberries – add ¼ cup of room temperature water.
Let these rehydrate for 1 hour – this is where the sweetness comes from.
Dough
Gently remove the excess water from the cranberries. Now mix all the stuff together then roll it into a log shape in some plastic wrap or wax paper. Toss it in the refrigerator for 30 minutes or longer to get it very cool and semi-solid. Make the log dimensions to the size of cookie you want – these are best thin and about 1 to 2 inches in diameter.
Then slice it into quarter inch (0.6 cm) pieces using a warm knife blade (run it under some hot water), place the slices on a baking sheet, and bake for about 15 minutes (or thereabouts) at 350 F (176 C).
WARNING THIS TYPE OF DOUGH IS VERY BRITTLE – BE PATIENT WHEN CUTTING AND IF NEED BE RECHILL A LITTLE AND RE-WARM KNIFE.
Yields between 12-16 cookies