Let's take the plunge and go darker this month at least only when it comes to color.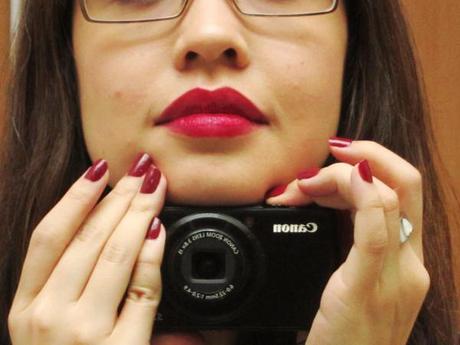 I was advised to "flip" this image after having shot it into the mirror, but I don't know, I like the orientation as it is so I didn't flip it and don't mind the zit, it matches the color (hah!!).  So thankful I didn't have to spend a cent to try this since I borrowed it, and to think I'd been thinking about it ever since Sam Chapman of Pixiwoo on YouTube showed how great the shade "Guava" looked on her.  Bambi, my mother's colleague, happily lent this to me so I could shoot it, a Smashbox Limitless Lipstain & Colorseal Balm in "Sangria" being a berry, bloody rouge.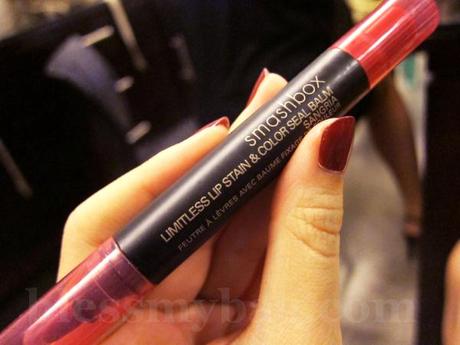 Bambi purchased this for Php1100+.  I know, not cheap, I feel that it's actually quite overpriced, but beautiful nonetheless.  I believe it comes in 6 shades according to the website, from the left you have Guava, Sangria, Petal, Berry, Nude, and Cinnamon.  Sangria happens to be the most well-loved shade of all.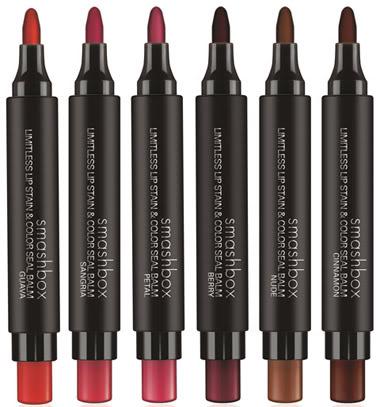 Apart from Sangria, Berry (so lusciously dark) and Nude seem to be my type in the bunch.  Smashbox has a small but fashion-forward range of shades in comparison to what I've seen from more affordable competing lip stain ranges in department stores like Covergirl's Outlast and Revlon's Just Bitten.  I'll have to try the competition to properly compare value for money, longevity, and fade quality.  Read more to get the full review and close-up photos.
The last time I own something similar to a lip stain was when I was in my last year in highschool.  I used the Body Shop Lip and Cheek Stain, yes that bloody looking one, and I took it with me as a freshman in college.  I think I went through 2 or 3 tubes at least because it was so convenient to use you didn't need brushes, all you needed was fingers.  That provided a sheer wash of color that made me look naturally "healthy" in spite of late nights.  Smashbox limitless Lip Stain is a double sided product, one with a lip stain pen, and the other with a Colorseal Balm to relieve any dryness that may result.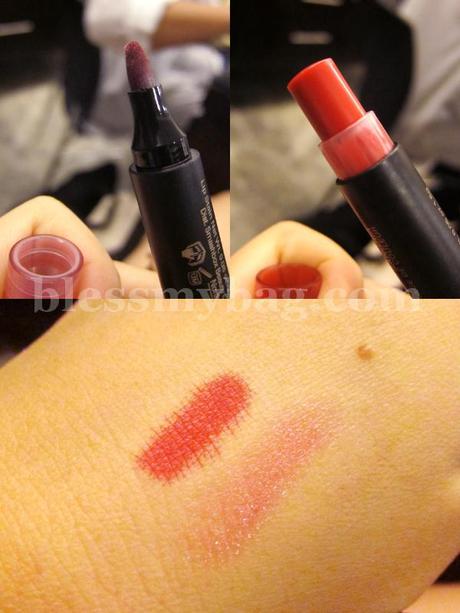 This lip stain is like a marker and it's very easy to draw a perfect outline and fill it in.  There's no harsh sting when applying, at least when I tried it, and I actually wasn't getting any excessive dryness but I applied the color seal balm anyway after letting the lipstain dry for a minute or two.  You can choose to apply just a little from the stain marker on your lower lip then pat the color around with your fingers if you prefer a sheerer pop of color and don't want the full payoff of the stain.  I decided to bring it on for the full effect.  There doesn't seem to be any unpleasant smell, at least I didn't notice any and it seems to be virtually tasteless.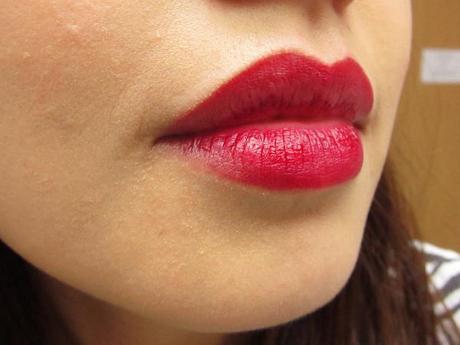 What I like is that the balm doesn't cause the stain to shift majorly and after waiting later on once it set even if I kissed my hand, I got no transfer.  In the evening I got compliments on my lips and it felt strange that my lips felt like they were wearing nothing  because I'm used to the waxy sometimes smothering feeling of lipstick.  I'd already eaten twice, drank, talked and then when looking into the mirror that night after all that I still had full on dark lips like I had just reapplied.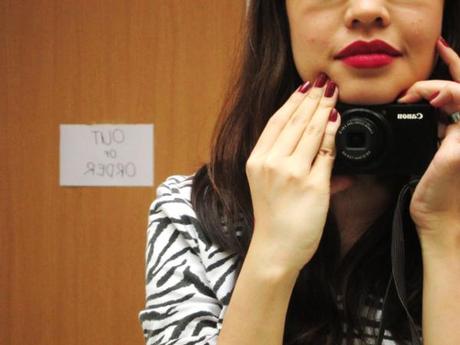 I had only applied it once earlier in the day and returned the product to its owner, and after a few hours I even patted on my new favorite Z.E.N.  Strawberry Lip Butter on top of the stain and it still didn't transfer majorly (the post before this).  Smashbox Limitless Lip Stain  worked well for me but for some reason it didn't work well for Charlotte of Lipglossiping, in her case it faded within 5 hours which I think may be because of the climate difference or something atmospheric, I don't know but it wasn't like that for me, mine lasted near 8 hours at least.  I removed the stain with Human Nature's Sunflower oil on cotton and then with water afterwards.  It was pretty resistant upon removal but not overly so, it didn't "naman" cause wounded lips.  Bambi bought her Smashbox Limitless Lip Stain from Beauty Bar and says she's pretty happy with it in spite of the hefty price.