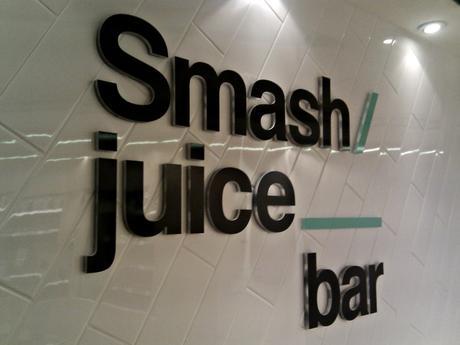 I saw that MeShell in Your City posted yesterday about a new place near my work, Smash Juice Bar. I owed my co-worker lunch, so we decided to check it out.
It's tucked away on Toronto St. (you can also enter off Adelaide), sharing a space with Clockwork Coffee and Rose City Kitchen (and after looking at their menu, I'll definitely be trying something from them soon.) And it looks like Smash Juice Bar has their kitchen in Leslieville, on Carlaw, with store hours. I assume that means you can pick stuff up there too.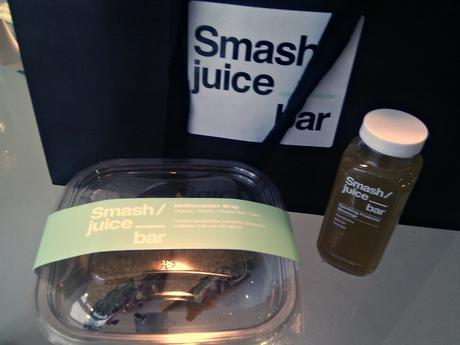 Not everything is vegan, as one food item has honey in it, but all of the other offerings were fair game. We both settled on the Mediterranean Wrap, but everything looked good. I also got a Sparking Probiotic Beverage, which is Kombucha, Mango, and Orange. They have REALLY nice bags too, which I will be keeping a reusing. We asked about whether or not they take back the glass bottles. While the girl could not confirm, in the future they hope to set up a program where, if you bring back 6 bottles, you would get an item and/or beverage free. So I'm going to hold on to my bottle!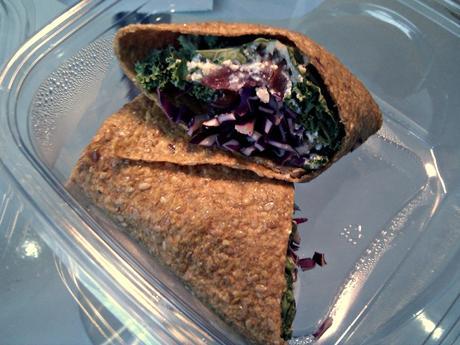 My drink was tasty and refreshing, however, both my co-worker and I were a bit underwhelmed by the wrap. It was filling and the wrapper itself was done perfectly, but it was altogether pretty bland. It says on the ingredients that there is spices, but we sure didn't taste anything. It makes me wonder if a batch was made and the spices were forgotten? The wrap didn't remind me of anything Mediterranean either. I'd add some olives or sundried tomatoes myself or maybe some lemon and garlic in the hummus.
All that said, since it is only Smash Juice Bar's second day open, I will definitely be back to try other items. I sampled the Coconut Powerball and it was fricking delicious and I regret not getting one for myself for an afternoon snack.
~Laura