Now available from No Boundaries Press:
Slightly Twisted Sisters by Ken Charles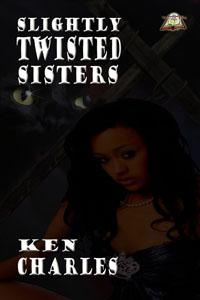 This collection of fourteen short stories is a bit edgier than many of my stories. The heroines are haughty, headstrong, bitchy and even outright sociopathic. There is sex, but sex isn't the focus.
FEELING NO PAIN–A city gal finds a unique way to raise her rent at a country/western road house.

A ROYAL BIRCHING–The usurper may sit on the throne, and claim her Mother's bed, but even a sound birching won't ever bend the Princess to his will.

PSYCHE AND METAPHYSIC–A young girl writes a letter to cousin setting out her revenge on her arch rival who stole her fiancee.

THREE BLACK CATS–The only thing blacker than the Mistress's skin is her heart.

THE CREAM OF THE CROP–She may be the finest rider to come out of the stable, but she still has to pay her fees.

UNDERCOVER–Sometimes even a promising rookie needs to be put in her place.

HOW BETTY SUE BILLINGTON BECAME SENIOR CLASS PRESIDENT–Take brains over brawn every time.

BEDRAKEN JUSTICE–Daddy's little girl fulfills her destiny.

THE NAUGHTY MAID–Failure to perform one's duties has consequences.

SINFUL ONE–A fiery backside beats the fires of hell.

A MATTER OF CONSCIENCE–It may not be for everyone, but freedom of choice should remain unfettered.

CANE, BELL AND CANDLE–For whom does the bell toll? It tolls for her.
THIS JUST IN–Vigilantes finally take matters into their own hands to protect the community.

THE CARD–Mom's diary reveals more than how she quit smoking.
 http://noboundariespressstore.com/index.php?main_page=product_info&cPath=3_15&products_id=17
***********************
Also available from No Boundaries Press: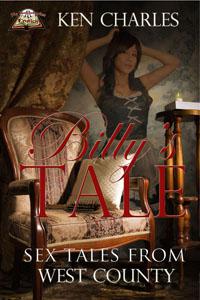 Sex Tales from West County-Billy's Tale by Ken Charles
Billy, age 28, was orphaned at a young age, and raised by his distant, exceedingly rich grandmother. He turned his back on his extremely rich upbringing when he turned eighteen, and moved to L.A. But his grandmother died and left him everything. Billy returns home to more money and free time than he ever imagined. He uses his new found resources to explore his kinky side. 
http://noboundariespressstore.com/index.php?main_page=product_info&products_id=9