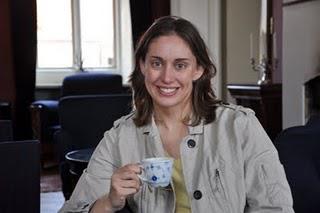 Drinking my hot chocolate in Skagen
Our third port of call on our Baltic Cruise on Holland America was to Skagen, Denmark. Skagen is a fisherman's village.  We took a boat tender to shore.  My son fell asleep in my lap on the way to shore - it took about 15-20 minutes to get there.  He woke up before 6am that day and was pretty tired.  He slept for almost 2 hours. Skagen is not a city I would have gone to as a primary destination but it was nice.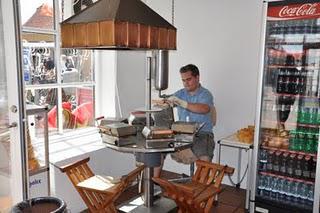 The waffle cone making man
Since my son was asleep and it was quite windy and cold, we walked through the town, stopped in a few shops, and decided to stop for drinks at the Brondums Hotel.  This hotel was one of the stops for a shore excursion and was very nice.  For two drinks we spent $25.  Like I said before, Denmark is expensive.   I had hot chocolate and thankfully it was some of the best hot chocolate I have ever had.  We sat and talked in this sleepy town and enjoyed the rest.  After our son woke up we went back through the peditrican walking zone and walked to the other side of the main street.  My husband and son stopped for a waffle and ice cream while I went on to look in a few more shops.  The prices were outrageous and there was nothing worth spending money on.  Except for a Skagen watch, which I really wanted.  We looked in the watch store at the famous Skagen watches but ultimately decided that $300+ for a watch was not part of our budget right now.  However, we did end up getting Skagen watches, on our ship.  We lucked out and bought them on our ship for half off.  We love them, they are light weight (made out of titanium) and exactly what we have been looking for.
Skagen is a cute sleepy town.  There are sand dunes, if it was not so windy, we had considered seeing them.  We attempted to go in the Skagen Museum but when we got there we found out that strollers were not allowed.  It would be a great city to bike in but overall there was not a lot to do with a young child.  Most other cruisers seemed to shop and sit at the cafes.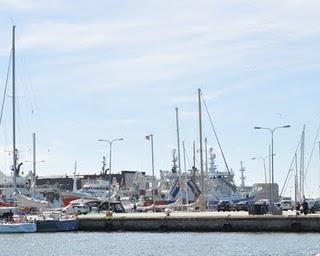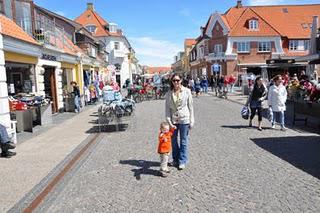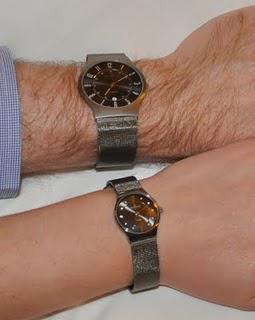 We love our Skagen watches!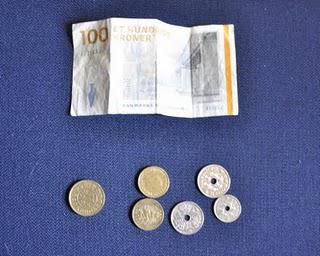 Danish Krones