Symbolically, red has always been the color of love, passion and fire. It is therefore quite fitting that this color be integrated on your special day to add some extra spark and sizzle to the wedding. In fact, in most Indian, Chinese and Arabic cultures, brides are traditionally decked in fiery, glittery red attires that traditionally symbolize wealth, good fortune, joy and prosperity.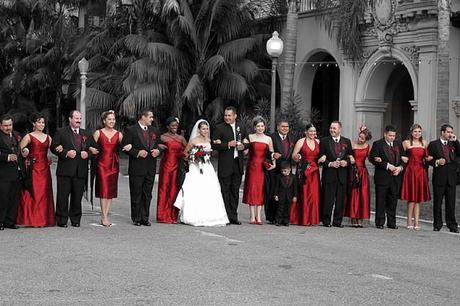 So, if you're feeling more adventurous, there's absolutely no reason why you shouldn't go for a red themed wedding to mark the beginning of your new life. Indeed, this hue will most certainly bring a festive, rather feisty mood to the ceremony and is bound to charm all your guests and relatives.Best of all, this is the perfect theme to go for if you're getting married around Christmas or Valentine's Day. And don't worry: adopting a red theme on your wedding day is much easier than you think and contrary to popular belief, it certainly won't be more expensive than a traditional white wedding. All you need are some minor adjustments, a dash of creativity, a hint of imagination and you're all set to sizzle like a siren on your way down the aisle.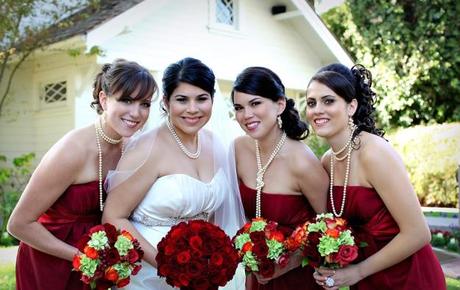 When going for a red themed wedding, the one questions that most brides invariably have to face is whether they'll need to don a red wedding dress or not. If you want to integrate this color on your special day but you're unsure about wearing red, fret not. There are several ways in which you can have your red wedding theme without actually wearing a bold frock. In fact, some brides can go for the traditional white dress with a red sash around the waist or even a red fishtail. Another option would be to wear a gauzy red petticoat and allow it to peek from underneath your dress. In fact, you can even wear your white or ivory gown while dressing your bridesmaids in deep red or wine red dresses to keep in line with the overall theme.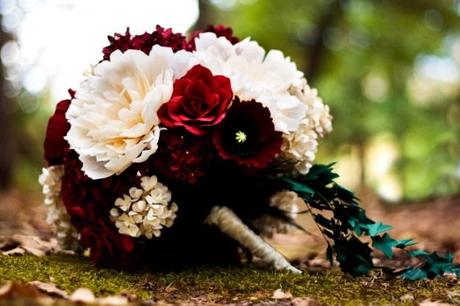 Of course, if you're the type of person who refuses to conform to the norms then you should absolutely go for a bright red, vivid wedding gown. Guaranteed to help you make a statement- as well as a dramatic entrance- this dress will look absolutely marvelous especially if paired with a ruby, pearl or diamond tiara. To lay even more emphasis on the theme, never hesitate to ask for a few red roses in your bouquet. In fact, you can even opt for an all-red bouquet enhanced with a few silver or diamond studs.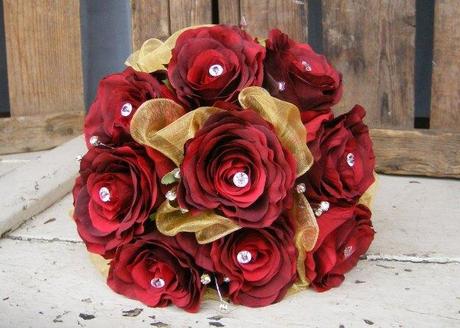 Never underestimate the importance of wedding favors and invitations as well: consider sending out your invitations in red envelopes for a bolder statement. As far as the wedding favors go, there's no reason why you can't pack them in glittery red pouches or boxes. To make your guests feel extra-welcome, you may even have an usher hand each of them a single red rose just before they take their seat and wait for you to glide down the red-carpeted aisle.