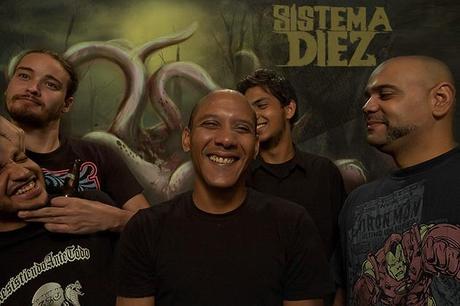 Hello Metalheads! I bring you today another interesting Venezuelan Metal band from Maracaibo called Sistema Diez, which has released a fantastic new EP entitled "Solo Quiero Que Vivas" (2013).
Sistema Diez was formed in 2007 by Jesus Hernandez (bass), Carlos Ochoa (guitar) and Humberto Ochoa (drums) to create their own agressive music style mixing Metal, Punk and Grunge music.
In 2009 the band released an album entitled "Entre El Caos" and these guys have been achieving many important shows in the local metal scene, they have been playing in Caracas, Barquisimeto, Barinas, Cabimas and many other Venezuelan places.
Sistema Diez decided to develop its musical project and encourage it including two new members, Josue Portillo (guitar) and finally Enyer Quiroz on vocals, completing a solid line-up willing to give a further step in the path of the band.
Finally, in 2013, these guys present to us a new release with a different new sound, a great new EP called "Solo Quiero Que Vivas".
This new release contains seven tracks with a powerful Metal/Hardcore sound highly recommended. Agressive voices, groove touches, speed and a great dose of rage are the gears that operate the machinery of the band and they wake up to the beast of Sistema Diez along the seven tracks of the EP.
Songs like "Destinado A Crecer", the fantastic demolisher "Dispersas" or "Nuestra Sangre" are powerful and recommended songs which you should not miss.
I also like and recommend the song which gives the EP its title, I think it's really very cool, you can enjoy it by clicking the following link.
SISTEMA DIEZ – Solo Quiero Que Vivas (VIDEO)
by MetalWind
Ok metalheads, I invite you to discover to Sistema Diez band and its fantastic new EP. These guys are offering a new show soon, in which they will be sharing stage with another great band called Atlantica, which I have already published on MetalWind some weeks ago. SISTEMA DIEZ + ATLANTICA at Boulevard Cafe and Lounge, May 24th.
I send greetings to Sistema Diez and also greetings to my friend Henry Luengo and Atlantica band.
Enjoy Sistema Diez and leave your comments! See you soon!
Follow Sistema Diez:
https://www.facebook.com/sistemadiezbanda
https://twitter.com/SistemaDiez
https://soundcloud.com/sistemadiez