Fermenting foods is an excellent and inexpensive way to get healthy bacteria into your gut or digestive system.  The bacteria will help fight off sickness, digest food, manage body weight, repair tissue and even balance hormones.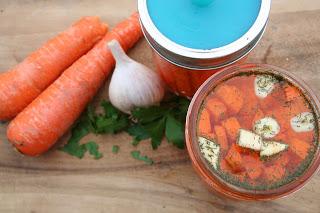 Having tackled
sauerkraut
, fermenting carrots was super simple.  They can ferment for many days depending on your desired taste.  We definitely prefer them over 7 days but keep checking and tasting them for your desired outcome.  I like the addition of dill but feel free to omit if it is not your thing!
Ingredients
(makes 2- 500ml jars)
6-8 carrots, peeled and cut into strips
1/2 tablespoon sea salt
2 cups water
1/2 teaspoon dried dill or 2 sprigs fresh dill (optional)
2 cloves garlic
Directions
Add carrots to clean mason jars.
Combine all remaining ingredients into a jar and stir to combine.
Poor juices over the carrots ensuring they are covered with liquid. If you need to add additional liquid, simply combine 1/2 tablespoon of sea salt with 1 cup of filtered water and add on top if required. 
Loosely seal jar but allow for some air to be released.  I use the pickle pipe and find it to be an easy way to allow C02 gas that is created can be vented out.  Otherwise just check carrots daily to ensure no mold is growing and air can escape then lightly seal the jar again.  
Place in a dark area for 5-10 days or until desired outcome.
Once fermentation is complete.  Seal the jars with proper lids and store in the refrigerator to stop the fermenting process.