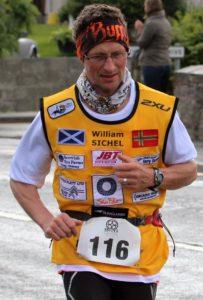 Orkney-based ultra marathon runner, William Sichel (62) is delighted that his World Over-60's, 6 Day road record, set on January 3rd 2014 has finally been ratified by the World governing body for ultra running, the International Association of Ultrarunners (IAU).
It was in the 'Across the Years' 6 day race in Phoenix, Arizona, USA that William ran 473.142 miles/761.448 km to claim 4th place overall and adding about 40 miles to the previous record.
William's next race will be the CLAN 24 Hour Challenge at the Pickaquoy running track in Kirkwall on August 12th/13th starting and finishing at mid-day. With William running and Marty Flett cycling, they will attempt to amass as many combined miles as possible in the 24 hours.
"We would like to encourage anyone who would like to join us for a few laps around the track at any time during the 24hrs, either running, walking or cycling, to sign up at the Clan support shop on Victoria Street."
William and Marty's dedicated donation page for CLAN can be found here:  https://www.justgiving.com/fundraising/Marty-Flett2
William has currently set 183 running records at World, British and Scottish level, including age-group records. His shortest record is an age-group one for 30 miles on the track and his longest is an overall British record for 3100 miles/5000km on the road.
William hopes that the current records he has set, which are all meticulously documented on his web site, www.williamsichel.co.uk , will all be broken and will act as goals, motivation and incentives to the current and future generations of runners.