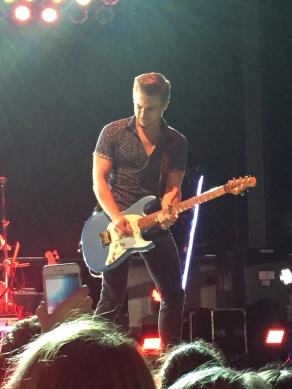 This weekend, Orlando's 103.1 The Wolf Radio hosted The Call of the Wild country music event, featuring Tegan Marie, Jessie James Decker, LOCASH, and the highlight: Hunter Hayes. We were able to make it out to the event, hosted on a beautiful night at the Central Florida Fairgrounds.
We caught the end of Tegan Marie's set, but were immediately intrigued to learn the musician is only twelve years old! Jessie James Decker was another pleasant surprise, especially given that we here at MCU are the first to admit country is not our number one genre. But Decker was excited and the crowd loved it. She definitely got us going with her Shania Twain cover.
People were clearly excited for LOCASH from Nashville, who are quickly making a name for themselves. They had the right energy for a country concert, even if their look was a little more alternative rock (we are very familiar with the skinny jean style rockers). They've also written songs for big names stars before getting a chance at shining on their own. We were lucky enough to hear some of their work from Keith Urban's "You Gonna Fly" to Tim McGraw's "Truck Yeah."
The crowd was beyond ready when Hunter Hayes finally took the stage. He came out, starting with "Storm Warning" and just amping up all the energy and talent Hayes possesses. He immediately launched into "Tattoo" and we knew we wouldn't be able to get enough of this night.
Hunter Hayes was completely in his element. He and the band filled the night with guitar solos. At one point he slowed it down to admit he was just a nerd who only ever wanted to play and write music. He asked our permission to just jam for a bit, and of course the crowd went wild. It's always incredible to see a musician prove himself as good live as he is recorded. Hayes certainly did, going above and beyond. His unexpected encore (the venue had a curfew) was yet another jam and ode to Prince ("Kiss").
Another highlight from the night was when Hayes brought out his infamous piano. The crowd swelled with heartfelt anticipation as first he explained the inspiration and struggles behind his hit "Invisible." He played with pure passion, and MCU used the chance to go "live" on Facebook, if you'd like to hear more. That song flowed right into "Wanted," the single that truly started it all, not only for Hunter Hayes, but also for his fans here at MCU. The crowd ate it up, and with a surprise cover of Walk The Moon's "Shut Up and Dance," we couldn't have asked for a better show.
Filed under: Reviews Tagged: call of the wild, country, hunter hayes, locash, music creates us, show review