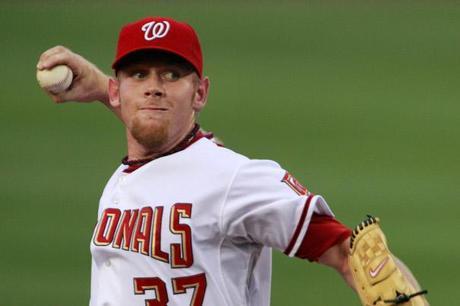 Photo: Manuel Blace Ceneta - Associated Press
- Adam Parker
The Washington Nationals (53-37) are leading the National League East by 3 and 1/2 games as of Thursday night, and also boast the best record in the entire National League.
Barring a monumental collapse, (2011 Boston Red Sox, anyone?) it seems inevitable that we'll see the Nats' in the postseason for the first time since the team moved to Washington (in fact, the first time since 1981, when they were still the Montreal Expos).
What a roller-coaster ride it's been thus far for young ace Stephen Strasburg. The first overall pick by the Washington Nationals in 2009 has dealt with more than his fair share of ups and downs only a mere three years into his Major League Baseball career.
Towards the end of his 2010 rookie season, Strasburgh underwent Tommy John surgery. He managed to return near the end of the 2011 season, and pitched in only 44 combined innings that included minor league rehab appearances.
Now, in 2012, at the ripe young age of 24, Strasburg is already considered by many in baseball circles as one of if, not
the
 best young pitcher in baseball.
Thus far this season — which to this point has been Strasburg's first full season in the majors — the young staff ace for the Nationals is off to a phenomenal (10-4) start with a 2.66 ERA while also leading the the National League in strikeouts with an astounding 135.
Talk about mind-blowing numbers.
All the more reason why this is so hard to figure out for some people — why shut down Strasburg when he and the team are doing so well?
Well, let me start off by saying that we haven't seen the last of Strasburg this season — at least for now. He's still slated as the starter for the series opener against the visiting second-place Atlanta Braves (50-41), who the Nationals are currently trying to keep at bay.
But after the start, you have to believe the clock would be ticking on how much longer Washington wants to push their ace.
Nationals General Manager Mike Rizzo told ESPN Wednesday that he alone will decide when to pull the plug and bring an end to Strasburg's 2012 All-Star season, and that's not necessarily locked in to occur once Strasburgh reaches that long-rumored 160 inning plateau.
"There is no magic number,"
Rizzo said.
"It will be the eye test.
(Manager)
Davey
(Johnson)
won't decide and ownership won't decide. It will be the general manager, and that's me."
I know what you're thinking. 'How could you do this, Rizzo!? The Nationals are on the verge of making the playoffs and Strasburg is a big factor in keeping this momentum going!'
It's totally understandable why some fans might disagree with the decision. But look at it this way. Shutting down Strasburg, whether it's 'too early' or not, is the right choice.
Could he be a big help this year? No doubt he's already more than proven he can be. However, as a general manager of one of the youngest clubs in the bigs, Rizzo can't simply focus on 2012. He has to look ahead to 2013, '14, '15, '16 and beyond.
"These are painful decisions, and they're crucial,"
Rizzo said.
"But it's my job. I'm the caretaker of this franchise for 2012 and beyond. I can't go for today with no regard for tomorrow."
Kudos to you, Rizzo.
It seems like everyone has an opinion on the 'Strasburg Decision' these days. Even Nolan Ryan, one of the greatest pitchers of all-time, pitched in his two cents.
"There's no reason kids can't pitch as many innings as people did in my era,"
Ryan said.
"I remember it used to be that 300 innings was the benchmark for an ace. If you were a starter, you were expected to pitch at least 250 innings. Now you may have one guy go 200 innings on your whole staff."
Nolan, Nolan, Nolan. I love you man, really I do, but you're wrong on this one. Unfortunately, not every pitcher in present-day baseball is as lucky as you were in your prime to have the superhuman stamina or the "stuff" to be able to log that many innings. That's just unrealistic. Which is why, in this day and age, these situations tend to be based on the average ball player, as they should.
It may not be the most popular decision among baseball fans, but it's the right one. After all, if Strasburg goes down again, what's to say the Nationals won't end up with another Mark Prior on their hands?
Seeing as how that mess set the Cubs back, I don't think the Nationals are up for rolling the dice — and rightfully so.
Rizzo has made his decision. Strasburg will eventually be shut down. Now, it's just a matter of when.
However, the young star pitcher doesn't plan to give up without a fight.
"I said it recently, Strasburg said. "They'll have to rip the ball out of my hand, and I mean it."
You have to love the young guy's enthusiasm and willingness to want to go out and battle for his team, but in this instance, it's better for everyone in the long run if he stands down.
Be cool, Stephen. You have many years of great baseball ahead of you as long as you stay the course.
Be sure to follow Beard And Stache on Twitter 
@BeardAndStache
, and also Adam 
@Adam_Parker43
, Like our Facebook page 
HERE
!