Hello!~

♥

I haven't done a shopping post in a while, even though I have lots of new stuff to show, so let's catch up!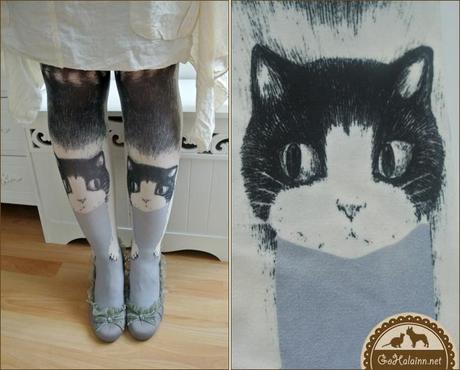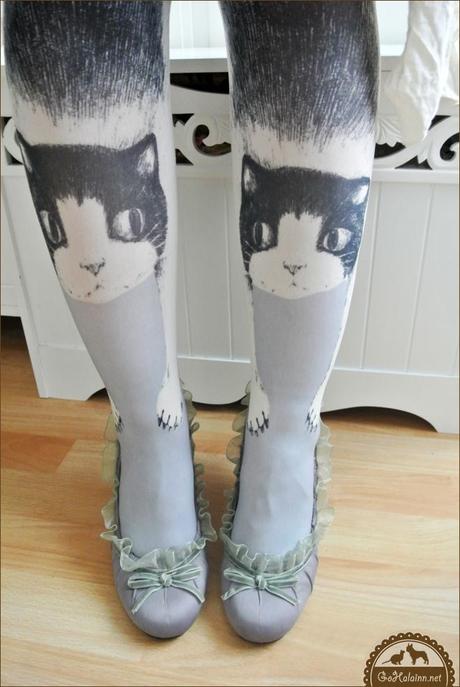 I bought these stockings from a seller called Loliloli shop for Lolita Princess and gosh, I adore them so much! I love animals and cats and these are just so cute! I admit, the "fur" part starting at the knees sometimes resembles very very hairy legs, which isn't the most desirable look, but I still like wearing them. The stockings aren't see-through and of decent quality. I believe all kinds of animal-themed stockings go well with Mori Girl style, even though the design contains slightly too much black color for my taste.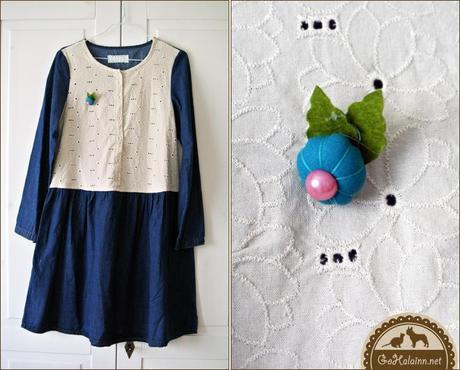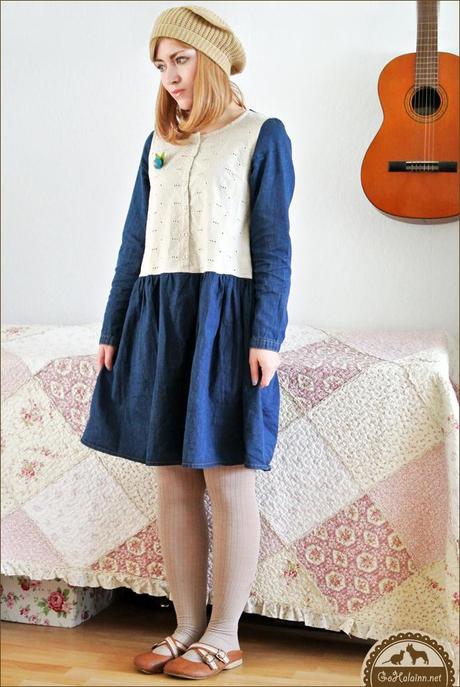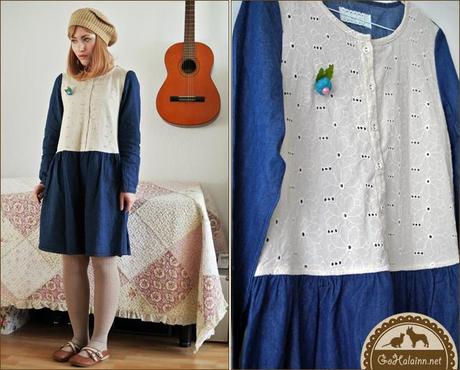 This dress was bought from Artemis's Sight, a seller who specializes in Mori Girl clothing. I bought from them before, but unfortunately they have closed down their store temporally for now and it is unclear whether they will open and whether they will do anything but wholesale. A pity. The dress is of good quality, comfortable and really pretty. Such a dark shade of blue and jeans aren't usually my cup of tea, but since I have so many clothes that look very "similar" I am trying to update my wardrobe with some different things from time to time.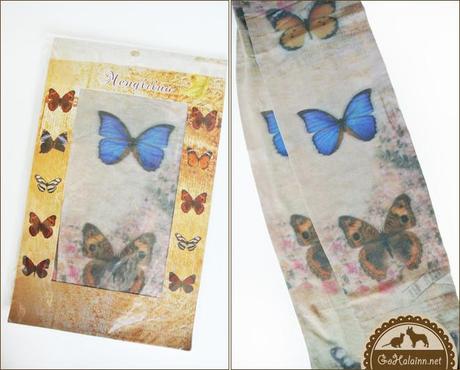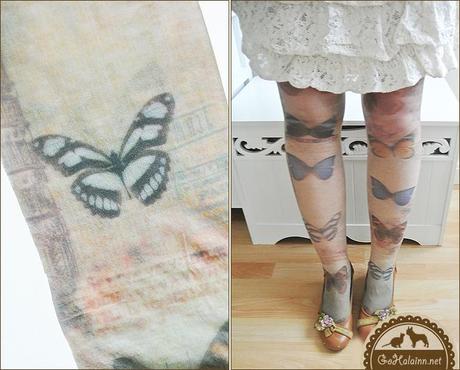 These stockings, which I bought from Vivi's store, were a let-down. They were of very thin material and ripped at the seam when I tried them on the first time (Or maybe I am just too fat). Since the ripping happened at the seam, I was able to fix it up. Apart from the poor quality they are very pretty though. The antique butterfly design is very suitable for Mori Girl style, but probably also goes very well with Cult Party Kei, Lolita Fashion or any vintage style fashion. I later found the same design on Ebay and re-bought it and the ones I got from Ebay were made of thicker material and are still intact till today.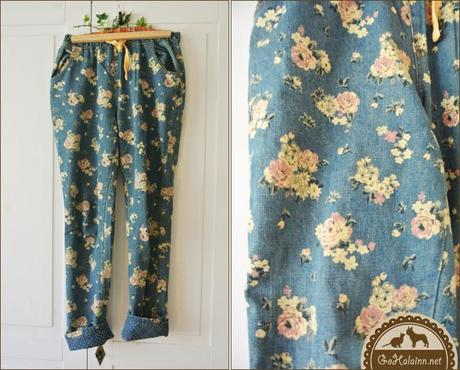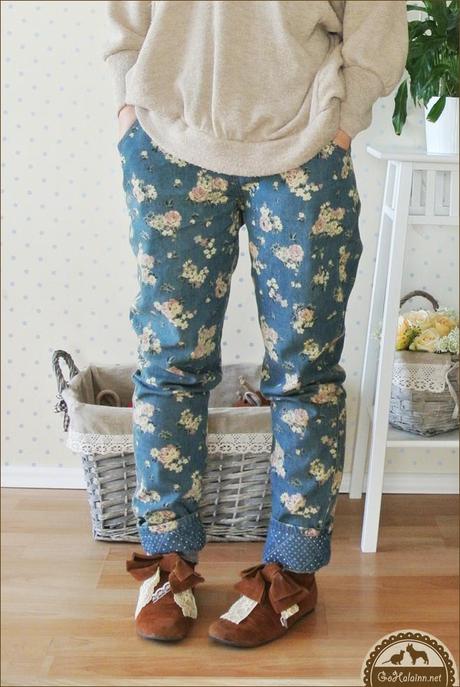 Lately I am very fond of pants, because it is much easier to just put on a pair of pants in a hurry in the morning, when you have to go outside with a dog. Many pants I bought from Asia looked like loose pants of the product photos, but turned out to be skin-tight on me. Luckily not these loose pants, which I bought from JOHN Fashion Co., one of my favorite Mori Girl stores on AliExpress.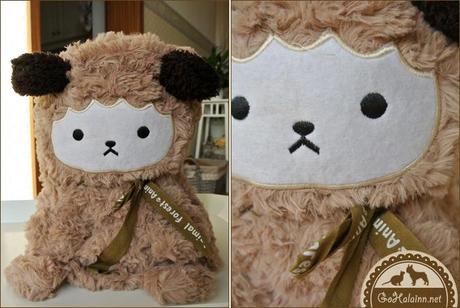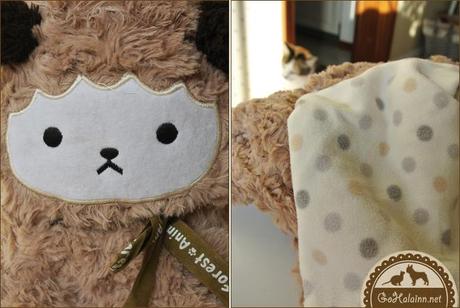 The last item I want to show you is not a fashion item, but a cute blanket. I also bought this one from JOHN Fashion Co. and wanted to use it as a dog blanket. But it is so cute that somehow I could not give it to my dog, who would destroy it pretty soon and now it is sitting on a shelf decoratively.  It is a blanket with a cream dot design on one side and a fur design on  the other and if you roll it up and tie it together it is a cute sheep!
By now I have also made quite a few bad experiences on AliExpress. The rate is shockingly high, I would say about 25% of all sales did not work out. The problems that happen the most often are that sellers simply don't ship items and refuse to cancel the orders (you can get back your money through AliExpress if that happens, even though it sometimes takes some patience), or that, after I placed my order, they suddenly ask for more money than originally listed. I don't want to go into depth with every bad experience I have made, but I will just list all the sellers I advice you to stay away from: Maslow Shoes, ULOVE,  Hackik' House, Boutique Women Trading Co., BabyCute1, It's A Store, ONE & ONE