I fell into being pigheaded about applying eye cream again…as usual, it's how a lot of us feel for example about flossing.  I was using this non-greasy wonder by Shiseido Ibuki, but not everyday only because I'm bad with eye creams like that.  In my thoughts about how to get around this bad habit I made an awesome discovery…and it may not apply to all eye creams on the face of the earth but in my case this one does the job!  Provided you have an oil-free, non-greasy, hydrating eye cream, have you ever wrapped your head around the idea of using it as an eyeshadow primer?  Hear that? DING!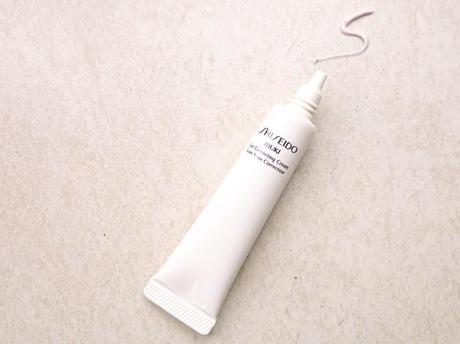 "A cooling eye cream that addresses dark circles, puffiness, and fine lines. Eyes become instantly more vibrant. Helps the appearance of eye area achieve resistance to stress factors resulting from the lack of sleep."  PRICE:  Php1800.00
I'm actually not 100% sure if this eye cream is oil-free, but whatever…IT WORKS!  What gave me this "eureka" was when I was applying NARS Pro Prime eye primer over a friend's eyelids, and mine…and that gave the similar sort of feel over the lid to this eye cream…a quickly absorbed, slightly tacky, but not too sticky finish.  I thought "Hey, this texture reminds me a lot of…my eye cream…" and I thought let's give this baby a test using an Urban Decay Single Eyeshadow I have called "Loaded" which is a vibrant metallic peacock turquoise.  Although Urban Decay's LOADED is a great shade it is still quite dusty even if it is a reformulated eyeshadow of Urban Decay.  I've also always felt that LOADED could have more "bang" to it when applied over the lid and it would only work with a primed eye.  Check out this comparison.  Can you imagine how much more OFTEN you'd be applying eye cream without being too conscious about it if it worked this way for any eyeshadow…even dusty ones?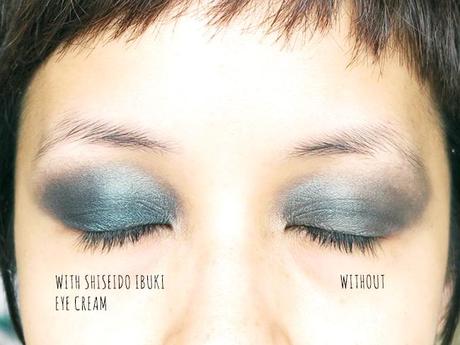 I have a bare face (no foundation or concealer) and I applied the same amount of eyeshadow on both lids, but one lid is lightly primed with the Shiseido Ibuki eye cream (given a minute or 2 to absorb) and the other a bare lid.  I even tried to add more eyeshadow over the bare lid to match the payoff on the primed eye and it still, of course, couldn't match up.  Please note that not all eye creams may work this way…especially if they aren't oil free.  The eyeshadow didn't ball up and so far after about an hour and a half it's not creasing on me.  If you have extremely oily eyelids this eye cream as primer workaround may not have the same effect on you and you may need to use a specific eye primer or tone your lids beforehand.  However for normal to dry eyelids I believe the Shiseido Ibuki eye cream is a winner not just because it's an excellent, non-irritating type but because I discovered its second purpose for me, and now I'll be using this way more often because of what it can do.